sloppy joe bake
A family favorite made slightly less sloppy.
lazy lasagna
It takes less time to make than many of your frozen, store-bought versions.
beefy pasta primavera
Combine veggies, ground beef and rotini pasta for a nutritious meal everyone will love.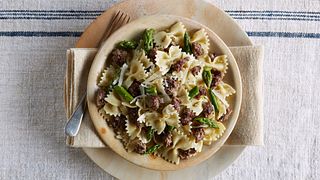 beef and asparagus pasta
High-protein ground beef, bowtie pasta and asparagus make this a well-rounded meal,
pot roast pasta
This recipe for pot roast pasta uses only one dish and is packed with vegetables.
easy beef stroganoff
This is an easier, ground beef version of a classic.
slow cooker roasts and meatloaf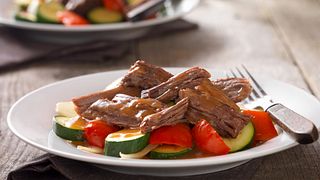 after work pot roast
Put a few ingredients into the slow cooker before work. Come home to a hot meal.
bbq mango short ribs
Sweet and savory short ribs made up in the slow cooker.
four-way slow cooker shredded beef
This shredded beef recipe works for a variety of meals over multiple days. It's meal prep magic.
mini meatloaves
All the flavor of a regular meatloaf but ready in less than half the time.
sheet pan meatloaf with veggies
Meatloaf and potatoes prepared on a single sheet pan.
bacon-wrapped bbq meatloaf
Cook along with a professional chef. This recipe is easy to put together and makes enough for leftovers.
delicious soup and chili recipes
beef enchilada soup
All the flavors of an enchilada in a cozy soup.
cheeseburger soup
Comfort food in a bowl. Make this recipe once and it'll be sure to play on repeat throughout the fall and winter.
smoky chipotle chili
A slightly spicy and smoky chili and chunks of tender beef.
creamy beef and tomato soup pasta
Classic comfort food. Part soup, part pasta, 100% guaranteed kids will love it.
hearty beef and veggie soup
A hearty soup full of flavor and big on nutrition.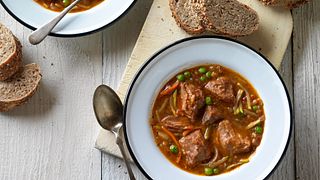 slow cooker pot roast soup
All the flavors and comforts of a traditional pot roast meal in a bowl.
Sweet Onion and Pepper Beef Sandwiches
Think French dip meets Philly cheesesteak, made in a slow cooker.
Whiskey Molasses Shredded Beef Sliders
Perfect as BBQ beef or as a slider, this whiskey molasses shredded beef recipe is made in the slow cooker.
slow cooker BBQ shredded beef sandwich
Perfect slow-cooked BBQ beef for a variety fo meals.
Quick Flat Iron Philly
This sandwich uses a tender and economical flat iron as the protein and a delicious homemade au jus.
Tortilla stackers
These ground beef tortilla stackers offer layers of taco-flavored meat, beans and cheese. The kids will love it.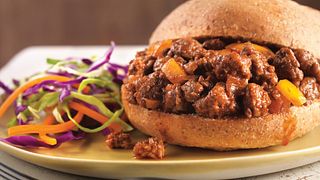 sweet and sloppy joes
Homemade sloppy Joes with hidden vegetables. It's for sure a win.
slow cooker shredded beef tacos
This slow-cooked, Mexican-flavored shredded beef is perfect for tacos, burritos, salads and more.
confetti beef tacos
Take ground beef and add in corn, beans, and your favorite toppings.
quick skirt steak tacos
Skirt steak is great for tacos and cooks up in just minutes on the grill or in the pan.