recipes from the heartland
Alex' skirt steak tacos with smoked guacamole
Chef Alex is the owner of the well-known "The Local Pig" in Kansas City, Missouri where he runs a whole animal meat market and artisan food shop providing locally raised and harvested items. In addition to the meat market, he owns and manages a gourmet sandwich service named Pigwich, which has been featured on the hit television show "Diners, Drive-Ins, and Dives" and voted Kansas City's Favorite Sandwich Shop.
He also created this ridiculously tasty recipe.
Let's cook.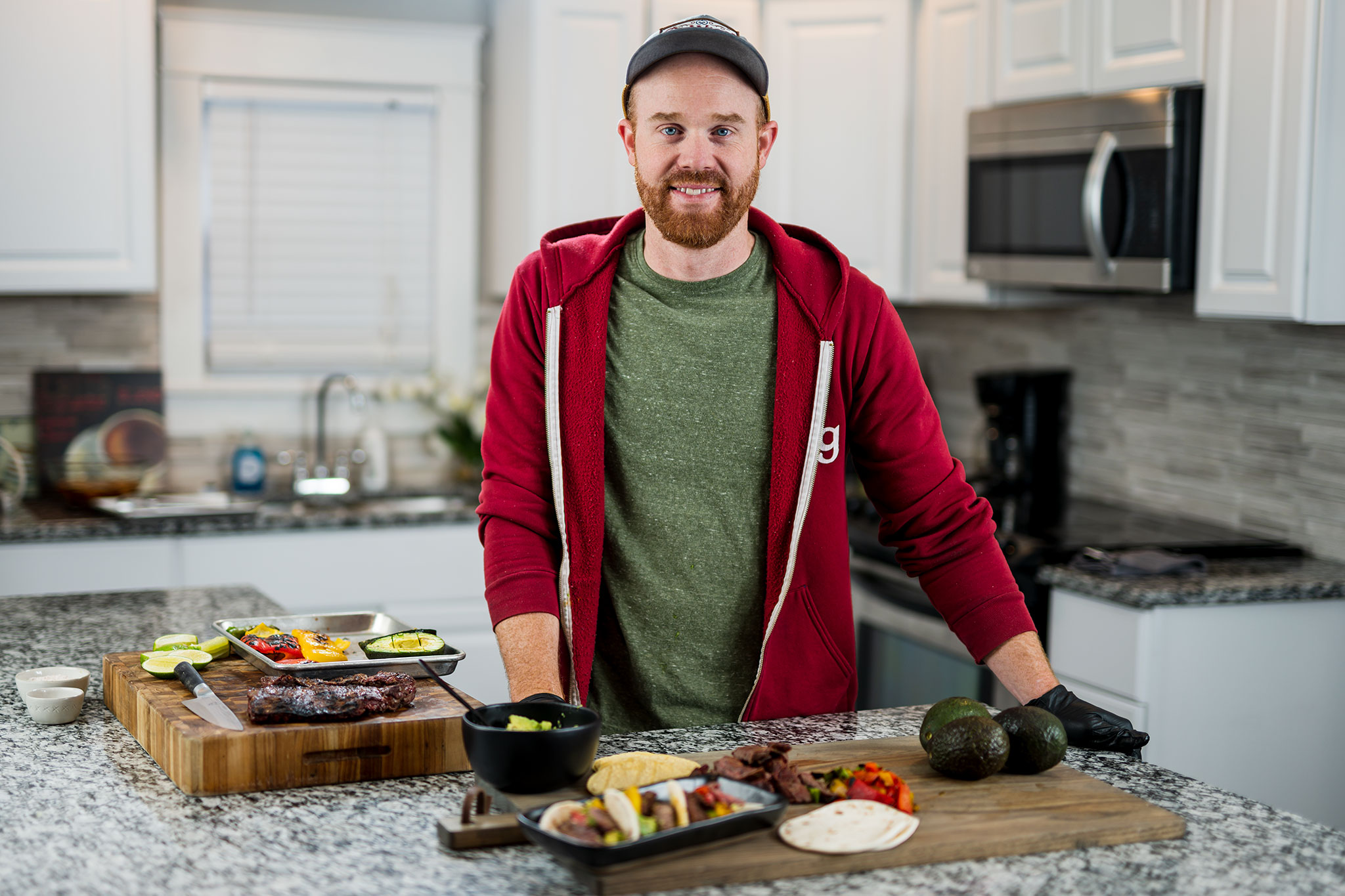 here's why we love this skirt steak taco recipe
Can you smoke an avocado?
You better believe it. This recipe brings in the smoke flavor associated with Kansas City to a beautifully seasoned Skirt Steak without the need of an expensive smoker. Just how on earth does this culinary wizardry happen? Just toss a few soaked wood chips on the coals during the last few minutes of grilling and you're left with a beautifully cooked steak and guacamole infused with natural smoke flavor. Throw in some blistered veggies and it's pure bliss on a tortilla. The prep time for this recipe is about 15 minutes and is perfect for busy evenings.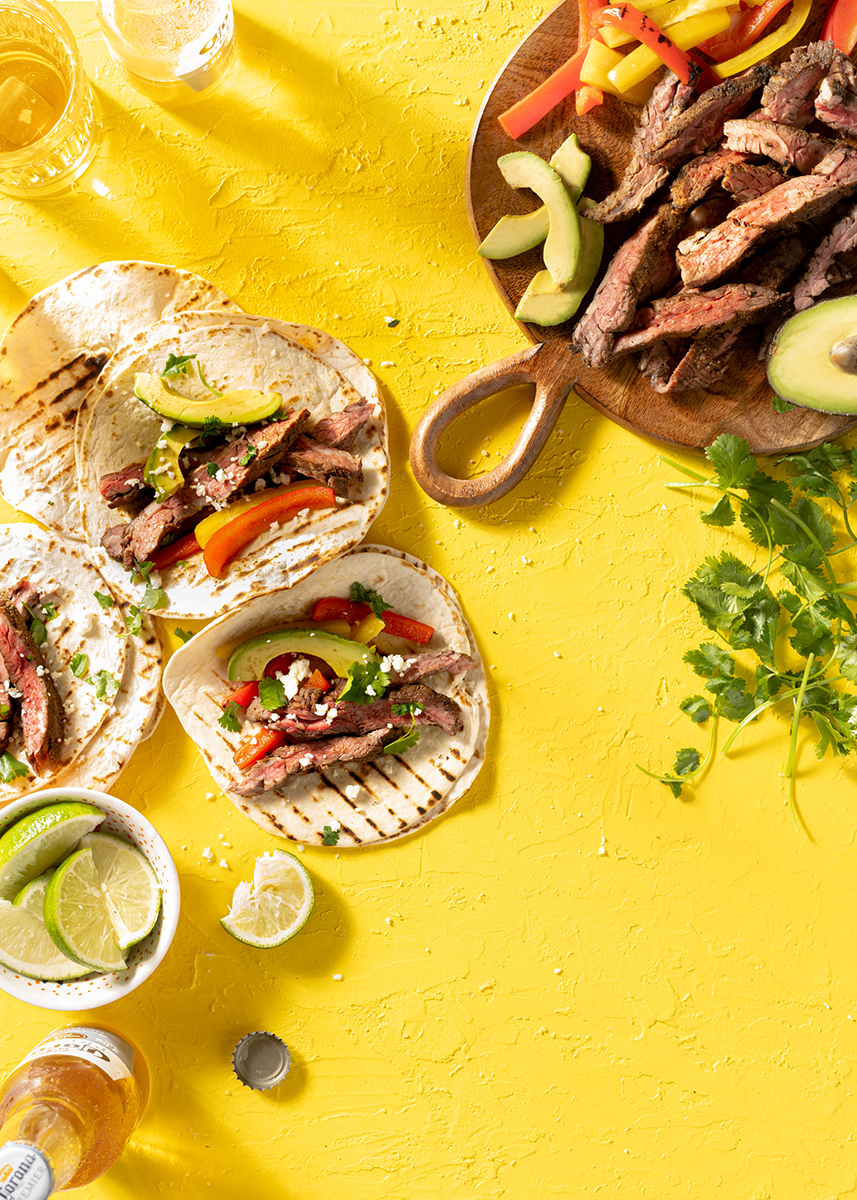 Time: 30 minutes
Serving Size: 4
Ingredients
1 to 1.5 lbs Skirt Steak
1 tablespoon sea salt
1 teaspoon ground cumin
Assorted peppers - red bell, yellow bell or Anaheim
2 large, ripe avocados
1 lime
1 teaspoon sea salt
Flour or corn tortillas (or lettuce wraps for a GF version)
Additional taco toppings of choice - sour cream, shredded cheese, salsa
1/2 pound wood chips: hickory, apple, mesquite
Instructions
Prepare charcoal grill by getting coals hot in a standard grill, making sure to"bank" the coals (video reference at 5:03). Medium, ash-covered coals are the goal.

Place a handful of wood chips in a quarter-sized plastic container and add water to cover. Set aside.

Lay skirt steak flat on cutting board and season generously with sea salt and cumin.

Cut tops and bottoms off peppers, remove seeds and cut into two, flat pieces.

Cut avocados in half lengthwise starting at the stem and going down. Remove the pit. While still in the skin, cut the avocado in slices up and down, then across (video reference at 5:50).

Place the steak directly over the coals. Place the peppers skin side down around the edge of the coals. Cover and let cook for around 4 minutes.

Remove the lid and flip the steak and the peppers.

Drain the water from the wood chips. Carefully remove the grill grate and sprinkle them directly on the charcoal. Place the grill grate back over the coals and cover.

Continue cooking the steak another 3-4 minutes or until the internal temperature is 130F for medium-doneness. Remove steak and let rest 10 minutes.

While waiting place peppers directly over the grill until the skin is charred and blistered (video reference at 7:29).

Place the avocado halves on the hottest portion of the grill, cut side down, and grill for 60-90 seconds (video reference at 7:45). Remove from grill.

Scoop the avocado out of the skin with a spoon. Dress with juice of 1 lime and a teaspoon of sea salt. Place in refrigerator to chill.

Gently peel the charred skin from the peppers. Slice peppers thinly and set aside (video reference at 8:00).

Slice steak into thin slices against the grain (video reference at 9:20).

Serve sliced steak in prepared tortillas topped with peppers, smoked guacamole and additional toppings of choice.
follow along with chef alex
While we can't get someone in your home to cook for you, we can provide you with the next best thing. Grab your reusable shopping bags, purchase the above ingredients, and follow along with Chef Alex in the video below to make this recipe. It takes just a few minutes and you'll get some all-important pro tips to succeed at dinner tonight. We've included the reference points on the video in the steps above if you're the type of person who likes to skip ahead.