Recipes from the heartland
Flat Iron philly cheesesteak recipe
"This recipe is simple, easy and delicious," says Kansas City restauranteur and chef Chad Tillman. We agree 100%. The Philly cheesesteak has long been a go-to comfort food for many. This recipe takes a classic sandwich and makes it even easier with tender slices of flat iron steak.
Let's cook.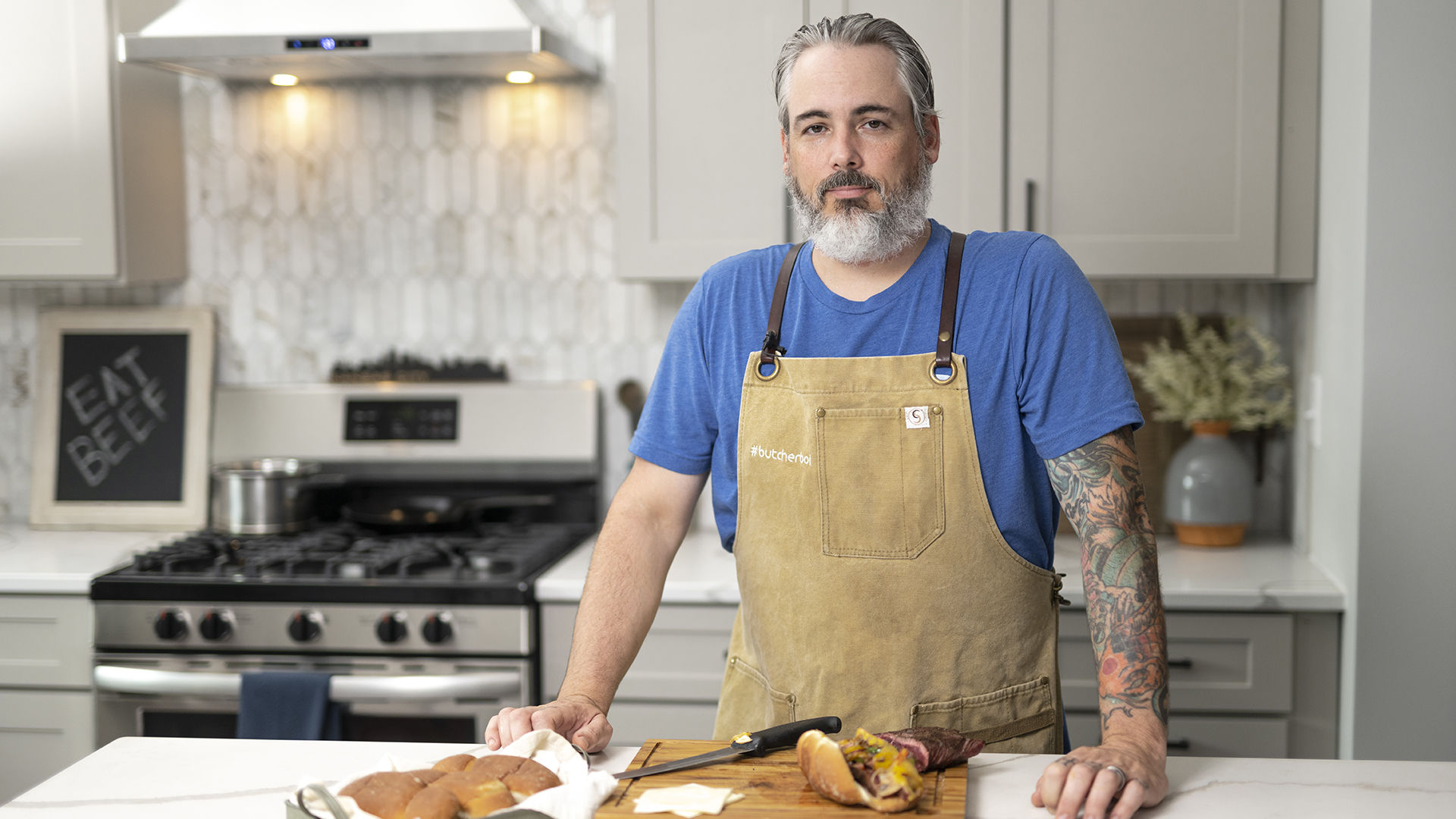 why we love this recipe
The flat iron is the second most tender cut of beef and has incredible flavor. Even better, it can prepared and cooked in just a few minutes, meaning this is a last-minute dinner miracle for anyone with a busy schedule. You can customize this recipe with the toppings of your choice, which means every single person at the table will love this sandwich. Don't like mushrooms? Don't cook them. No onions? No problem!
So whether you grill it or sear it on a cast iron, this flat iron sandwich is perfect for family dinner, tailgating with your friends or cooking up a delicious meal for one. It's a keeper.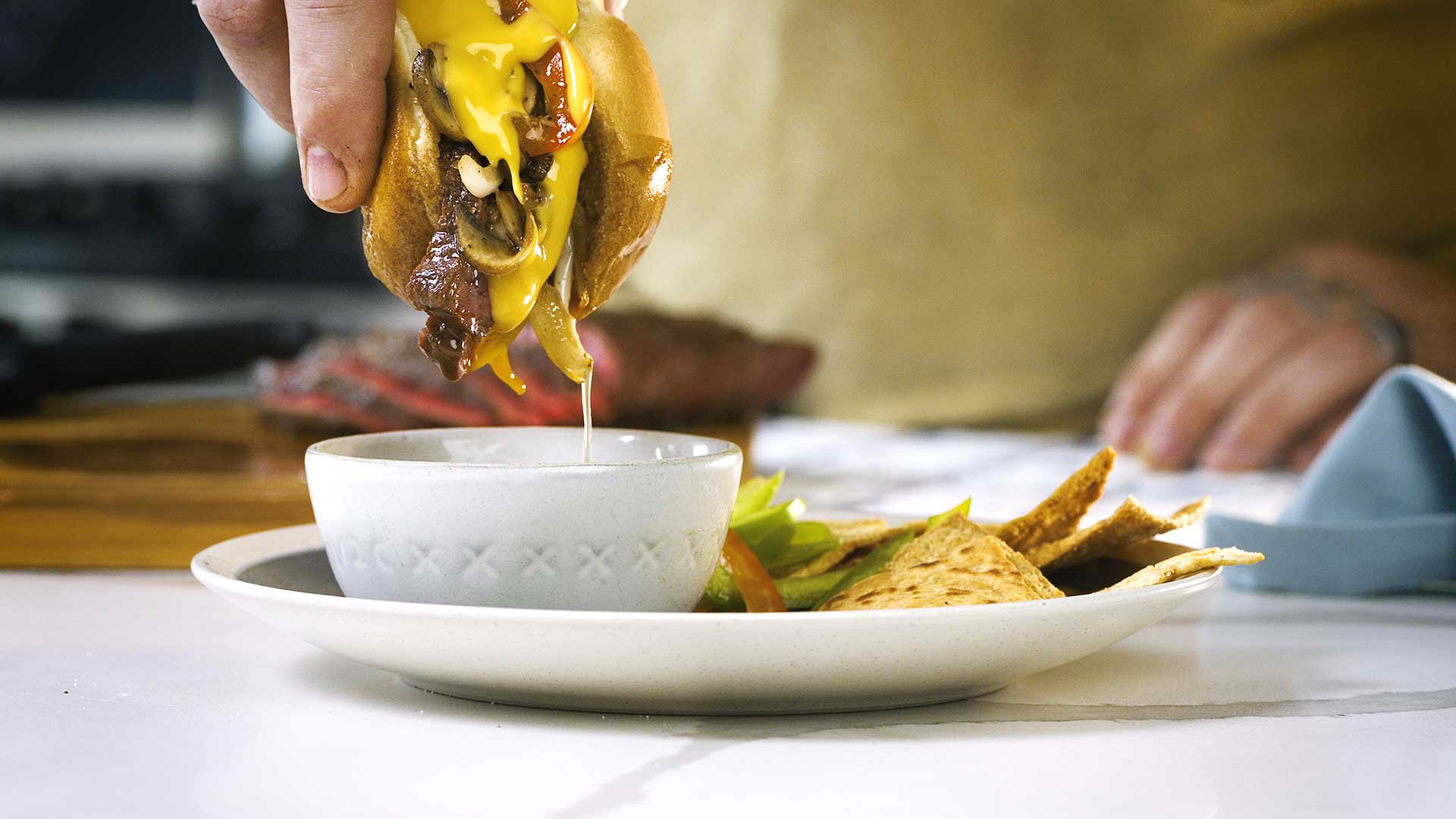 Time: 15 minutes
Serves 4
Ingredients

2lbs flat iron steak
8oz baby portabella mushrooms
2 sweet onions
1 red bell pepper
1 green bell pepper
1 yellow bell pepper
1 package white American or queso blanco cheese slices
1 container cheese spread
4 hoagie rolls
1 tsp granulated garlic
1 tsp granulated onion
Salt & pepper
2 tbs vegetable oil, divided
Optional Au Jus
1 tbs beef bouillon
1 cup water
2 sprigs fresh rosemary
1 tsp roasted or granulated garlic
Instructions
Slice all peppers, onions and mushrooms. Heat 1 tablespoon of vegetable oil in nonstick pan and sauté peppers and onions for a few minutes. Add mushrooms. Season with salt and pepper.

Season flat iron steaks with onion, garlic, salt and pepper.

Heat one tablespoon vegetable oil in cast iron skillet and cook steak for approximately 3-4 minutes a side, flipping once, until internal temperature reaches your desired level of doneness, or approximately 135°F for medium rare. Let rest under loosely tented aluminum foil for five to ten minutes. Internal temperature will continue to increase until a final temperature of 145° F.

To assemble, slice steak and layer your choice of vegetables and cheese on a toasted hoagie roll or your favorite crusty bread. Serve with a dipping au jus if desired.

To create Au Jus, combine 1 tablespoon beer bouillon, 1 cup water, 2 sprigs fresh rosemary and 1 teaspoon roasted or granulated garlic in a small saucepan and bring to a boil while preparing sandwiches. Let sit until ready to serve.
follow along with chef chad tillman
Grab your reusable grocery bags and get the ingredients listed above. Come back and cook along with Chef Chad as he teaches you the ins and outs of this delicious recipe and provides a few "pro tips" along the way.