recipes from the heartland
skirt steak rollups
Chef Kara combines colorful veggies, tenderized skirt steak and layers of cheese for this delicious dish that can be prepared on the weekend and cooked on a busy weeknight.
Let's Cook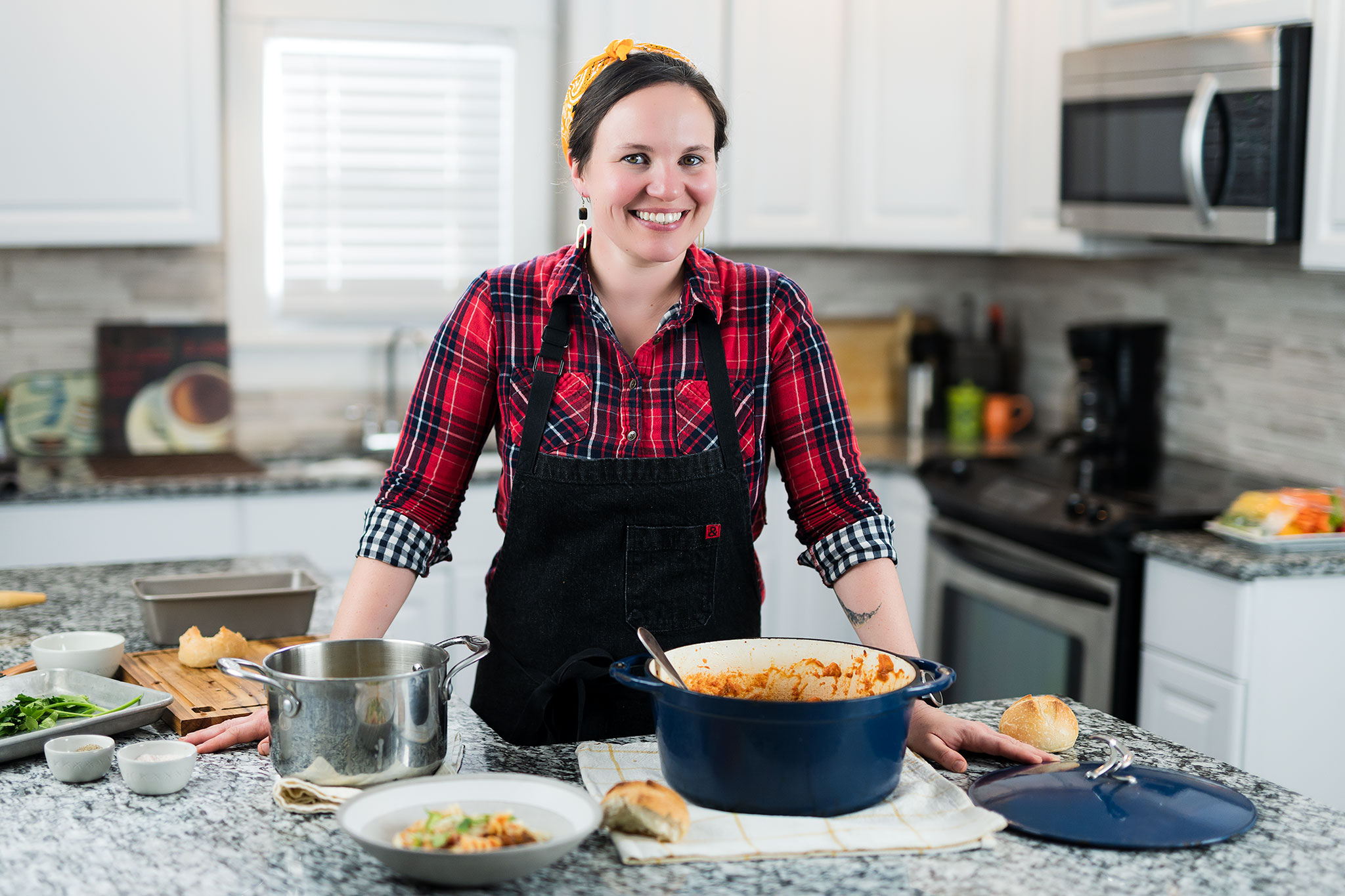 why we love this recipe
This recipe screams meal prepping miracle. Are you tired of coming home after a long day of work, sports practice or school activities only to find yourself desperately raiding the pantry for any ingredients you can throw together that resembles a nutritious meal the family will actually eat? While we don't want to say this recipe will solve all your problems...it will solve all your problems. Take a few minutes on Sunday to prep the ingredients and when that stressful day hits add the tomatoes (or a cup of salsa) and cheese and throw it in the oven. In 20 minutes your family will be devouring tender morsels of steak and veggies.
If you don't have little ones to feed at home, this is also an excellent meal to cook up on a Sunday and portion out throughout the week to make your break room meal so, so much better.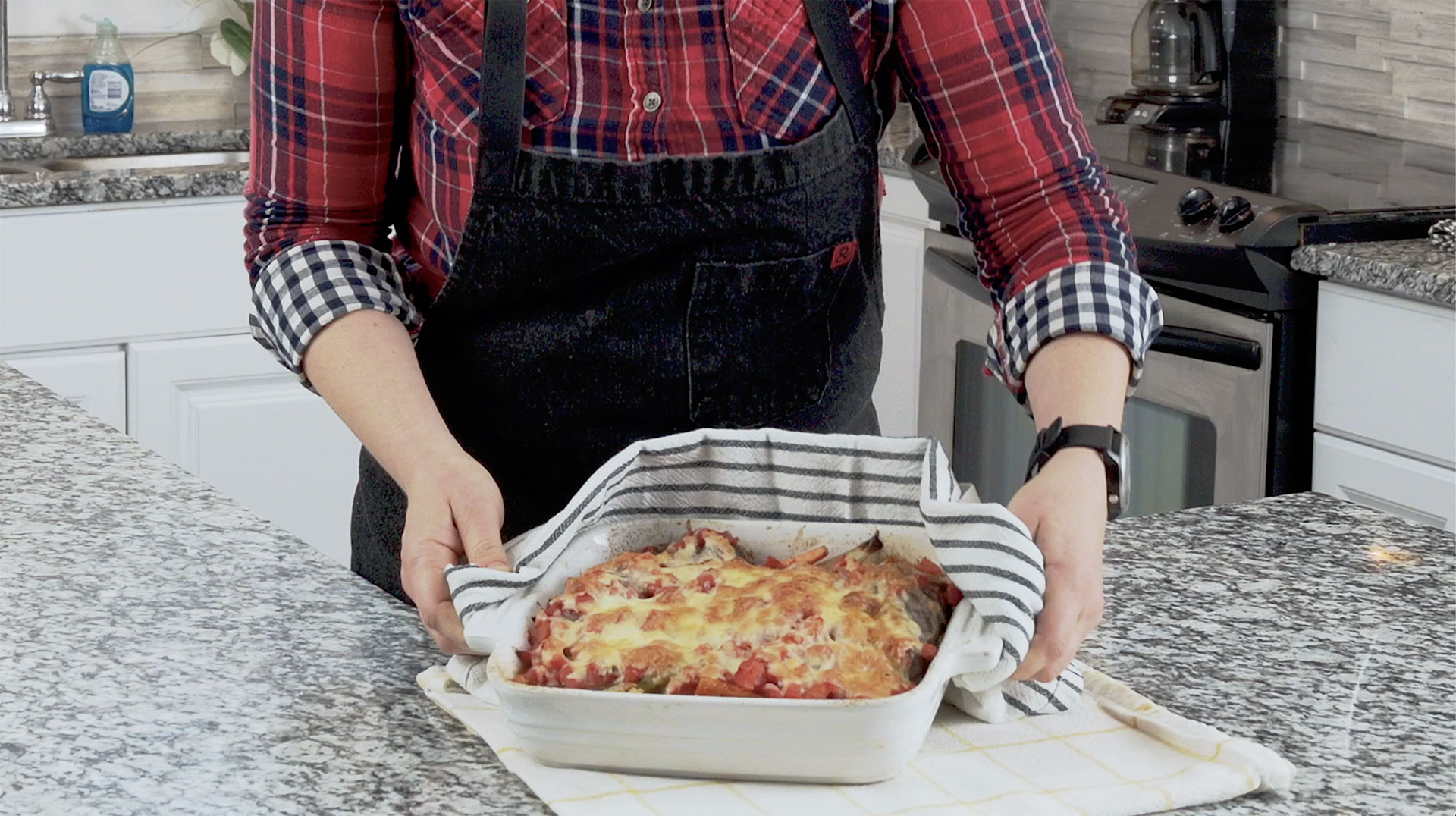 Time: 40 minutes
Serving Size: 4
Ingredients
1 to 1.5 pounds skirt steak
1 green or red bell pepper
1 carrot
1 yellow onion
1 bunch green onions
1 butternut squash
1 can diced tomatoes (or 1 jar salsa)
2 cups shredded pepper jack cheese
Instructions
Preheat oven to 400 degrees

Cut skirt steak into 4 to 6 pieces and place on a piece of plastic wrap. Cover the top with another piece and pound the steak to half its original thickness using a meat mallet or rolling pin (Video reference at 1:11). Each piece should be about 4-inches long and uniform in thickness.

Season the meat on both sides with salt and pepper. Set aside.

Wash vegetables and cut onion into slices (Video reference at 3:30).

Cut peppers and peeled carrots into thin strips (Video reference at 4:30).

Cut the neck of the squash off and cut into uniform strips (Video reference at 5:40).

Cut green onions in half and set aside.

Combine oil and butter in heated skillet (Video reference at 7:46).

Add onions and season with a pinch salt and pepper (Video reference at 8:20).

Add butternut squash to skillet and season with a pinch of salt and pepper. (Video reference at 8:54)

Add peppers to skillet and season with a pinch of salt and pepper (Video reference at 9:15).

Add carrots to skillet and season with a pinch of salt and pepper (Video reference at 9:42).

Sauté until soft, not mushy. Remove from heat and let cool.

To assemble, place a few strips of each vegetable on the edge of one skirt steak portion. Roll steak around the veggies and place seam-side down in a 9"x9" baking dish. Repeat with remaining steaks and veggies, Rolls should fit snugly into dish (Video reference at 10:00).

Add one can of diced tomatoes with the liquid (Video reference at 12:00).

Add pepper jack cheese and bake for 20 minutes or until desired steak doneness.

Turn oven to broil an additional 3 minutes to brown cheese.

Remove from oven and let rest for 10 minutes before enjoying.

Serve over rice.
Notes from kara
Don't add the tomatoes or salsa if you plan on cooking at a later date. Instead, pop the assembled and covered rollups into the fridge. Then, cover with tomatoes and cheese before placing in the oven.
If butternut squash is unavailable, try acorn squash or eggplant instead.
If making a smaller batch, try using a smaller loaf pan in place of a 9"x9" baking dish.
For a different flavor profile, try Italian-style or fire roasted diced tomatoes.
follow along with chef kara
While we can't bring Chef Kara into your kitchen to make this meal, we can do the next best thing. Follow along with Chef Kara as she explains how to make this recipe and gives some pro-tips for cooking along the way.