air fryer nacho cheese meatballs
A kid-perfect air fryer recipe designed for the big game and small socials
Sure, there are plenty of cheese-stuffed meatball recipes out there, so what makes this one different? First, sprinkle in taco seasoning and pepper jack cheese to make this a viable solution for Taco Tuesday. Secondly, take that cheese-stuffed taco meatball and bread it with a golden layer of nacho cheese chips and cook them in your beloved air fryer until they are crispy, hand-held spheres of perfection.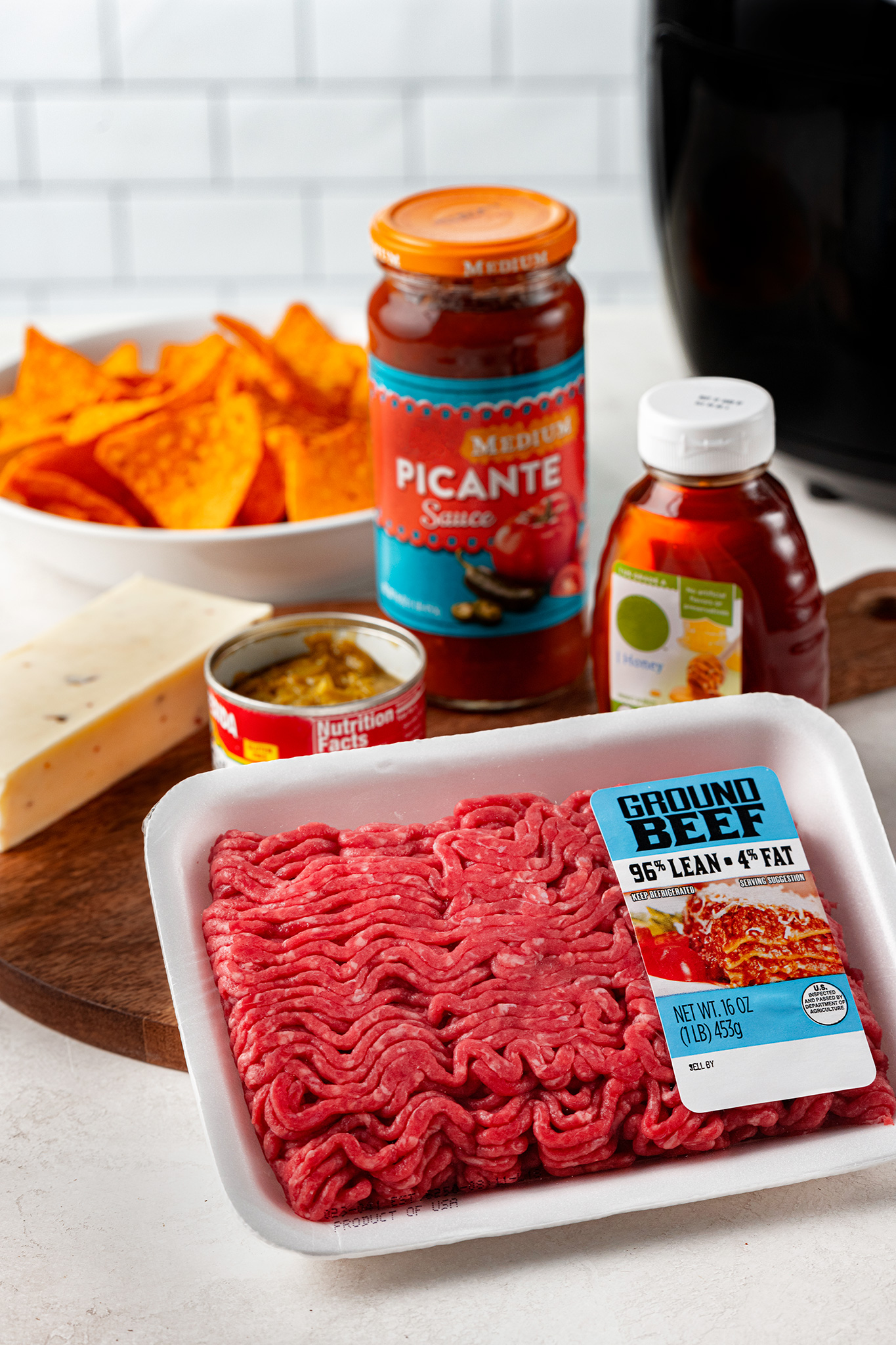 Ingredients
1 pound Ground Beef (96% lean)
2 tablespoons taco seasoning
1 can (4 ounces) chopped mild green chilies, drained
16 cubes pepper jack or Colby jack cheese (1/2 inch squares)
1 egg white
1 tablespoon water
2 cups crushed nacho cheese-flavored tortilla chips
Tejano Sauce
6 tablespoons prepared thick taco sauce
3 tablespoons honey
Instructions
1. Combine Ground Beef, taco seasoning and green chilies in large bowl, mixing lightly but thoroughly. Divide beef mixture into 16 portions; shape each portion around a cheese cube, completely covering cheese.

2. Beat egg white with water in shallow dish until blended. Place chips in second shallow dish. Dip each meatball into egg white mixture, then into chips to coat completely. Press each meatball with palm into a flattened nugget shape, generously coating both sides of nugget with chips.

3. Place meatballs onto air fryer tray, making sure there is enough space between each meatball. Air fry at 400° F for 14 minutes, stopping halfway through to flip until they reach an internal temperature of 160° F

4. Meanwhile, combine sauce ingredients in small microwave-safe dish. Microwave on HIGH 30 seconds or until warm. Serve meatballs with sauce.
how to make the meatballs
The first step to making these nacho cheese meatballs is to mix the lean ground beef, taco seasoning and green chilies together. Before you start the mixing process, make sure to drain the chilies as the extra liquid will make the meatballs hard to form. Secondly, the ground beef should be thoroughly mixed since this will help the meatball hold its form easier when it is time to form it around a cheese square.
After the the ground beef is mixed well, take approximately 1-2 tablespoons worth of ground beef and place it in your palm. Then place the cheese in the middle and form the beef into a ball. Once you've securely tucked the cheese into the meatball, firmly roll the meatball in your hand and set it aside. Do this for the remaining 15 meatballs.
Place a meatball into the egg wash, making sure to evenly coat all sides, and use a slotted spoon to transfer to the chip mixture. Make sure to let the excess egg wash fall off the meatball before placing into the chip mix. Roll the meatball around the chip mixture and firmly pack around the meatball and place it in the pre-heated air fryer. Do this with the remaining meatballs.
cooking the meatballs
Cook the meatballs for seven minutes. Remove the basket and flip the meatballs using a pair of kitchen tongs. Cook an additional seven minutes until the outside is crispy and the internal temperature has reached 160° F.
There are two areas to focus on when cooking these meatballs.
Do not overcrowd. You want as much surface area touching the hot air as possible. If you overcrowd the meatballs, some parts of them will be soft and not as crisp.
Flip halfway through cooking. This will make sure all parts of the meatball have a chance to be crisped by the air fryer.
You can serve these with any sauce, but we prefer a warm Tejano-style dipping sauce. Mix a hot sauce of your choice with your favorite honey, heat through and serve. We preferred to add toothpicks to ours and serve them with a fresh vegetable platter.
tips and tricks to this recipe
Pro Tip #1: To make sure all the meatballs are the same temperature and size, use a spoon, a cookie scoop or a measuring spoon to scoop the beef for consistent results.
Pro Tip #2: We used a finely processed chip mixture for ours, which gave it a very smooth and consistent shell. You can use as coarse of a chip mixture as you like. If you do not have a food processor, place chips in a plastic bag and crush with a rolling pin or bottle of wine.