AIR FRYER CHEESE STEAK TAQUITOS RECIPE
handheld comfort food
Seasoned strips of tender beef, diced vegetables and melted pepper jack cheese are wrapped in a crispy tortilla. How could it get better than that? Easy! Use an air fryer to reduce the need for excess oil and eliminate the dirty pots and pans. This recipe is a flavorful blending of two comfort food classics into one bite-sized and convenient dish that combines a lean shaved beef steak with whole-grain corn tortillas.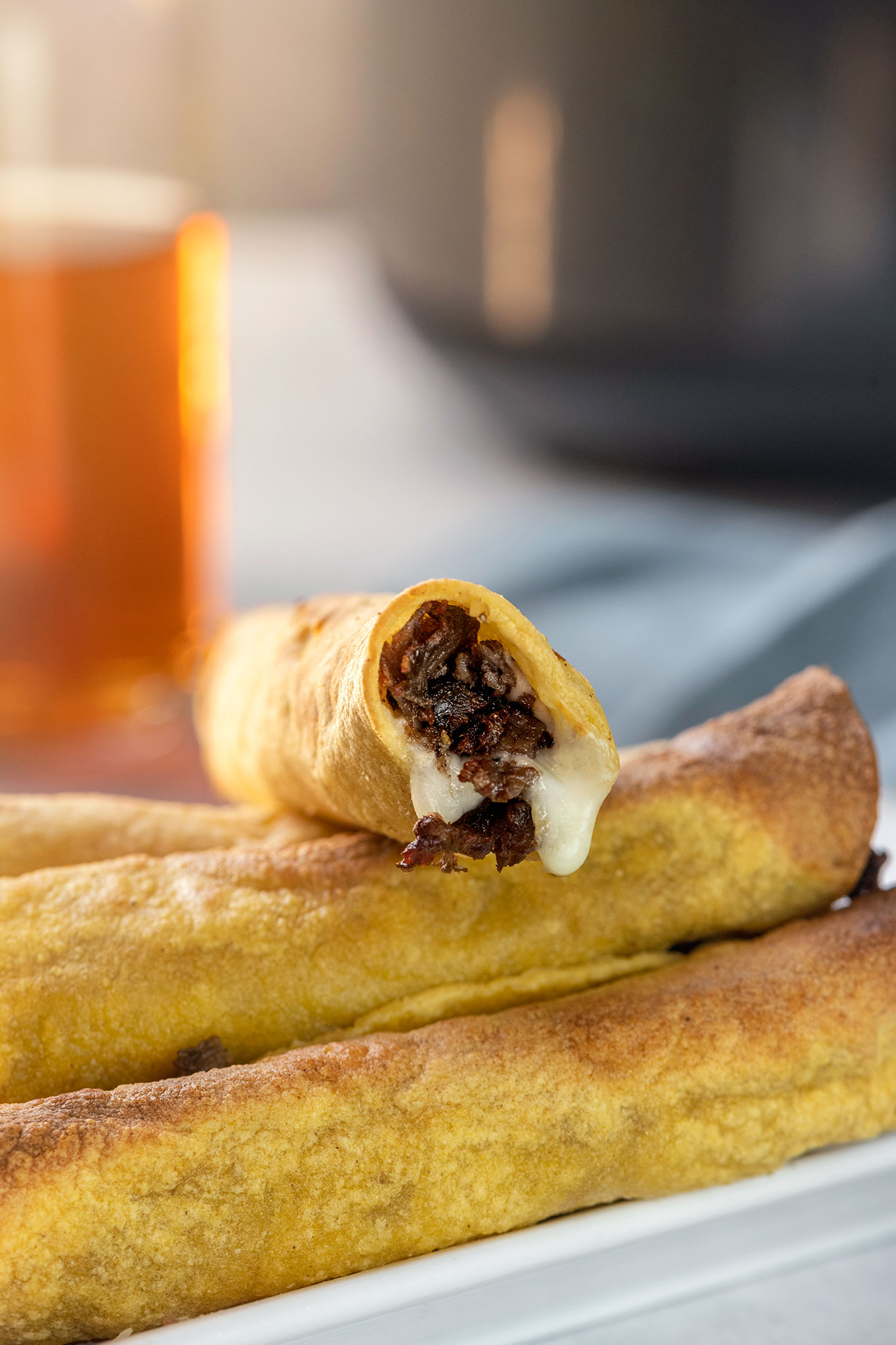 Time: 20 minutes
Serving Size: 4
Ingredients
1 package of shaved beef steak
1 package of corn tortillas - 12
1 green bell pepper, cut into strips
1 yellow pepper, cut into strips
1 small yellow onion, cut into strips
Steak seasoning to taste
Pepper jack cheese
Instructions
Pre-heat air fryer to 400° F
Season shredded beef, spray with olive oil, and place in tray. Cook on air fry setting for 3 minutes; stir; cook an additional 3 minutes, checking for doneness halfway through. Remove from tray and dice.
Add pepper and onion slices to tray, spray with olive oil and cook at 400° F for 3 minutes; stir; cook additional 3 minutes. Set aside.
Warm tortillas
Lightly spray both sides of warmed tortilla with olive oil.
To assemble taquitos, add 1/2 or 1 slice of pepper jack cheese. Add diced beef, pepper and onion mix on top of cheese. Roll and place seam-side down in tray. Continue making taquitos until tray is full. Cook at 350° F for 4 minutes; flip; cook additional 3-4 minutes.
what is shaved steak?
Shaved beef steak is a a thinly sliced. tender beef product available at most grocery stores in the meats section. Shaved steak is incredibly tender because it's sliced so thin and it often is used in items like sandwiches, carpaccio and bulgogi. Because it is so thin, shaved beef steak is incredibly easy to cook.
But what if I can't find shaved steak at the grocery store?
With a little bit of preparation and a good knife, you can make your own shaved steak at home. Take a cut of beef, like a Sirloin, and place in the freezer for 15 to 30 minutes. Then, slice very thinly against the grain to get razor-thin strips of beef that are perfect for the air fryer.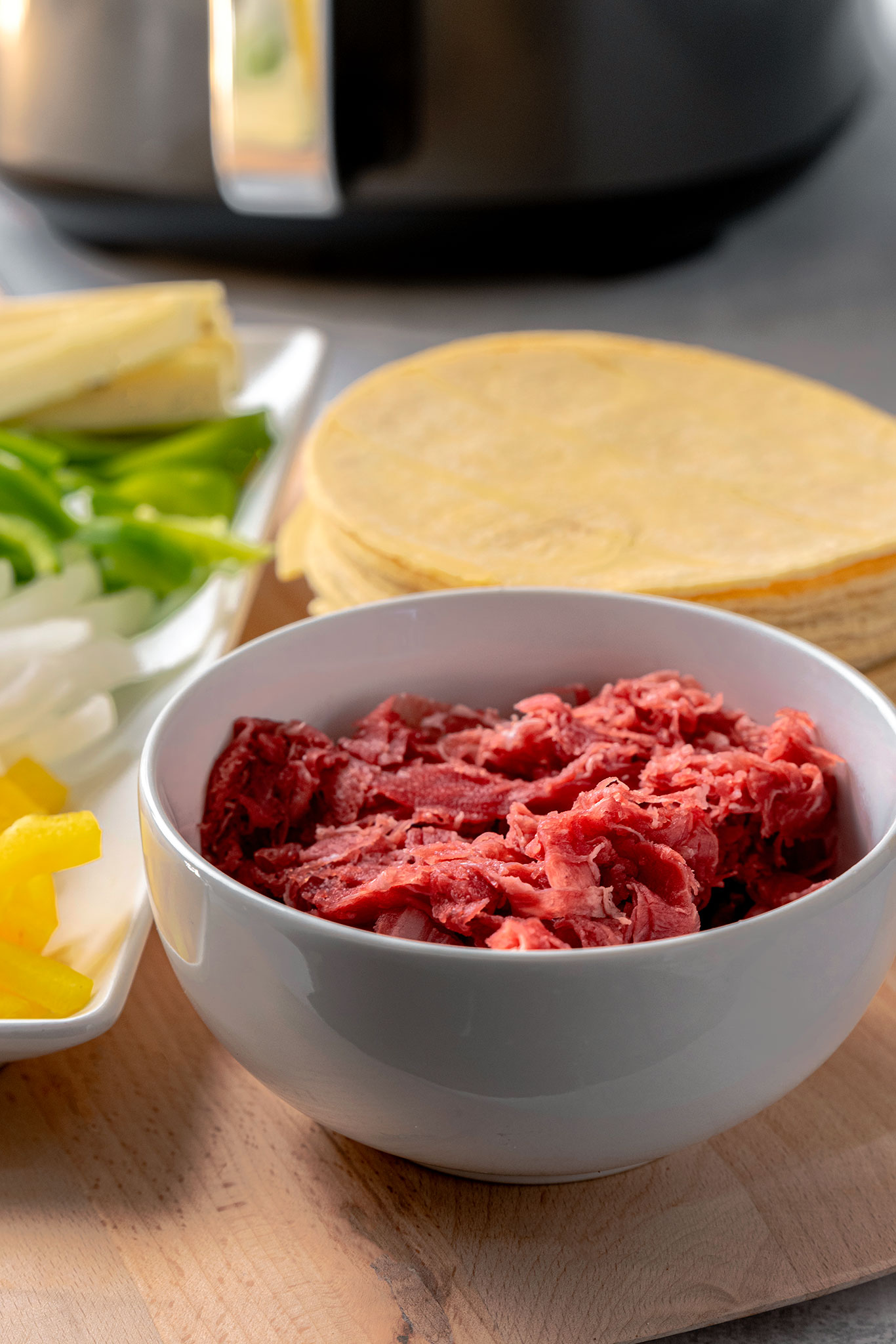 Step 1: Season the shaved steak and cook
Season your shaved steak with your favorite steakhouse blend of seasoning and spray each piece with a small amount of cooking spray to help promote browning and to get that "crispy" texture we all love.
We tried this recipe with several air fryer brands. While every air fryer cooked the shaved steak beautifully, we found air fryers that came with a small metal rack cooked the quickest and had the best texture. The thinly sliced steak will cook quickly, so check in halfway through to make sure the steak isn't overcooked.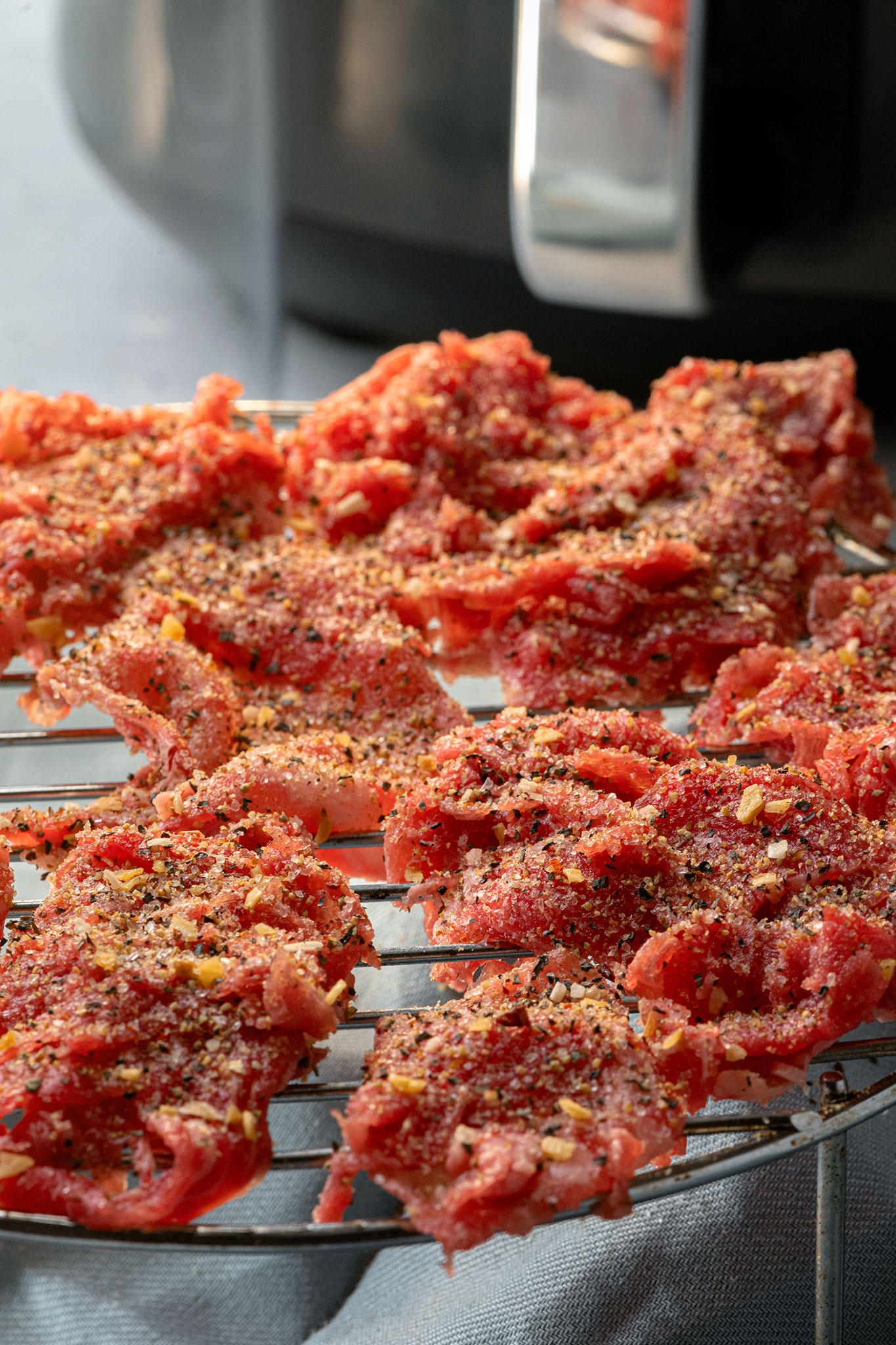 Step 2: cook the vegetables
Make sure your peppers and onions are cut into uniform strips so they cook evenly. Cook until the onions are translucent and the peppers are cooked through. Make sure to open the air fryer halfway through cooking and shake the basket to promote uniform cooking of the vegetables.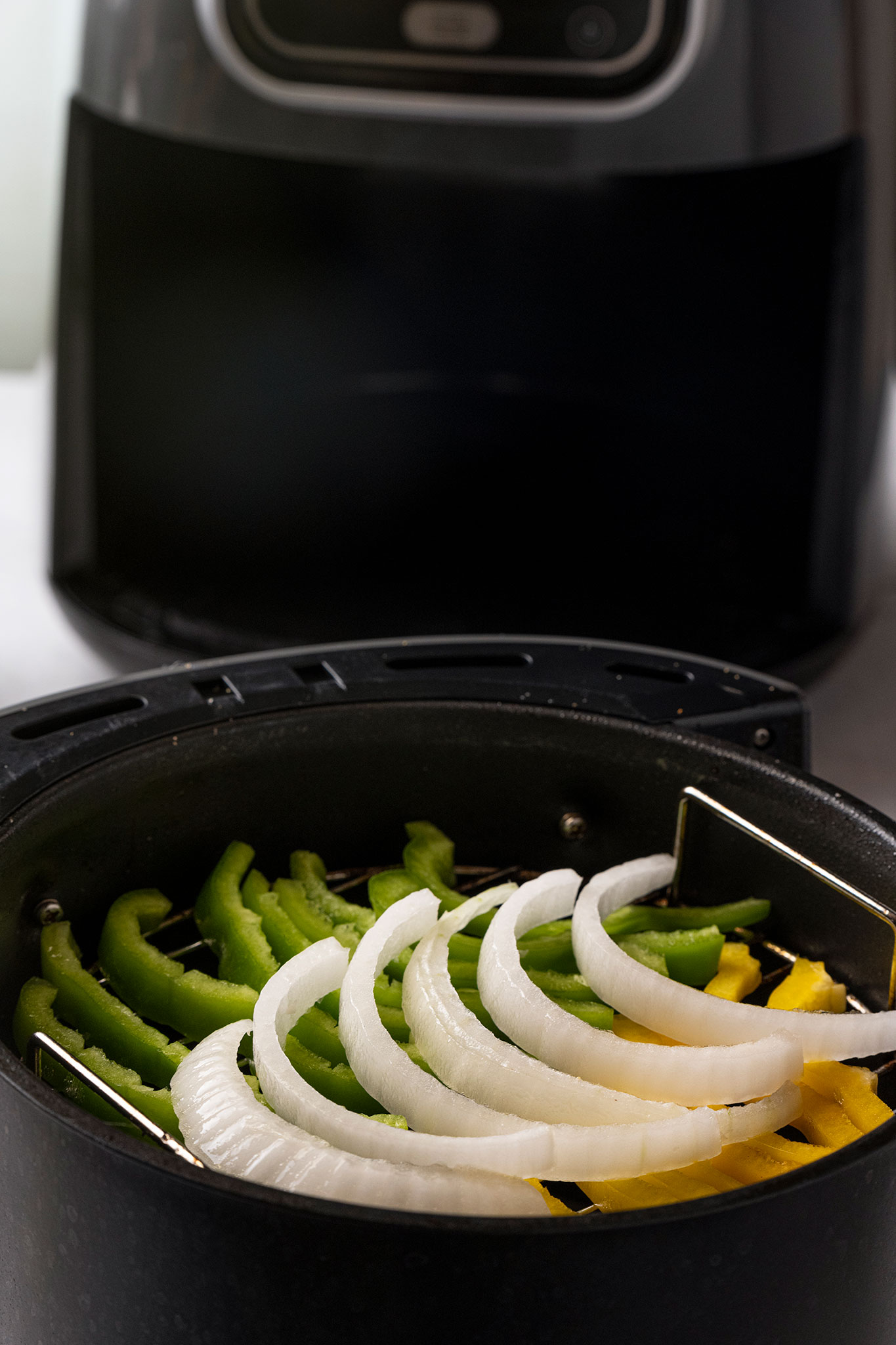 Step 3: Chop the steak and assemble
We liked the taste of the taquitos best when we finely chopped the cooked steak slices. While you can leave the shaved steak pieces whole, we found the taquitos rolled better when the steak was chopped. Chopping the steak also helped prevent chunks of beef falling out of the taquitos when eating.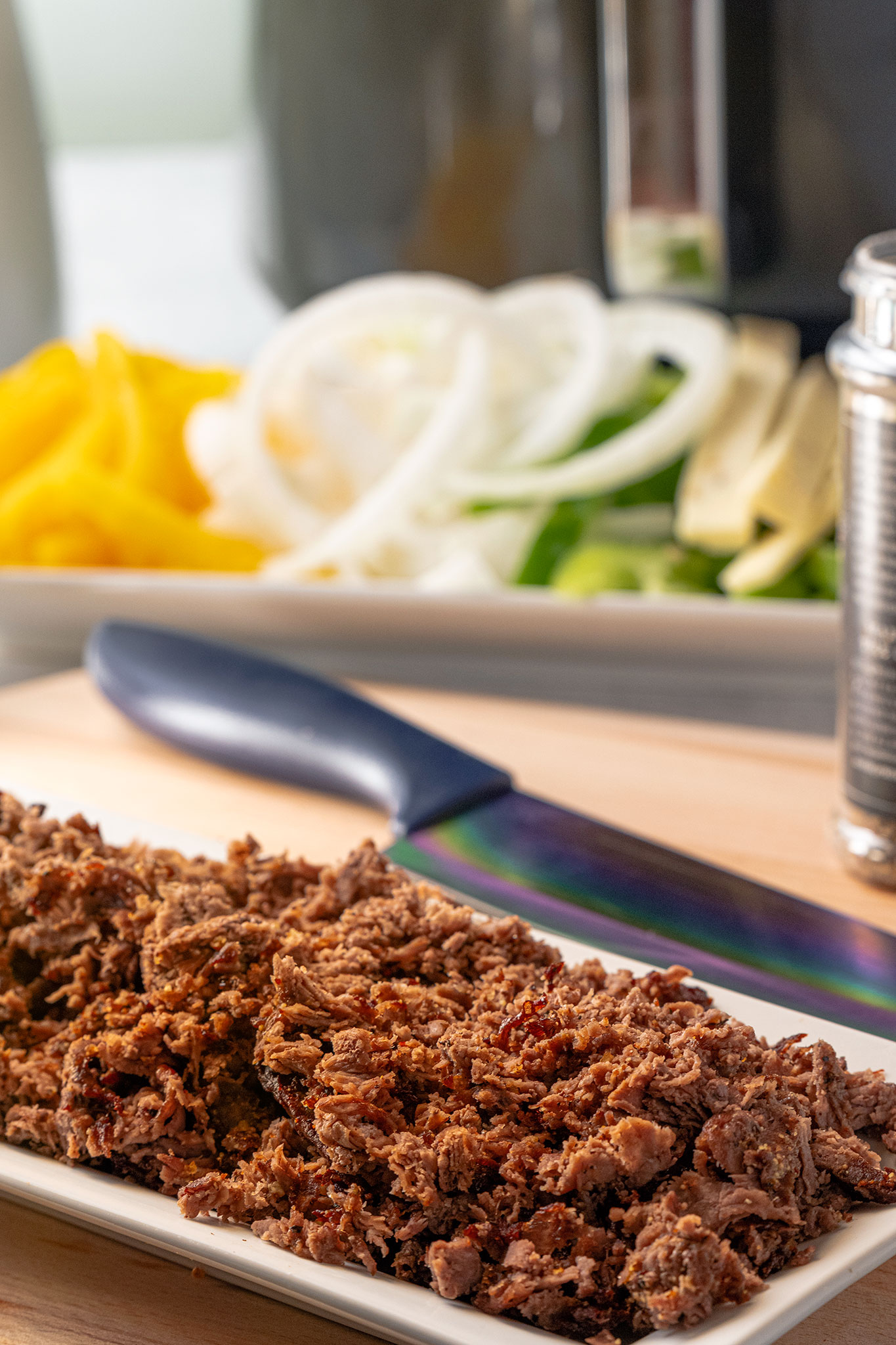 tips for assembly
These taquitos are incredibly easy to make. However, after making a few dozen of these we have some tips to make sure you love the recipe.
Start with a warm tortilla before you assemble.
Spray both sides of the tortilla with cooking spray. This not only helps with a crisp taquito, but it also helps the taquito hold its shape before being placed in the air fryer.
Place the cheese, vegetables and beef to one side of the tortilla and roll with a small amount of pressure. The tortilla will break open if you try to roll it too tightly.
If you're finding your tortillas are breaking, your vegetable or cheese slices may be too big. Consider dicing the vegetables and mixing them in a bowl with the chopped steak. Then combine this mixture with shredded pepper jack cheese on the tortilla.
Give a firm press to the taquito when you're done rolling to flatten slightly and place seam-side-down. This will prevent them from unrolling during cooking