air fryer popcorn steak bites recipes
Kid-friendly recipe alert!
Covered in a tasty potato chip crust and crisped to perfection in the air fryer, these popcorn steak bites are cooked up in the air fryer and are the ultimate finger food. These bite-sized steak bites are a great meal for kids, especially picky eaters, or an amazing game-day appetizer for family and friends.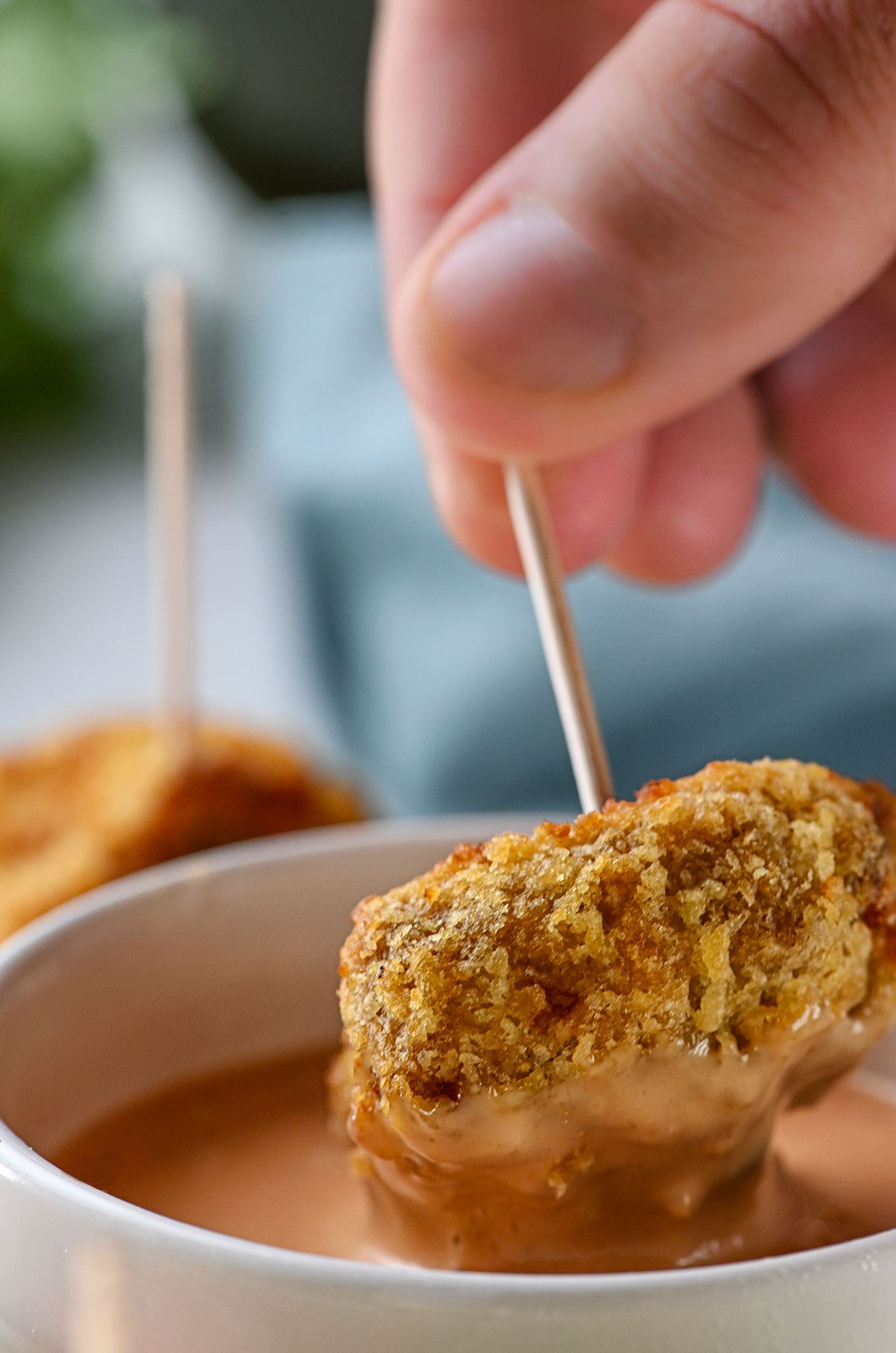 Ingredients
1 pound cubed steak, cut into 1-inch chunks
6 cups ridged potato chips (we recommend regular flavor)
1/3 cup all-purpose flour
1 teaspoon pepper
2 large eggs, slightly beaten
Cooking spray
Instructions
Cut beef steaks into squares.
Place chips in food processor; pulse on and off to form fine crumbs. if you don't have a food processor, use a rolling pin and place chips in a resealable plastic bag.
Combine pepper and flour in shallow bowl. Place chips and eggs in two additional shallow bowls. Dip steak pieces in flour, then in egg, then in crushed chips, turning to coat all sides and pressing chips onto steak pieces. If the chip mixture is too coarse or loose, it will fall off the steak bite from the force of the air fryer.
Pre-heat air fryer to 400 degrees.
Place on rack, making sure not to overcrowd. Cook 7-9 minutes until outside is golden brown and beef has reached an internal temperature of 160 degrees F. Open halfway through and shake the basket for crispier steak bites.
Tip
: Individual models of air fryers will vary on time and temperature. We tested this recipe on two different air fryers for cooking time and temperature. Check throughout cooking to make sure it doesn't burn. Additionally, you do not need to spray the steak bite coating with cooking oil. There are enough oils in the potato chips to create a beautiful crispy crust.
what is cubed steak and why do we love it?
Cubed steak is a pre-tenderized, thin and affordable cut of beef that is great for quick and easy meals like the classic "Chicken Fried Steak" and "steak fingers." We love using cubed steak because it is incredibly versatile and you can use it in just about anything, especially when it is breaded or used in sandwiches. It's best cooked in a skillet, but we've found that it's perfect in the air fryer as well.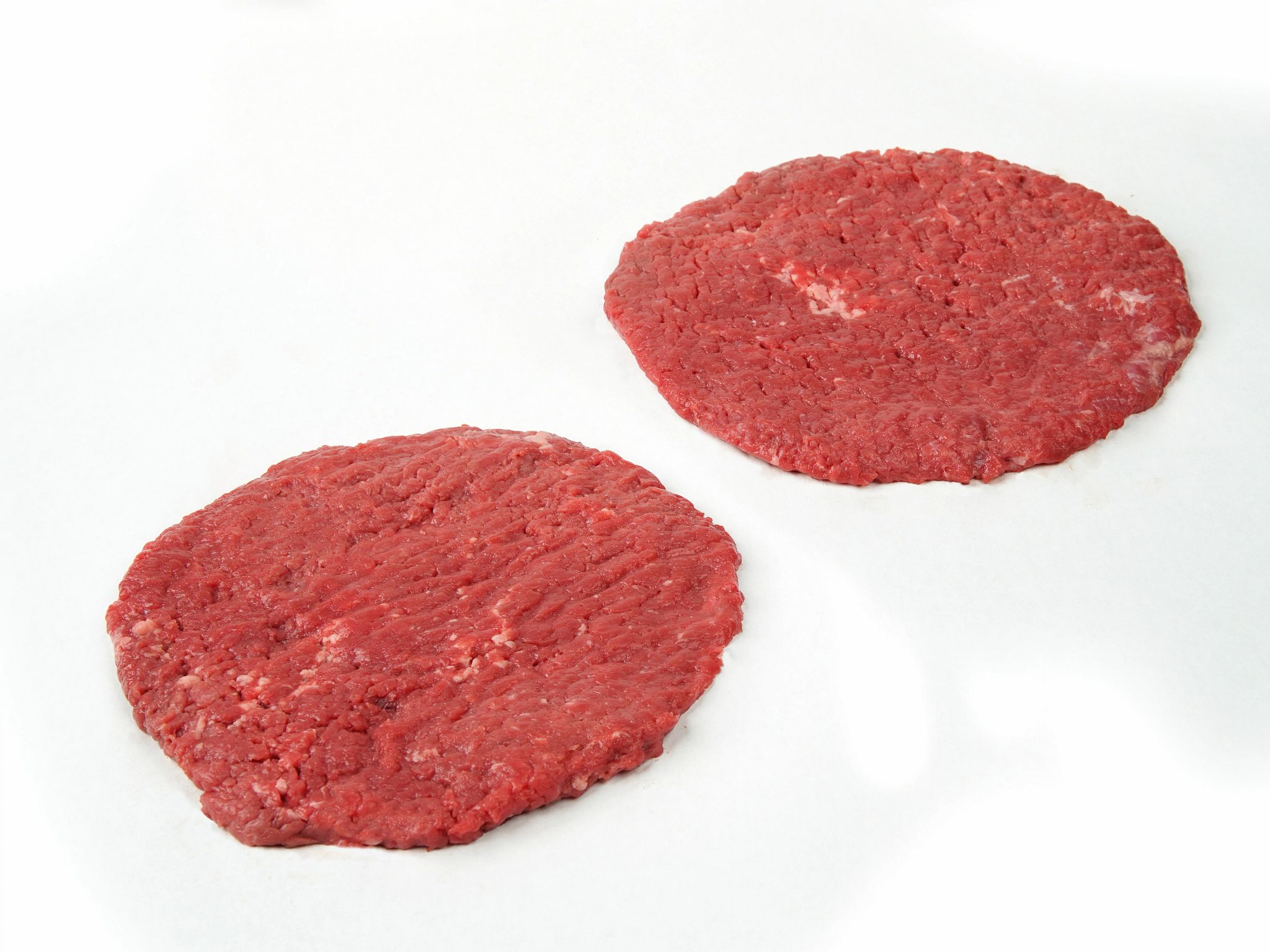 step 1: Cut the cube steak into 1" squares
Consistency in the size of your steak bites is key because they're all going to be cooked at the same temperature and for the same amount of time. We've found the "sweet spot" for this recipe is approximately 1" squares. If you cut them any smaller, the crust-to-beef ratio is small and they'll be over-cooked and overly chewy. On the other hand, if you cut them too large, the outside crust could burn before you get a proper temperature on the inside. Lastly, if you're inconsistent in your sizes, some steak bites will be tough and overly chewy while others may not be cooked to temperature.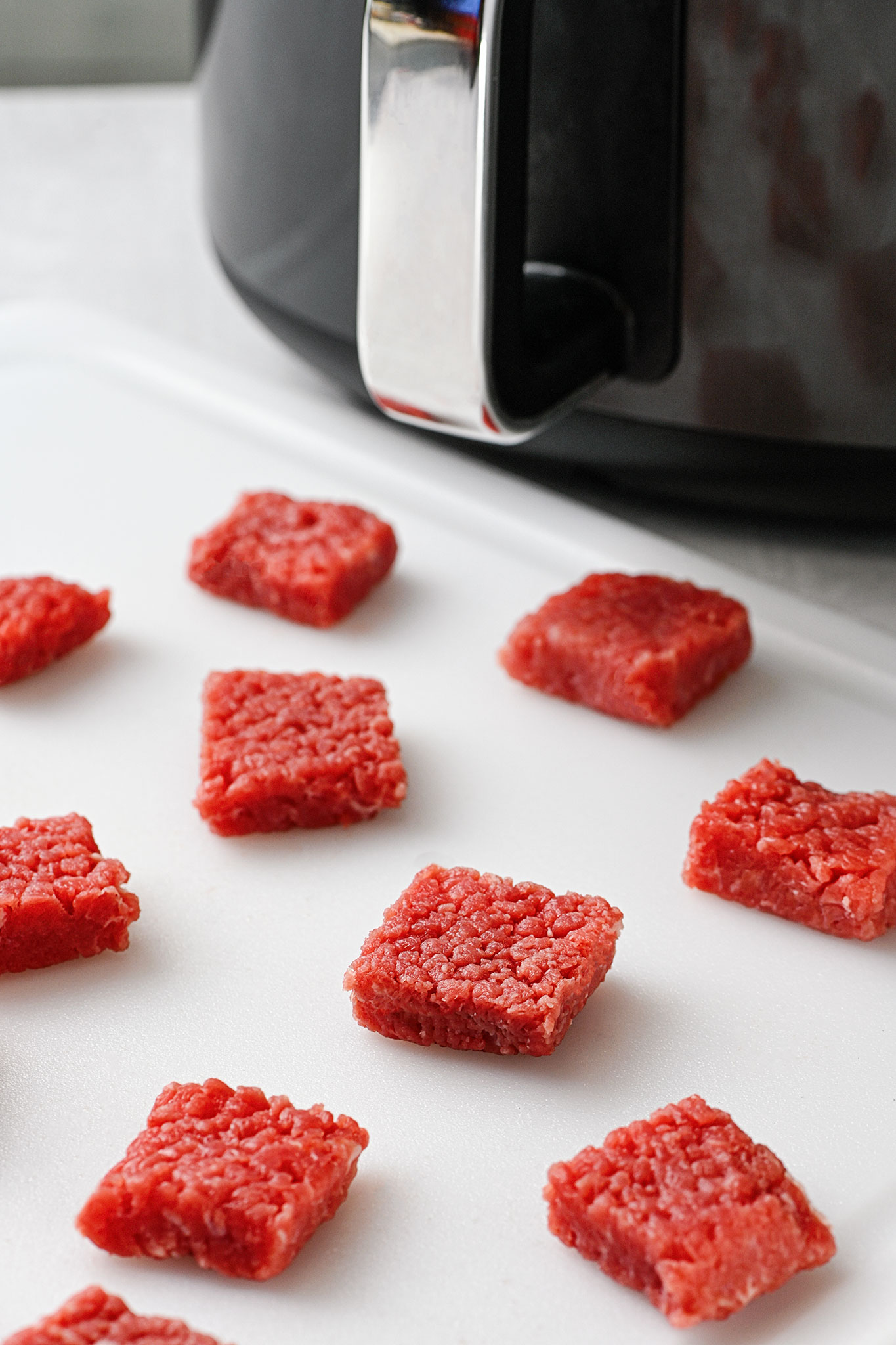 step 2: coat steak bites in flour
Once your steak bites are cut,, add the desired amount of pepper to your flour mixture. If you're needing a gluten-free option for health reasons, almond flour will work. Coat all sides of the steak bites with flour, making sure to compress the flour onto the steak bite with your hand. We tossed each steak bite several times in flour before transferring to an egg wash (step 3).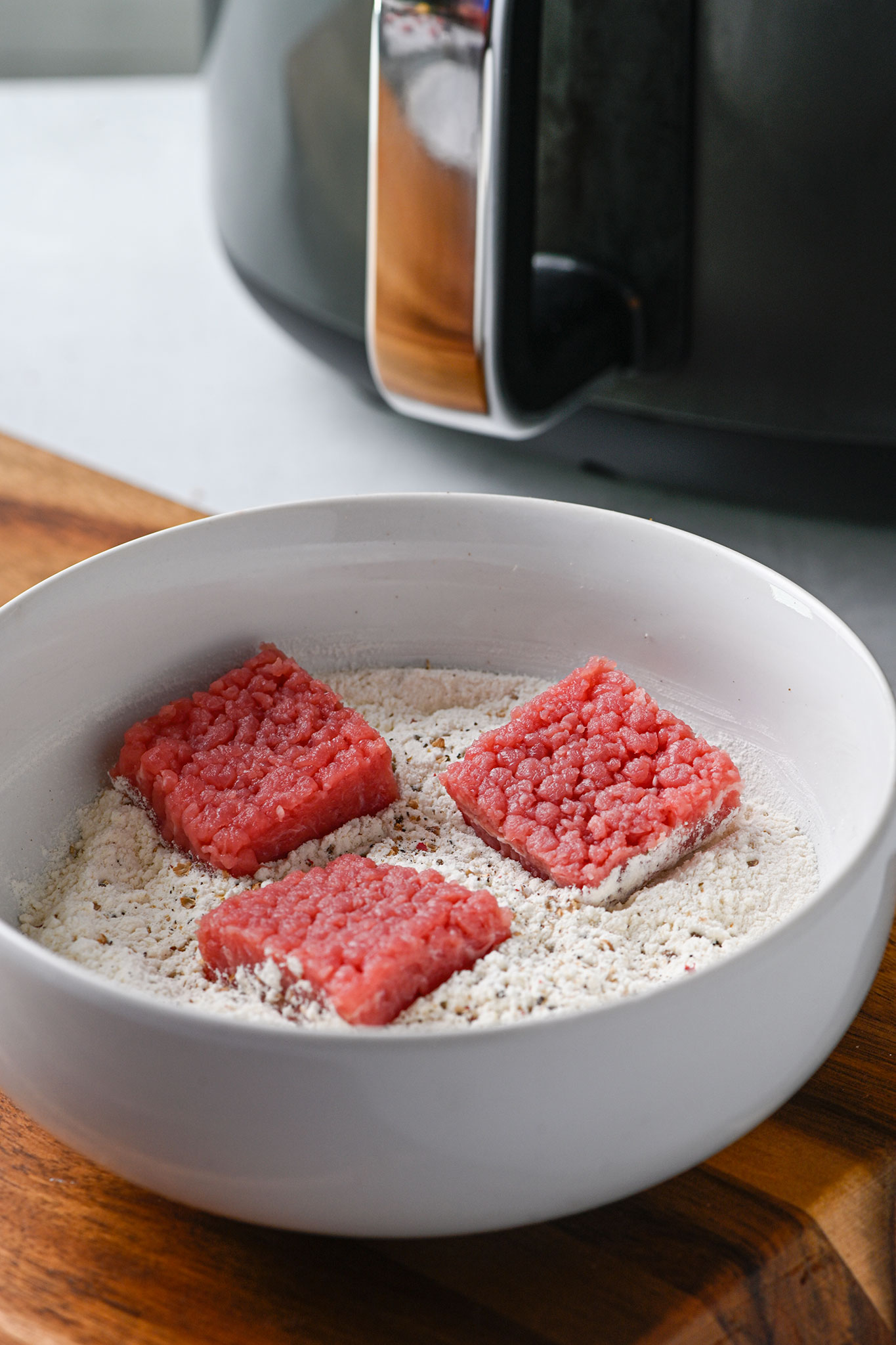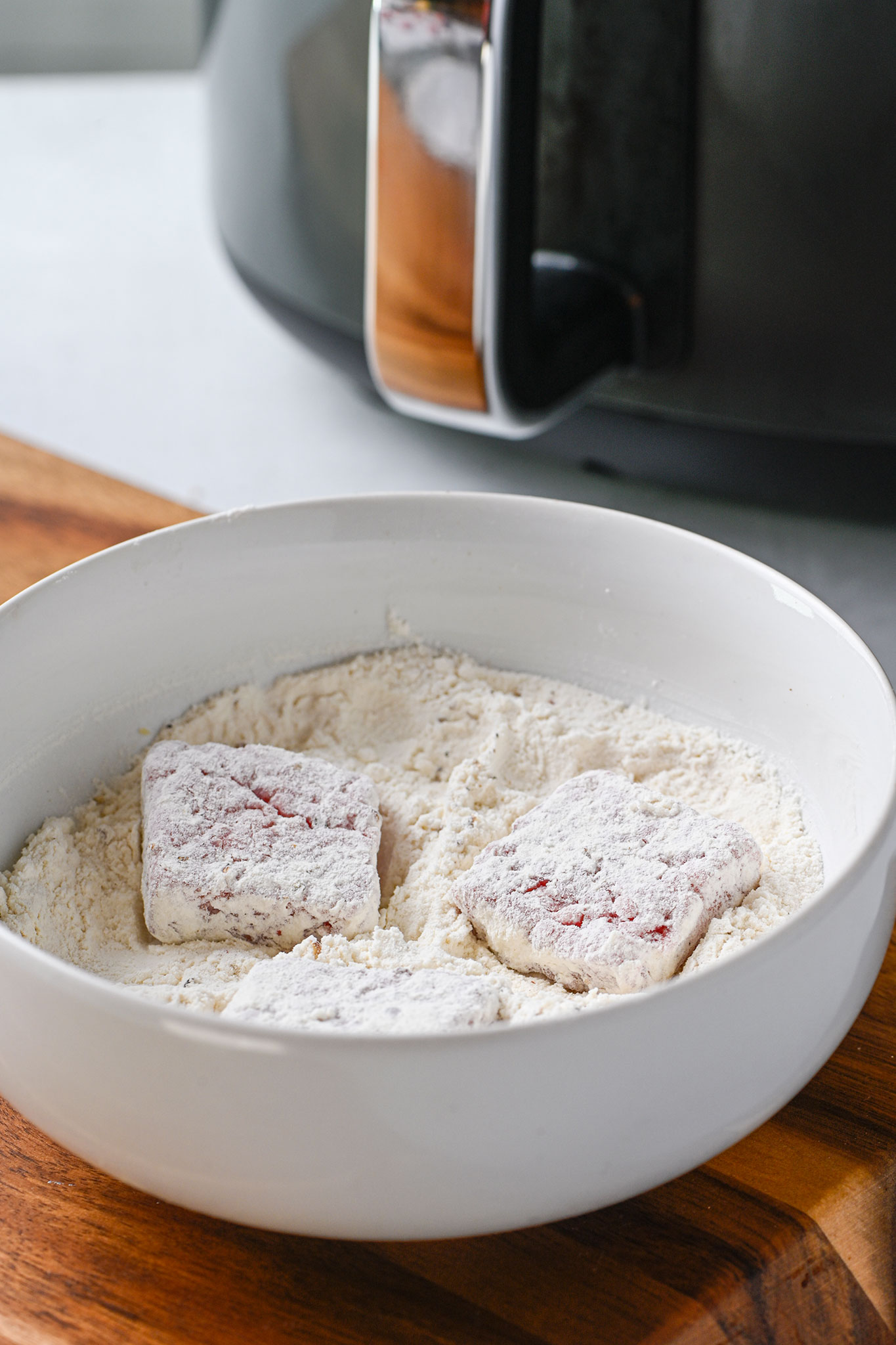 step 3: making the potato chip crust
We tried several different flavors of potato chips for this recipe. While all the flavors were good, we just loved the taste of the traditional ridged potato chips. Make sure you get the ridged variation of potato chip because there will be a noticeable difference in the texture of the final product.
Add the potato chips to a food processor. Pulse the chips in a food processor until it resembles a Panko-style bread crumb. If the pieces are too big, the air fryer will blow some of the pieces away and you won't have a crispy steak bite.
But what if I don't have a food processor?
Put the potato chips in a gallon-sized plastic bag and flatten with a rolling pin. This is a great activity for the kids!
Transfer the flour-coated steak bite into the egg wash and coat on all sides. Use a fork to transfer the steak bite from the egg wash to the potato chip mixture. This will keep your hands from getting wet and caking the flour. We had our best success by hand-packing the potato chips firmly around the steak bite akin to forming a snow ball.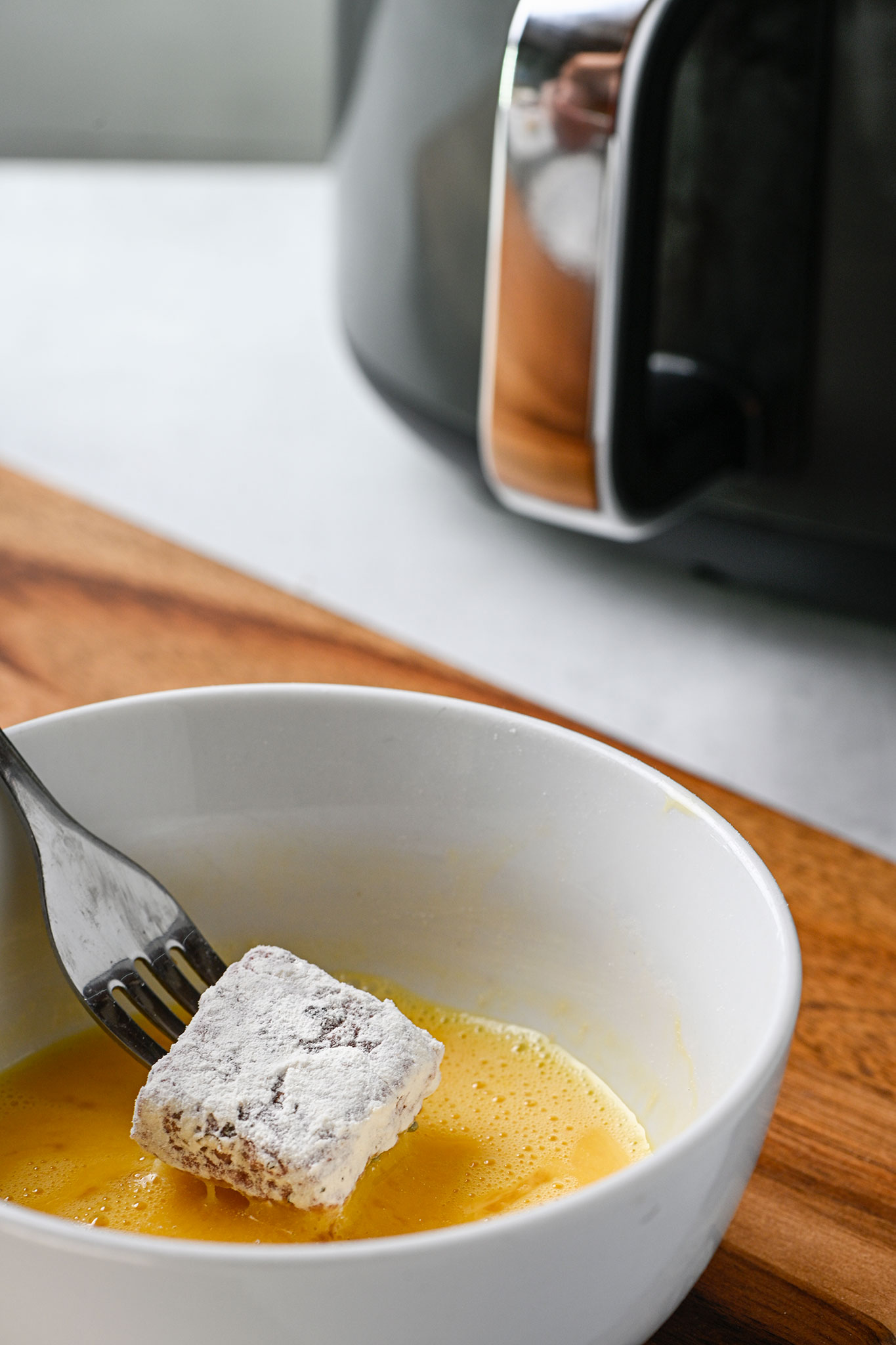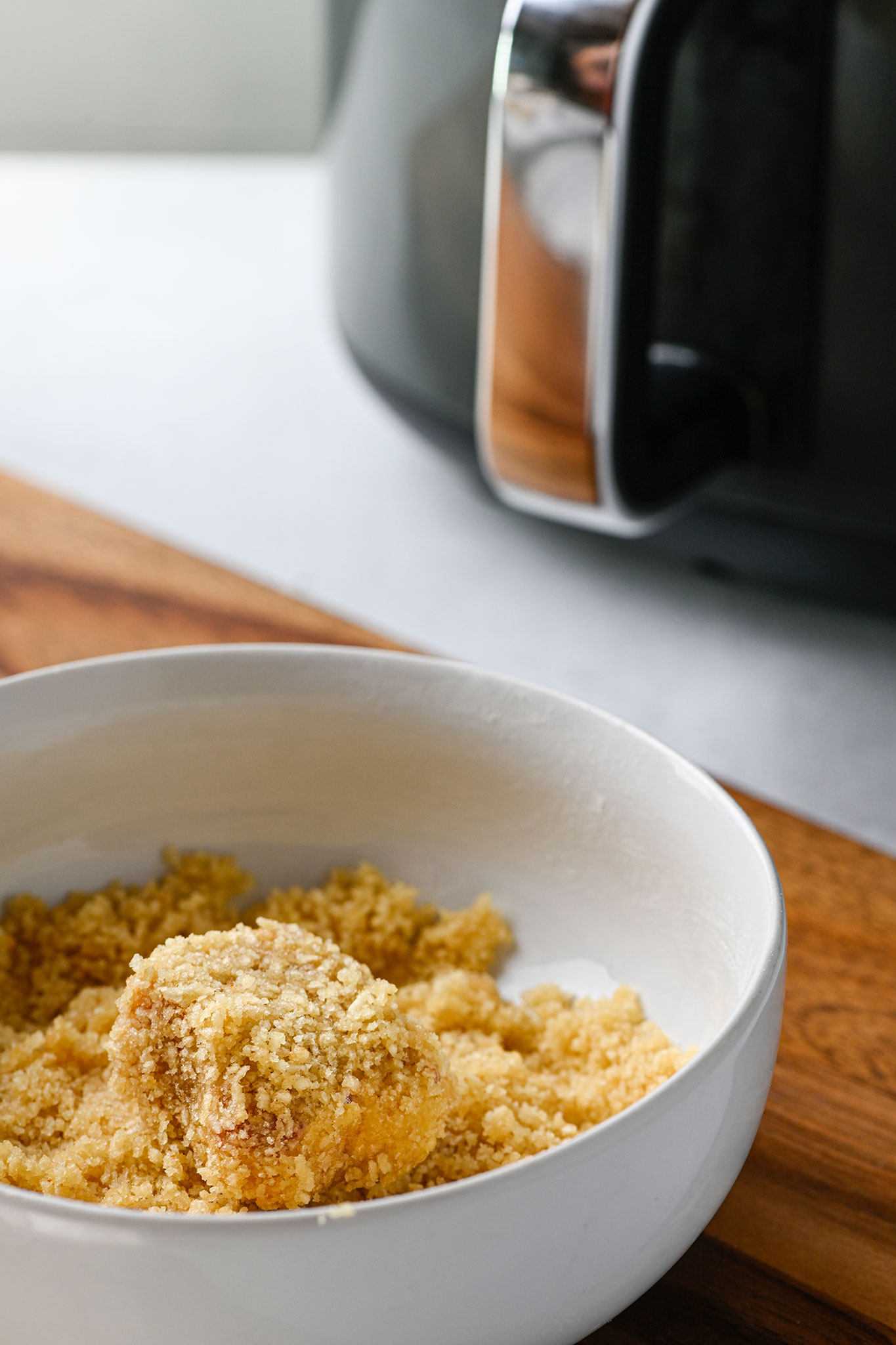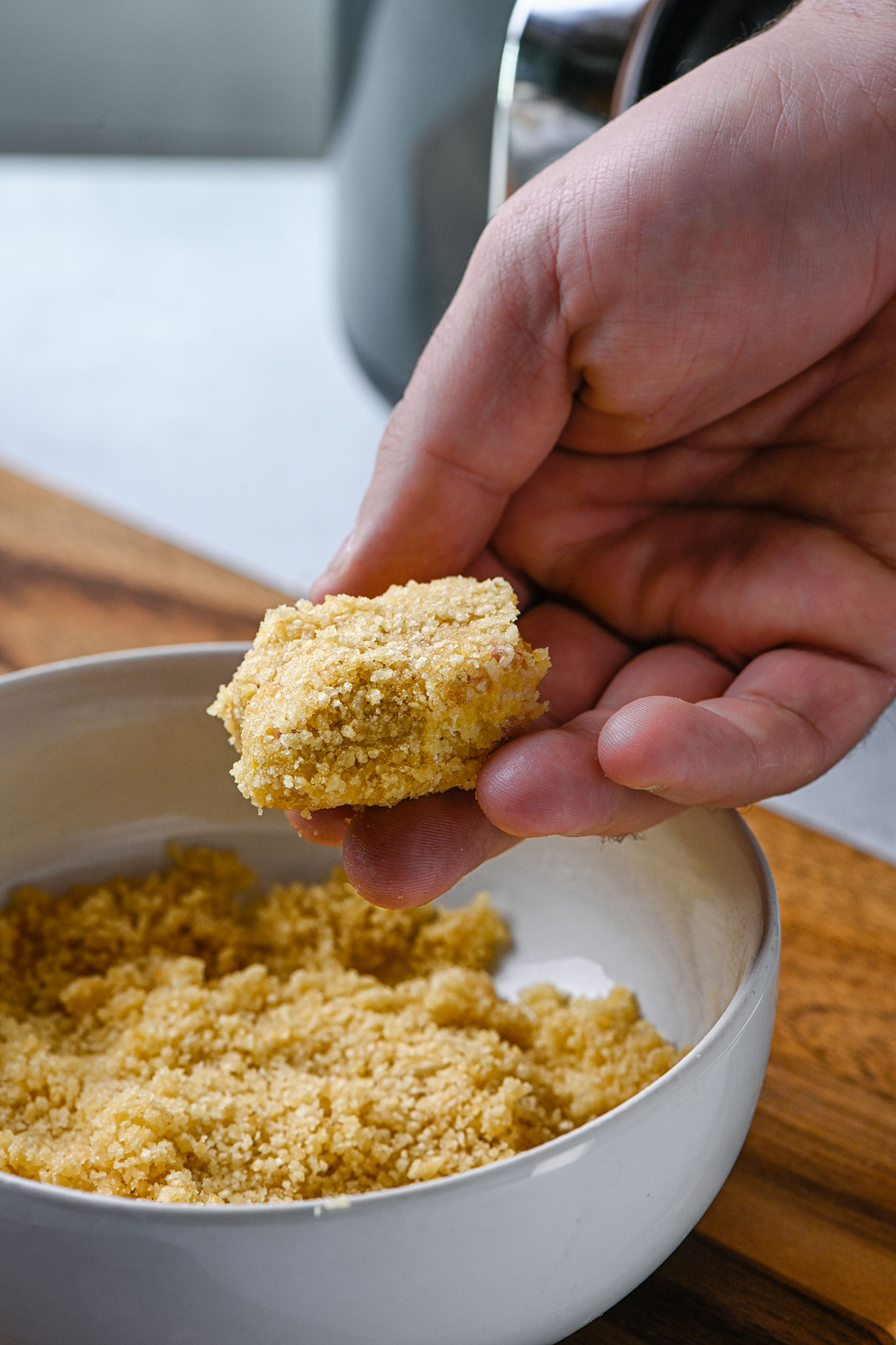 step 4: place in air fryer and cook
We tried this recipe in several different brands of air fryers. The air fryers that had the additional metal rack achieved the best results because it allowed for maximum air flow to get to the steak bites and crisp them on all sides. However, this recipe will work in all air fryers. We used a 5.5 quart air fryer on the "air fry" setting at 400° F for 7 minutes. However, we highly recommend checking periodically as individual air fryers cook at different rates.
Tip: Make sure you leave space between the steak bites so they don't steam. Remove and shake the basket gently at 4 minutes for crispier results. This will make sure all sides have a chance to be browned.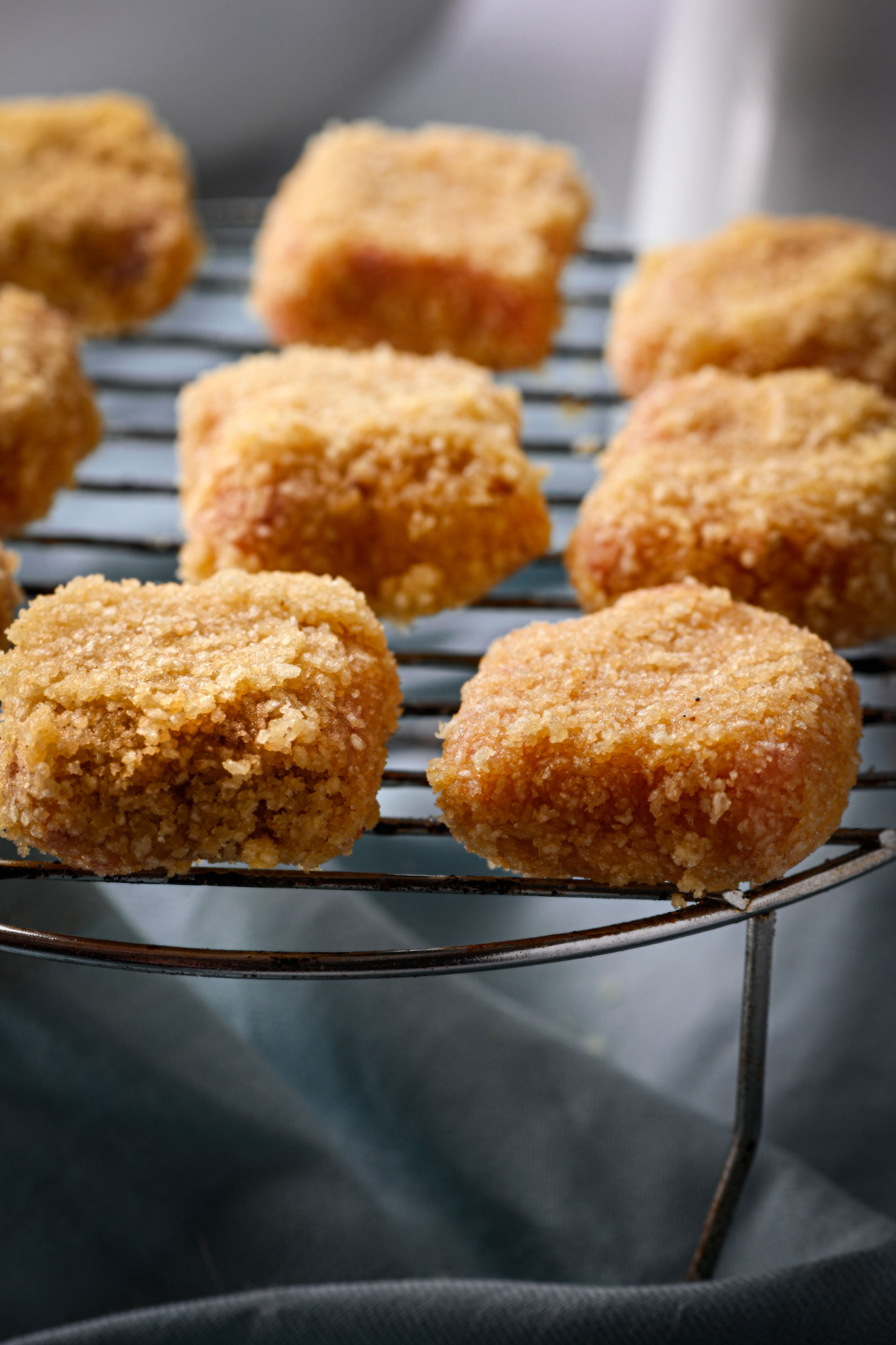 step 5: serve and accept compliments
The Kid Variation: Kids will absolutely LOVE, LOVE, LOVE this recipe because it's a fun finger food with an ingredient children all love, beef. To make it a balanced meal, we chose to serve this with fresh vegetables like carrots, celery and some fresh fruit. If you're like us, you might even have a few sauce packets from various trips to fast-food restaurants hanging out in the drawer below the microwave.
The Party Tray: This recipe screams finger-food for a casual get-together with family or, when the time comes, your friends at the next football game. We opted to place toothpicks in each steak bite and serve them on a platter around some of our favorite dipping sauces like BBQ, Thousand Island or ranch.