air fryer beef frittata
Protein-packed breakfast without the pots and pans
We know busy mornings are the norm in our lives and, somewhere between pouring another bowl of cereal, searching for our car keys and trying to figure out where the kids' backpacks are for the 5th day in a row, mornings just don't afford us the time to make something fresh, nutritious and delicious. This recipe is a perfect solution to those busy mornings we are all bound to encounter. Make this up on Sunday evening and you'll have slices of protein-rich breakfast that will keep you and the kids fueled throughout your morning. Let's take back our morning sanity and get cooking.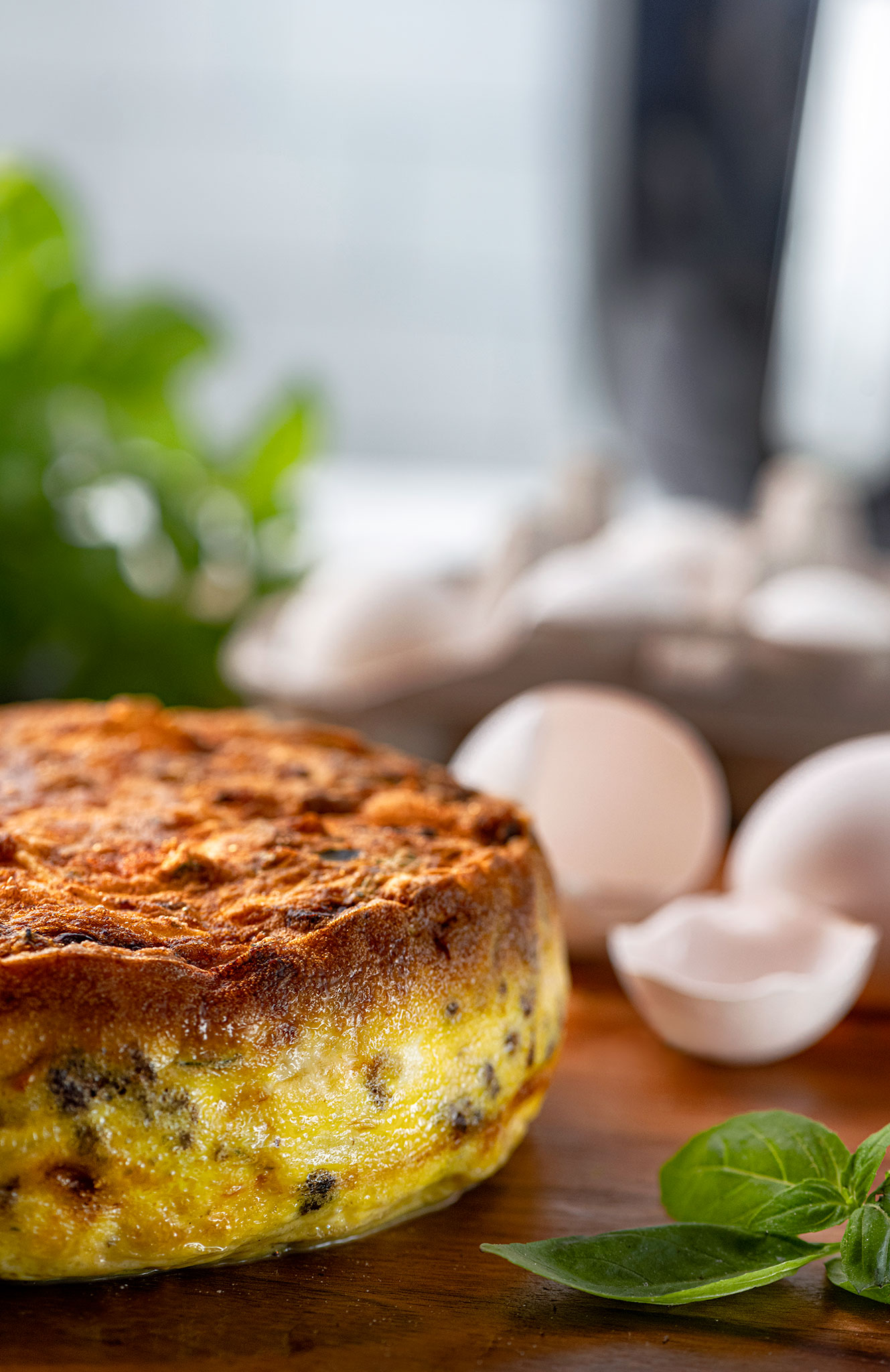 Ingredients
1/2 pound ground beef
1 cup shredded hash browns - thawed
1/2 cup diced yellow onion
1 zucchini
8 eggs
Fresh basil
1/2 cup shredded Italian cheese
Salt and pepper
Optional: Top with diced tomatoes and serve with fresh berries.
Instructions
Crumble the ground beef in the air fryer tray and season with salt and pepper. Top with diced onion. Spray with olive oil and cook on steak setting 375° F for 3 minutes; break up big pieces, stir; cook at 375° F for 2 minutes or until beef reaches an internal temperature of 160° F. Remove beef from tray and clean off grease.

Quarter zucchini lengthwise and cut into 1/8" slices. Place in tray and spray with olive oil. Cook at 375° F for 3 minutes. Add to beef mix.

Mix eggs, fresh basil, hash browns and cheese. Add ground beef and zucchini. Add salt and pepper to taste. Mix together. Spray 6" round cake pan with non-stick cooking spray. Pour mixture into pan. Cook on 350° F BAKE setting for 8 minutes; cut slits in top and gently stir middle; cook an additional 8 minutes on 350° F bake setting.

Top with extra shredded cheese and diced tomatoes.
Note: Individual times may vary depending upon your model of air fryer.
air fryer breakfast recipe
Air fryer recipes are everywhere on the internet, but so many of them just seem to be variations of the same types of recipes. While nothing is wrong with that, it's nice to have a few more recipes in your repertoire to justify keeping another appliance in the home. That's why we love this recipe. It's unique. It's easy. It is oh, oh so delicious. Plus, did you know frittata is loosely translated in Italian to "fried"? Making an air-fried frittata just makes sense.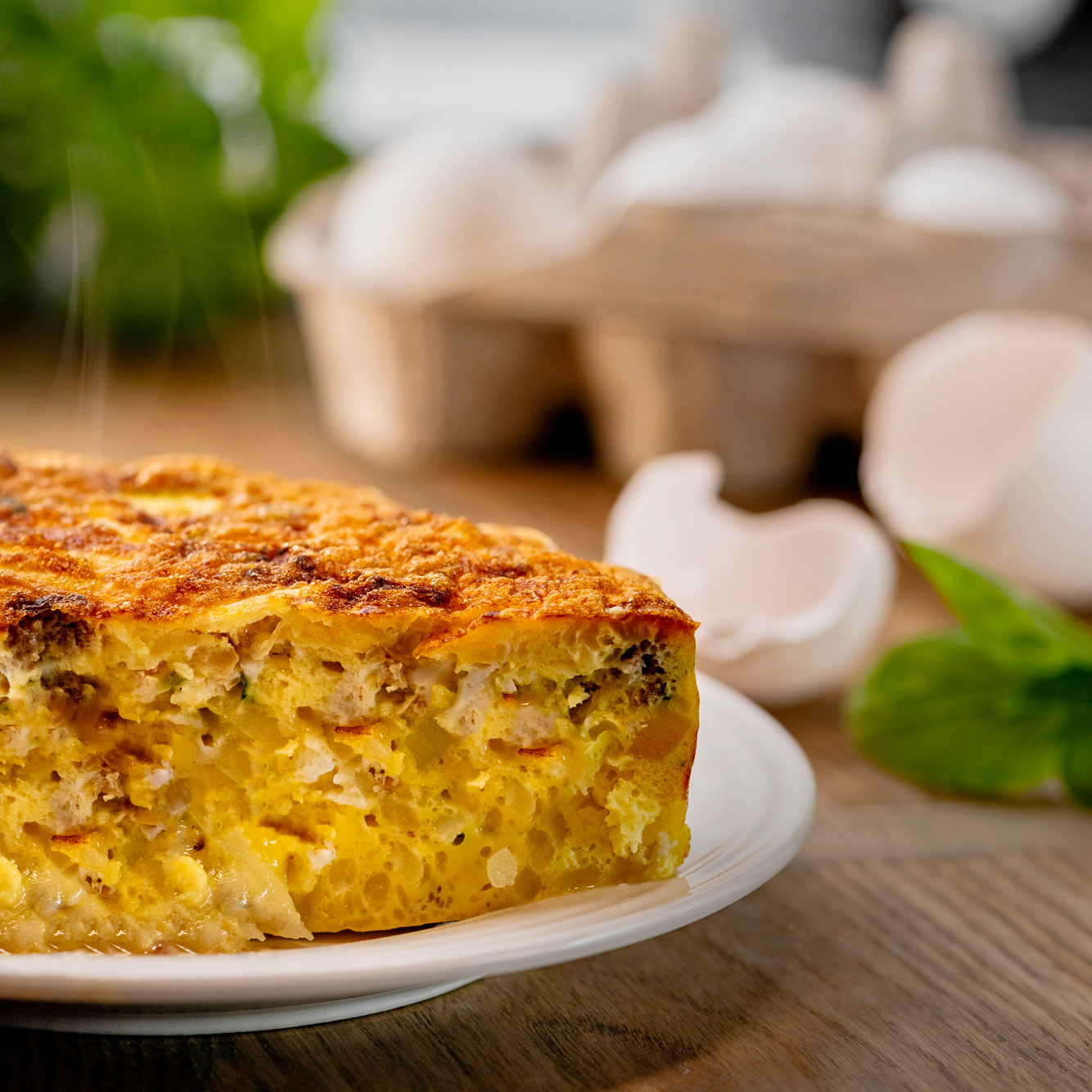 how to cook ground beef in the air fryer
The air fryer is a great way to cook ground beef.. Crumble the ground beef by hand and place it in the basket with some salt and pepper. Once you add the diced onions, spray a little olive oil over the ground beef. This will help keep the ground beef from drying out. Speaking of drying out, we recommend keeping the beef no leaner than 90% for this recipe. The air fryer will naturally bring the fat out of the ground beef. If you go too lean on this, you run the risk of having dried-out beef.
Clean out the grease left in the bottom after this step.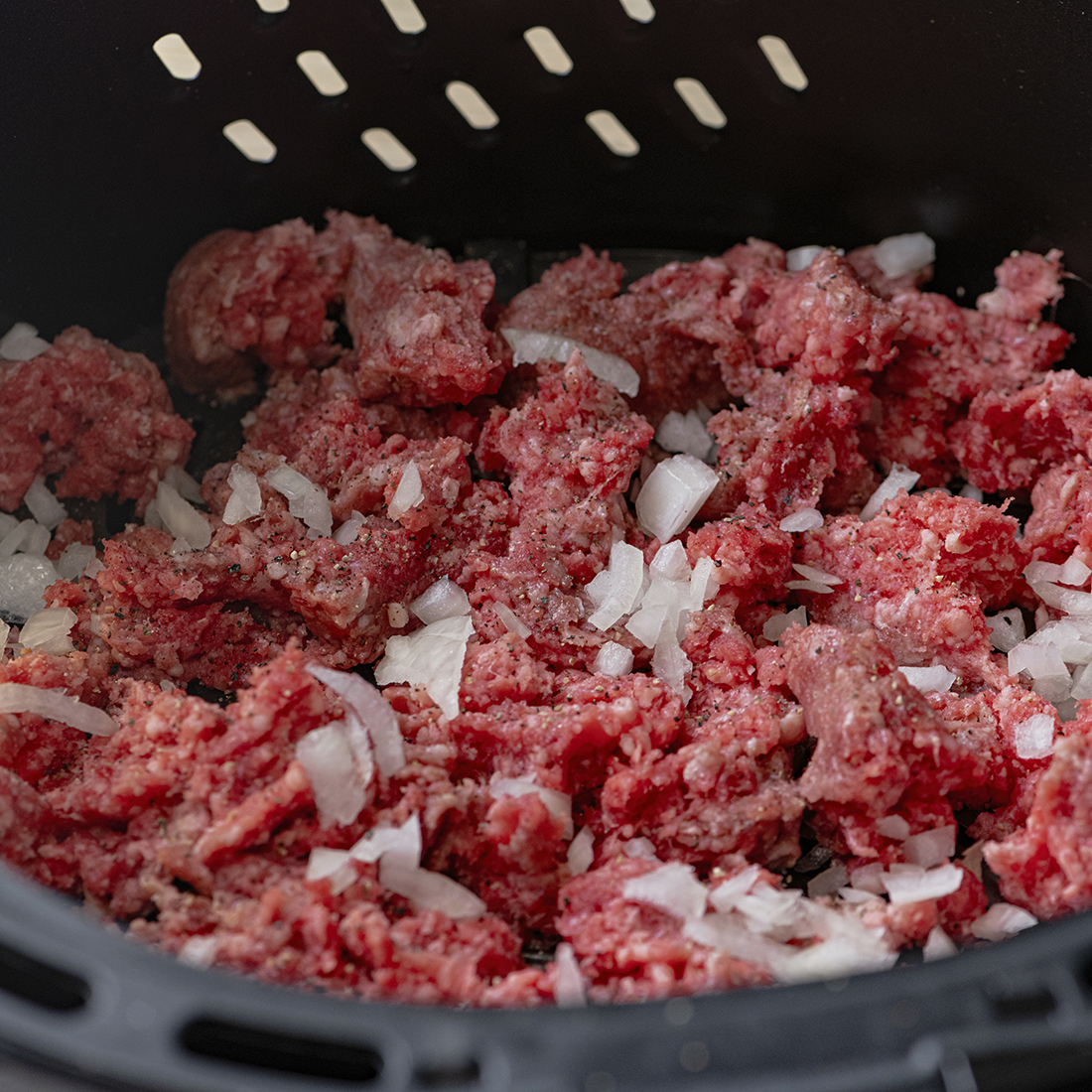 cooking zucchini in the air fryer
After the ground beef is cooked and the tray is clean, it's time to cook up the vegetables that make this dish. We love the taste and nutrients offered by diced zucchini, and we chose to finely chop it for this recipe. Add the zucchini to the air fryer tray and spray with olive oil and season with a little salt and pepper.
This recipe also would be great with diced red peppers and fresh chopped spinach. Skip this step if you're only going to use spinach in this recipe. Instead, add the spinach with the rest of the ingredients in the next step.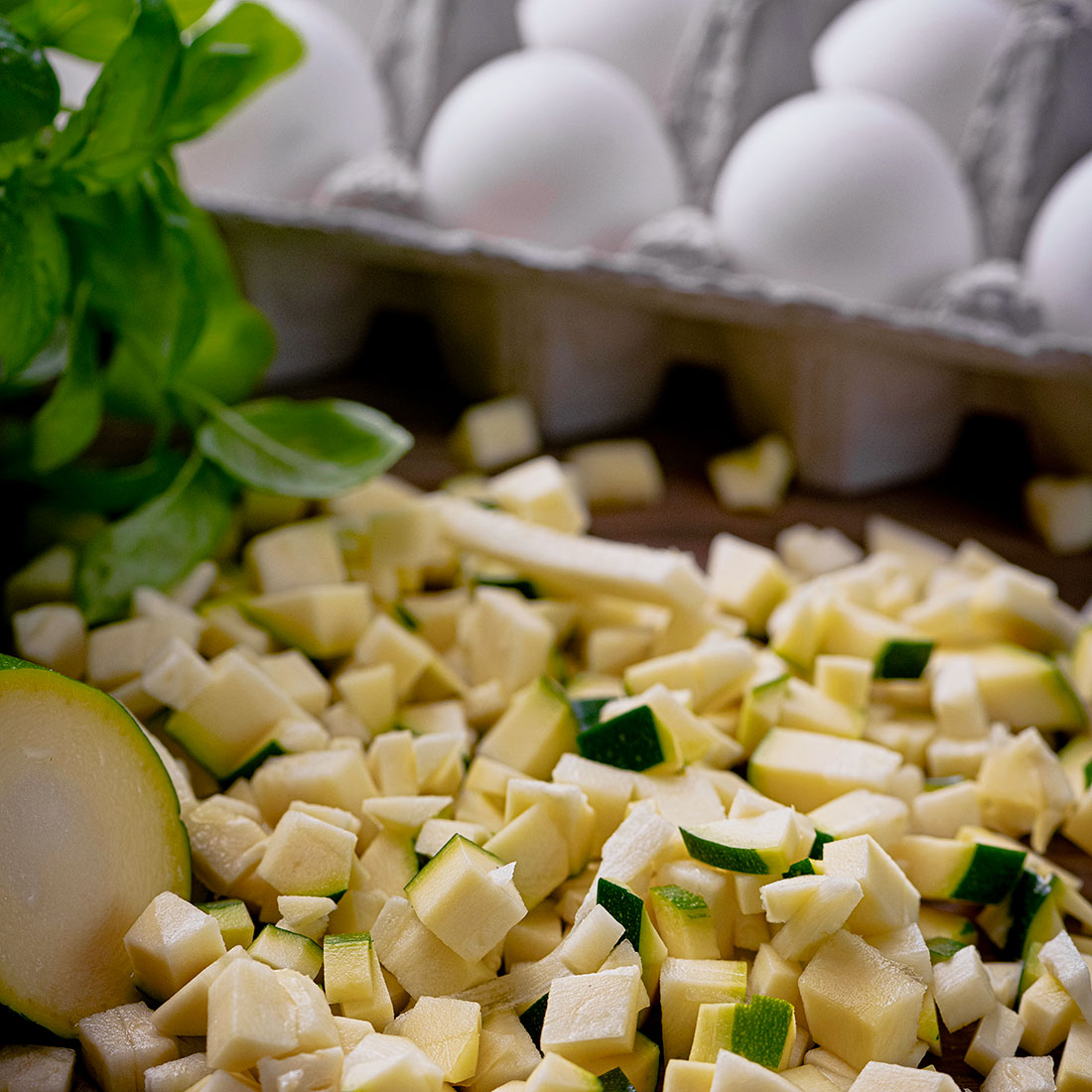 Mix all the ingredients together for the air fryer breakfast frittata
Combine the ingredients that will go in the cake pan. You easily can skip a dirty dish here and mix the ingredients directly in the cake pan. We used a 6" cake pan for our air fryer, but you may find a different sized cake pan is needed, depending upon your air fryer model. A large diameter may decrease cooking time while a smaller diameter may increase it. Spray the pan with olive oil to help the frittata release after cooking.
tips for cooking the frittata in the air fryer
One risk you run with a frittata is having a beautifully browned exterior while the inside isn't quite done. Every air fryer model will be different on cooking times, but here are a few tips to make sure you find success. Halfway through the cooking time, make sure to cut a few slits in the top of the frittata and delicately stir the inside with a fork. Make sure you're also paying attention to the amount of browning that is happening to the frittata. You may want to cover it with aluminum foil if it is browning too much or too early.