While ranching may be in his blood, it was never really in his plans. Jake Pannbacker studied to become an elementary school teacher.
"The thing I really enjoyed about teaching", he says, "is seeing your students grow in your classroom. I was able to look in their eyes when they finally learned something that had been challenging for them. It was the best feeling".
However, as so often happens, the call of home and family brought him back to the farm. With his dad, a licensed veterinarian, and his trusty, yet unconventional, ranch dog by his side, Jake grows crops and cares for roughly 150 head of cattle on his north central Kansas farmstead.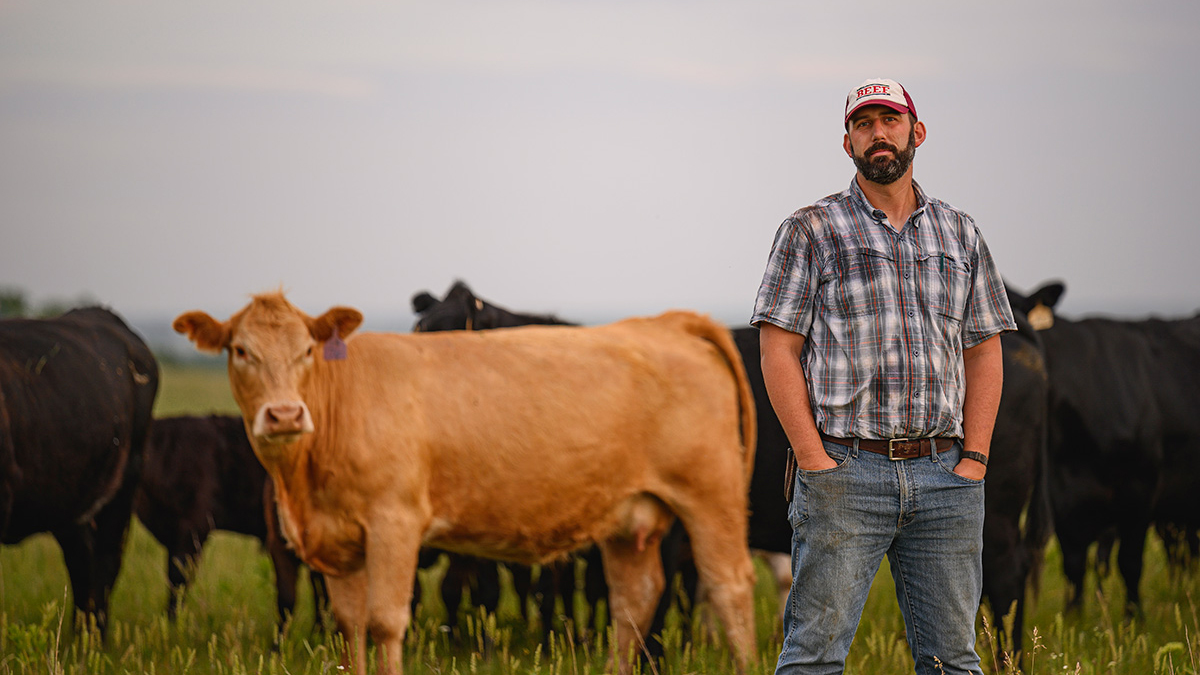 What's the history of the ranch?
"I'm the 5th generation to live along Mill Creek. My grandparents moved to this spot in 1946. My grandfather decided to retire in 1980, so my dad took over the ranch. I joined him a few years ago.
How is your ranch unique?
"When the ranch started, this ground was primarily used to grow steers on grass. Seventy years later we still grow steers on the grassland we manage, but one big change is we now have the opportunity to take care of the cattle during their entire time on our land, from start to finish. That means we breed our cows, raise the calves, care for them at the feedyard and sell them to become a delicious meal for families across the country. Every ranch will do things differently, but this is what works for us and our land."
Who do you work with on your ranch?
"My dad and I work together most days. Working alongside my dad is actually something I never thought about growing up. I've really started to treasure working alongside him over last 6 years since I've moved back to the farm. My dog Hawk is also usually with me. He's a Black Lab / Weimereiner mix. He's definitely not your typical ranch dog, but he loves to ride along with me on the UTV or in the truck when checking pastures."
What is an average day like?
"The great thing about ranching is every day is different. There always will be new challenges and some new learning experiences along the way. However, there are some things that routinely happen. Every morning I go check on the cows in the pasture to make sure they're healthy. Most times this involves Hawk and me riding through pastures to get a good close look at every cow and calf. He loves sitting up on the UTV. After that I'll head on over to our feedyard to check on those cattle. They need fresh food in their bunk and plenty of fresh, clean water. I take my scrub brush with me, empty out the waterer and scrub each trough in every pen to make sure they have clean water to drink."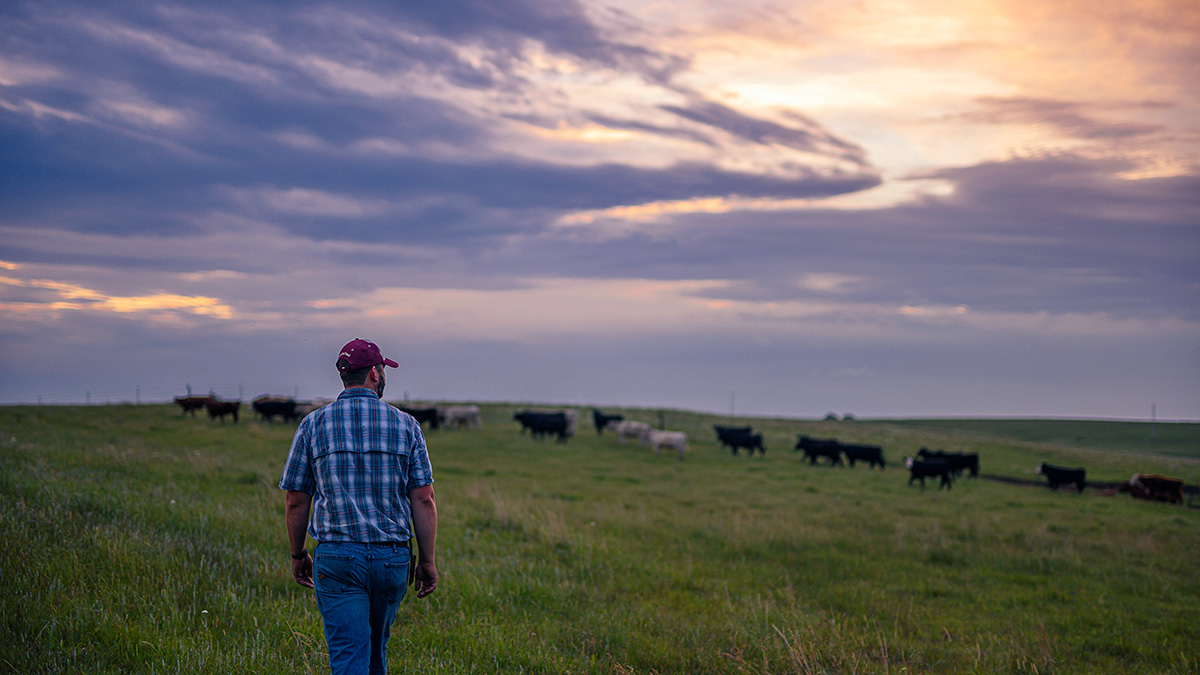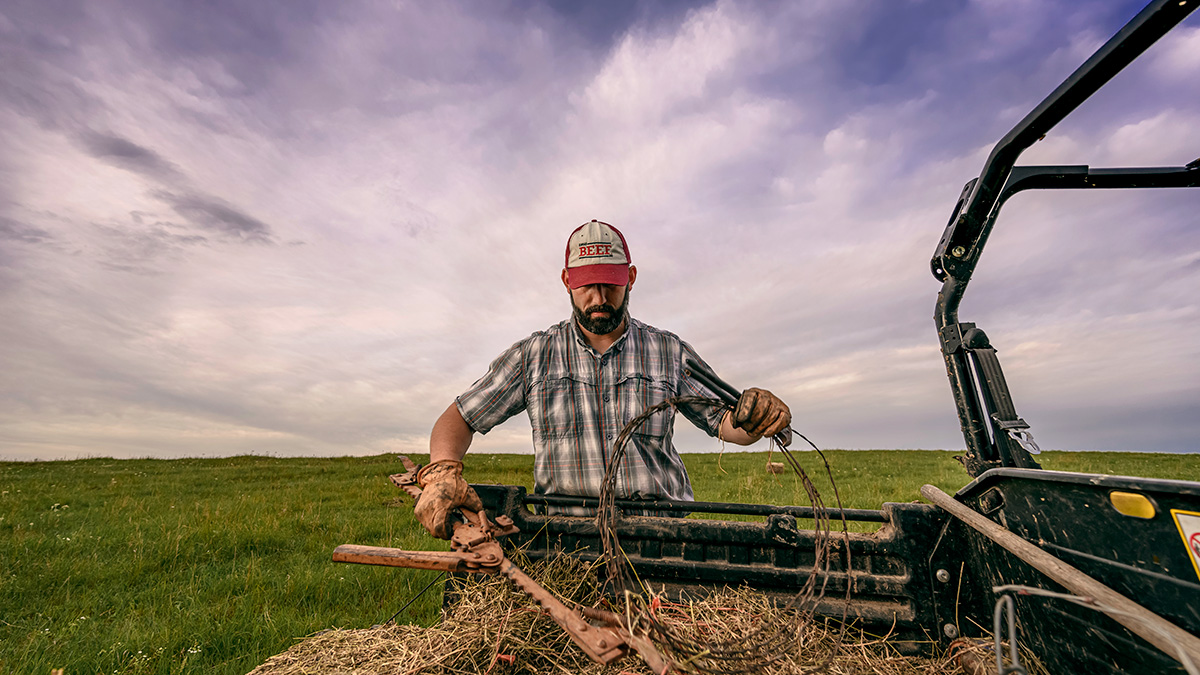 Fencework is always needed
There's one thing that's for certain when you have miles of fence on a ranch. There will always be a section of fence that needs to be fixed. Jake reaches for a strand of wire and a fence puller from his UTV.
A daily multivitamin
Cattle need a multivitamin even if they're grazing on pasture. Jake delivers a mineral block to a pasture. The cattle are free to lick or chew on the block as they need it and a new one will be delivered when it runs out.
How have you worked to improve the sustainability of your ranch?
"Sustainability is incredibly important to our ranch. When it comes to sustainability, it's not as much of a destination as it is a continuous process of improvement. Every year we want to get better, and I think we have. We've worked incredibly hard to improve the quality of grass for the cattle and provide a great habitat for wildlife. In the last decade we've focused on improving how we burn our pastures. We leave a patch of grass every year so the quail and other species have a habitat. Before we did this, you could go years without seeing a large number of birds like quail. However, we've seen a drastic improvement in their numbers."
Another big aspect of sustainability is how the Pannbackers integrate their cropland and feedyard. "We grow crops and forage, so almost everything the cattle eat at the feedyard is grown on our land. Since we own a small feedyard, we have a great source of high-quality organic fertilizer. We'll capture this fertilizer and use it on our row crops. From there we'll harvest those row crops and feed the grain to the cattle. It's a complete circle and really helps us be efficient. With the exception of the mineral and the distillers' that we feed at the feedyard, everything the cattle eat comes from our farm."

It's been an incredibly wet spring and farmers and ranchers are hurrying to get their corn crop into the ground while they still can. Jake is filling the last of a "hopper" on his planter where he will start planting the corn that will be fed to his cattle.
A balanced ration
The cows are fed a mixture of forage and corn that are all grown on the Pannbacker farm. In addition to these feed additives, they'll receive a vitamin and mineral mix as well as some distillers' grain. Distillers' grains are the leftovers from the brewing process that have zero nutritional value to people, but cattle love them. It's just one example of how cattle "upcycle" human-inedible products and turn them into high-quality protein.
A fresh ration every day
A fresh, new ration is mixed up every single day for the cattle and delivered by feedtruck. Mixing the feed together is a great way to make sure the cattle's nutritional needs are being met. Just like children, they often will pick through the items they like most (i.e., the corn). By mixing it up, ranchers make sure the cattle get the nutrients they need.
What are you passionate about?
"I'm passionate about producing a great-tasting, nutritious and wholesome steak. It really is awe-inspiring to know that you're part of something much bigger than yourself. I want to make sure every family has an amazing experience at the table."
Pannbacker Farm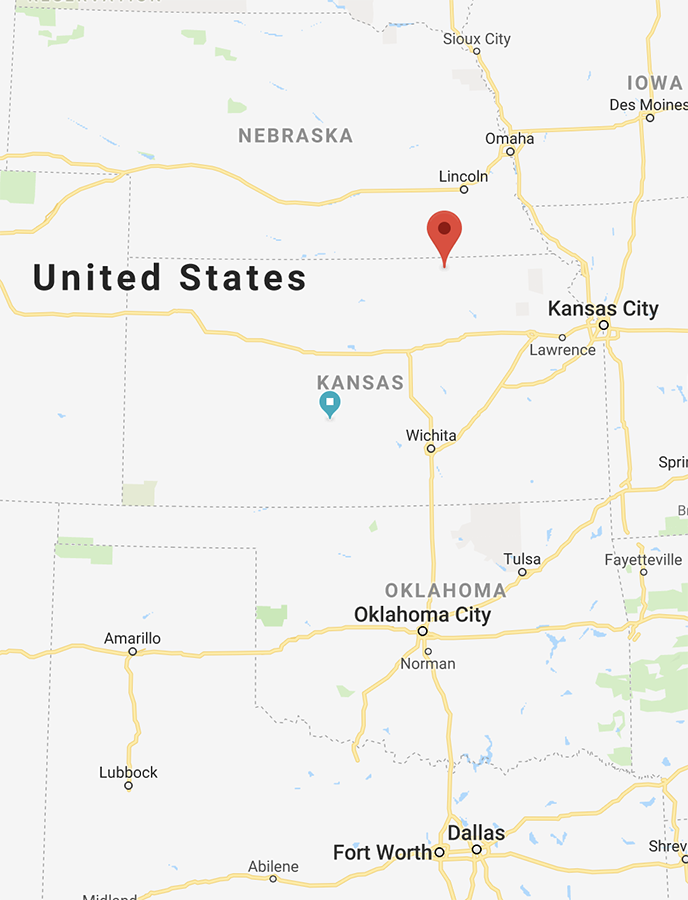 Washington, Kansas