beef chili potato party bar ideas
Chili baked potatoes
The leaves begin to fall and the brisk winter wind subtly lures many away from their grills and toward their trusty slow cookers and stock pots in search of warm comfort food. And, when it comes to comfort food, we don't know of a dish more fitting than a fresh bowl of savory chili when the temperatures drop.

There's a big advantage to cooking up a huge bowl of chili, and that advantage is a few days of incredible leftovers. But, if you're like us, you want your leftovers to have some variety to keep your taste buds and family members happy. Plus, you want to be able to serve those leftovers with something that is both economical and tasty. Potatoes are also really cheap, and all of us could use a few more penny-pinching meals in our culinary arsenal. Here are our recommendations for remaking chili into a savory potato chili bar.
What Kind of Meat for chili?
We recommend ground beef that is 93% lean or leaner for this chili potato board. If you want even leaner, ground beef that is 96% lean is classified as a lean source of protein by the American Heart Association. Whatever type of beef you choose, know that a 3 oz serving provides 10 essential nutrients, including vitamin B12, iron, and zinc, which is important for your immune system to function properly. Chili is a great way to use lean ground beef because the liquid keeps the low-fat beef from drying out and there are ample seasonings and spices that add robust flavor.
Some families believe they need to choose ground turkey over ground beef because they believe it is healthier. But is ground turkey really healthier than ground beef? When it comes to 93% ground beef vs. 93% lean ground turkey, beef has fewer calories, less total fat and less cholesterol, while providing more protein, iron, zinc, vitamin B12 and selenium. If you're looking for a wholesome, nutritious and delicious meal, beef definitely fits the bill for this recipe and many others.
start with a great chili recipe
You may have an old family recipe passed down from a grandparent that is a sure-fire winner for any community chili cook-off. However, if you're like most of us and lacking a chili recipe benefactor, we've got you covered. Here are some of our favorite chili recipes to give you a great start.
Chili potato bar options
We recommend either your standard russet baking potato or a sweet potato. Both potatoes have unique nutritional characteristics and taste profiles. However, one great thing about serving up a party dish like this chili potato bar is that it takes minimal effort to please a wide variety of taste buds and dietary preferences. Throwing a sweet potato into the oven along with a russet potato takes the same amount of time and will offer variety for everyone.
chili bar topping ideas
We recommend having a variety of options for various food allergies and dietary preferences. Here are some of our favorites:
Avocado
Tomatoes
Finely diced onions
Corn chips
Chopped cilantro
Greek yogurt or sour cream
Jalapenos
Lime wedges
Chives
Cheese
add a touch of dessert
Is there a more Midwestern dish than cinnamon rolls and chili? Make sure you pop a few cinnamon rolls in the oven once chili is served so your family has some sticky and sweet treats once they finish their potatoes.
shopping list for the chili smothered potatoes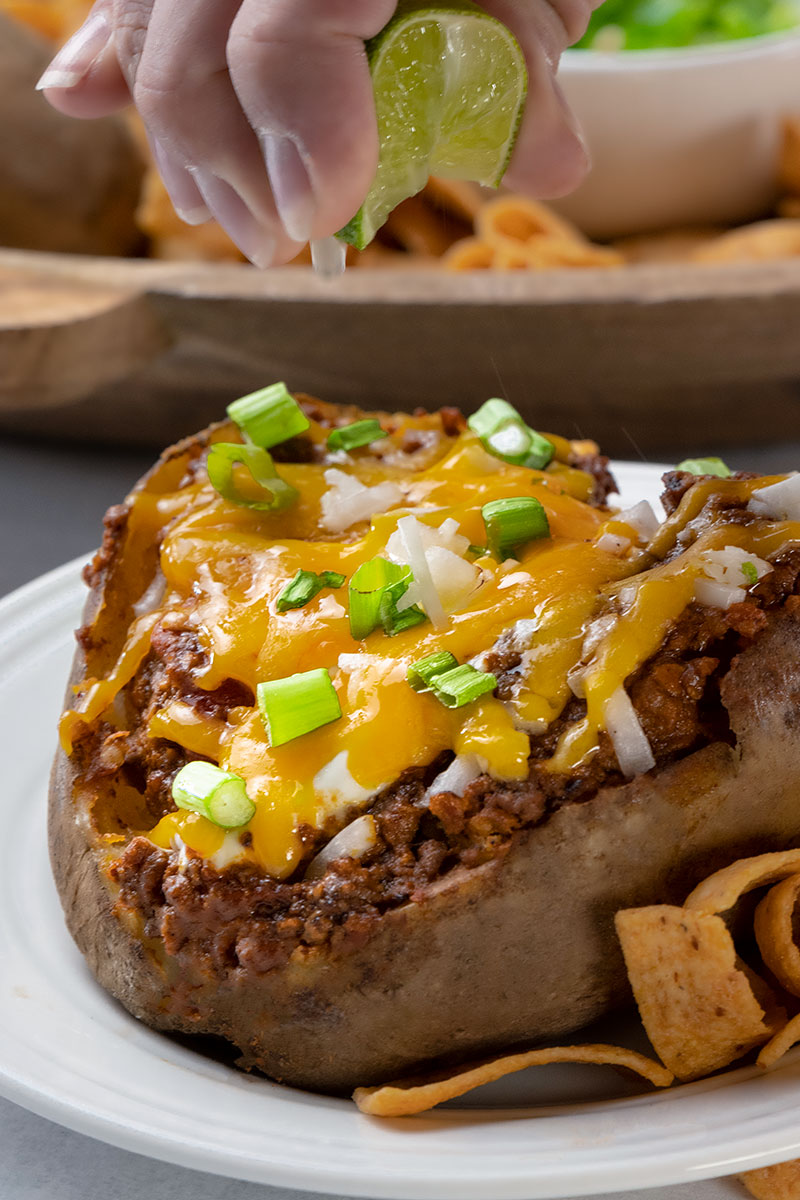 classic beef Chili recipe
1 pound ground beef (96% lean)
1 can (15 ounces) reduced-sodium black beans, rinsed and drained
1 can (14-1/2 ounces) unsalted beef broth
1 can (14-1/2 ounces) unsalted diced tomatoes
1 can (4 ounces) diced green chilies or sliced jalapeño peppers
2 tablespoons chili powder

Get the recipe for this Chili
Chili potato Bar
6-8 russet potatoes
4-6 lime wedges
1 large bag corn chips
1 cup Greek yogurt
1 cup sour cream
1 bunch cilantro
1 cup green onions
1 onion, diced
1 cup cheddar cheese
1 cup Pepper Jack cheese
1 avocado, diced