How to Build a no-fuss, praiseworthy charcuterie board in minutes


Another day, another meal to prep. It's often a monotonous and thankless job, isn't it? Break the routine and create a lasting mealtime memory with an effortless charcuterie board that is sure to be a hit with the whole family. These fancy spreads can bring pizzazz without the fuss. What's more, mix-and-match ingredients use what you have on-hand (no last-minute grocery store runs) and satisfy even the pickiest of eaters - all without turning on the oven. Here are five steps to creating a memorable family night at home with an effortless charcuterie board.
Assembling your charcuterie board in 5 easy steps
1. Choose your surface
No need to make a trip to the store - the options for a board or platter are endless. While rustic wooden boards or glistening glass trays dress up a charcuterie board, you don't need every meal to grace your Instagram grid or Pinterest board. Plastic cutting boards, serving plates or platters, sheet pans or any flat surface will work just fine.
2. choose beef for your protein
Lean beef makes the perfect staple for charcuterie boards and provides the whole family with the protein they need for strong bodies. Many charcuterie boards contain three meats, but there is really no magic number. Roast beef is a favorite, and can be purchased at the grocery store deli or made at home (check out this recipe for Ridiculously Tasty Roast Beef .) Cut thinly sliced roast beef into squares or roll it up for a different presentation. Another charcuterie board favorite is brisket, which can be sliced or shredded. Classic Smoked Beef Brisket is a timeless favorite that pairs well with a variety of dipping sauces. Lastly, beef jerky is a popular pantry staple that can be included in a charcuterie board to add texture. Any extra can be set back for easy beef jerky snacks (but who are we kidding, there will be no leftover beef jerky).
how much meat will i need for a charcuterie board?
If the charcuterie board is an appetizer, aim for approximately 2 ounces of meat per-person. If, however, you're using the board as a main course, aim for 3-5 ounces of beef per person. However, you know your family and guests best, so plan accordingly. The great news about a charcuterie board is it's incredibly easy to refrigerate for carryovers the next few days provided the food doesn't stay out more than 2 hours.
3. Spread out the cheese
You're going to want two different types of cheese on your charcuterie board, a sliceable variety and one that can be easily spread on crackers or bread. Cheese can be purchased in small "cracker cuts" or you can buy a block of cheese and slice it yourself. Whatever kind of cheese your family enjoys can be included in the charcuterie board. Some popular types that pair well with a variety of beef choices include sharp cheddar cheese, Swiss cheese, Gouda cheese and Gruyere cheese. Or, try cheese crumbles like goat cheese or bleu cheese.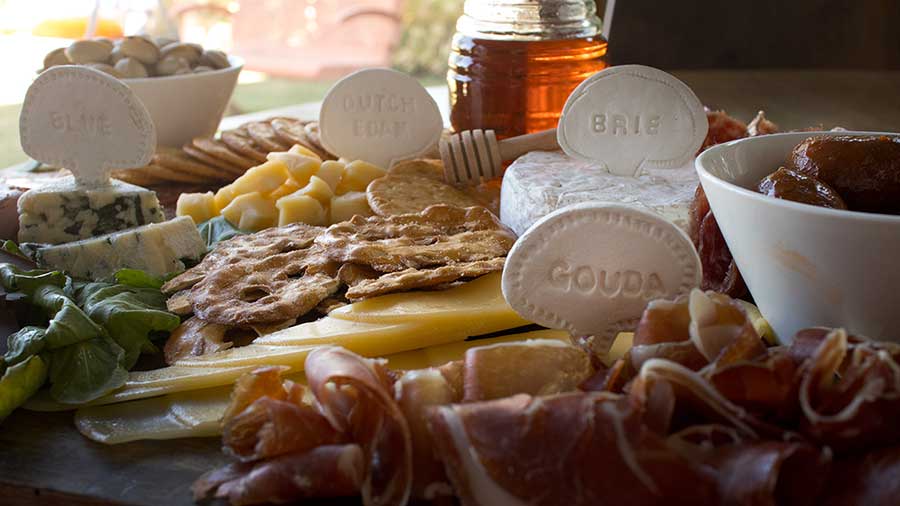 4. balance with fruits and vegetables
Fruits and vegetables that are easy to eat as finger foods make the perfect charcuterie board additions. Take stock of what you may have in your pantry - dried apricots, dried cranberries, pickles, olives and even raisins can make fun and tasteful additions to your board. Other ideas include baby carrots, sliced cucumber, cherry tomatoes, grapes, raspberries, mandarin orange slices, sugar snap peas and mini bell peppers. If an item tends to roll around (like grapes and olives), add a small decorative bowl to the board for ease of serving.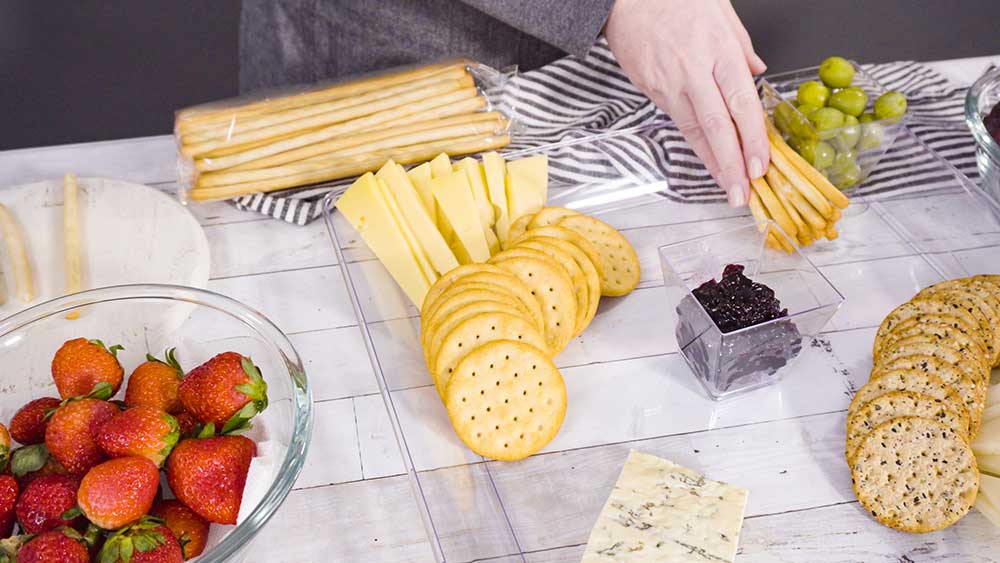 5: charcuterie sauces and spreads
Don't forget dipping sauces for meats and vegetables, in addition to soft spreads for crackers and breads. Check your fridge for sauces and spreads you may have on hand, like your favorite BBQ sauce, spicy mustard, hummus, jams/jellies, tapenades, olive spread or dressings. If you're out of these ingredients, or if you're feeling a little adventurous, get creative with a new sauce recipe that pairs with a variety of beef cuts like this Spicy Ranch Sauce , Creamy Cucumber Yogurt Sauce, Lemon-Mustard Sauce or Cabernet BBQ Sauce. These also make perfect dips for the crunchy veggies on your platter.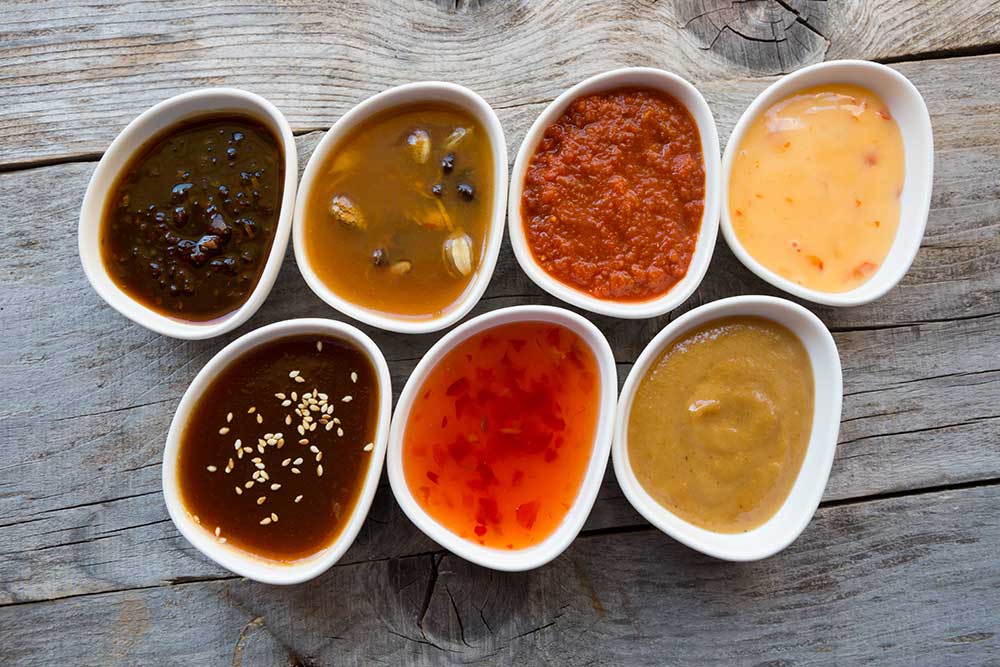 Building an at-home charcuterie board can be a creative way to mix up dinnertime as well as provide a fun family activity. Charcuterie boards look better when they are somewhat deconstructed, so let the kids have a hand in arranging the ingredients. Have fun with deciding where to place each food, and don't forget to snap a photo of your beautiful masterpiece. As a fun twist, try having a different family member be in charge of choosing the ingredients for each step of the charcuterie board building and see what combinations you come up with. The options are endless, and you'll feel great knowing you've created a balanced board pairing protein-rich beef with fruits and vegetables.