Loaded baked potato bar topping ideas
Has there ever been a more guaranteed-to-satisfy combination than beef and some variation of potato?
Whether it's steak and potatoes, twice-baked potatoes, or our new favorite, the brisket potato bar, everyone will be happy and satisfied when both are on the menu. And while potlucks and large parties may not be the "in thing" right now, this brisket potato bar recipe is perfect for a small get together with a few close friends or family. Even better, this affordable entertaining recipe won't break the budget to get something with big taste and a lot of variety for a family full of picky eaters and diverse tastebuds.

What Kind of Potatoes Should I use for a loaded potato bar?
The trusty go-to for this recipe is the forever-faithful Russet potato. These baking potatoes fluff easily, pair with anything, are cheap and come in a variety of sizes for your family and friends. We recommend purchasing evenly sized potatoes. Not only will they cook more evenly, but they also will look more uniform on display.
We like to purchase a few more than what we need for dinner because you can use the leftover potatoes and brisket for a twice-baked potato for an incredible office lunch the next day.
Can sweet potatoes be used in a potato bar?
You betcha! Some people love the flavor and nutritional profile of the sweet potato and they're a classic match for BBQ beef. Another option, for you more adventurous easters, is a Yukon Gold potato for loaded "smashed" potatoes.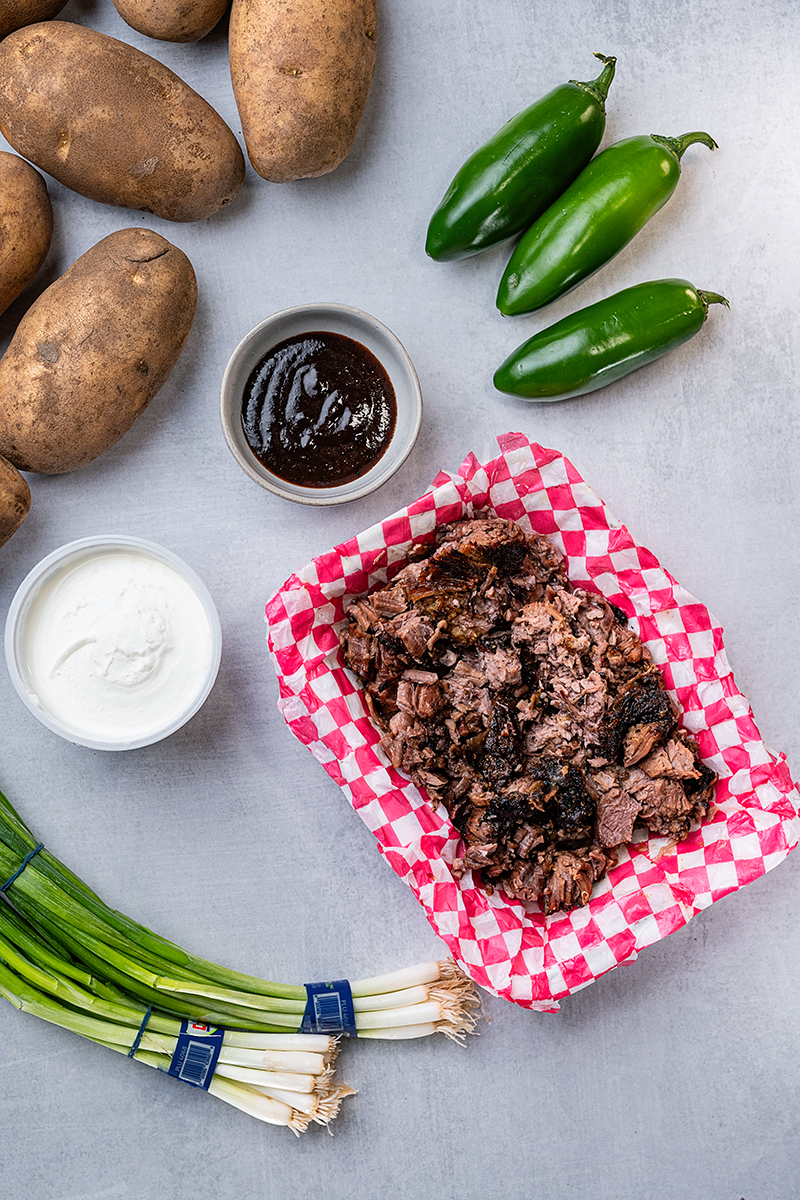 what type of meat goes on a baked potato?
Chopped brisket is a perfect topping for your baked potato bar. There's just something about that smokey flavor and tender pieces of beef that are perfect on top of a fluffy potato.
Many of us don't have a smoker, so this is a perfect chance to support your local BBQ joint and order some brisket. We prefer chopped, but you can definitely use sliced as well. In terms of how much to order, we recommend between 1-2 pounds, depending upon your dinner party size, which may give you enough leftovers for a few days. Aim for approximately 3 ounces per adult.
If you'd like to make your own brisket, you need to check out this wonderful smoked brisket recipe.
No smoker but still have a hankering to make your own brisket? You can definitely use your slow cooker and have tender sliced or chopped brisket any day of the week.
Here are our meat recommendations for a BBQ Beef Loaded Potato

Chopped Brisket (preferred)
Sliced Brisket
Burnt Ends
Seasoned ground beef
what cheese to use for a stuffed potato?
If there's one cheese you HAVE to put on the menu it would be cheddar. However, this is a fun dish, so let's add some variety with a smoked or aged cheddar. Not everyone is a fan of cheddar cheese, or they may just want some additional variety, so a smoked Gouda pairs perfectly with the savory brisket and the starchy potato.

Our recommendation is to use a combination of any of the following to top your brisket loaded baked potato.
Aged Cheddar
Smoked Gouda
Pepperjack
Smoked Cheddar
Shredded Compte
Gruyere
what vegetables go on a loaded baked potato?
A pop of color with some vegetables and herbs is a perfect topping addition for your loaded brisket baked potato. Here are some of our favorites options.
Green onions sliced on extreme bias
Purple or sweet onions
Jalapenos
Pickles
Broccoli
Green Peppers
WHat sauce do I use for a loaded baked potato?
Offering a few sauces to cover your brisket potato bar is the icing on the proverbial cake. We recommend having a few different sauces to meet everyone's needs, whether it's the sweet and spicy Kansas City Style BBQ or a creamy greek yogurt.
Here are some of our favorite sauces to serve with a loaded baked potato
Kansas City Style BBQ
Carolina Style
Texas Style
Memphis Style
Sour Cream
Greek Yogurt
Salsa
Sour Cream +Adobo sauce