2022 K-State "Tailgater of the game" champion
The inaugural year of the Kansas Beef Council's "Tailgater of the Game" competition with K-State athletics football games showcased loyal fans and an incredibly versatile protein with unbeatable taste - beef. Weekly winning dishes highlighted this taste and versatility and included dishes like smoked brisket, steak and egg Benedict, BBQ flank steak, cowboy Philly Cheesesteaks, and an unbelievable tenderloin recipe.
Rick Bloom of Wichita, Kansas, brought home the winning recipe by serving up an awe-inspiring, spit-roasted beef tenderloin for his tailgate party.
The 1991 K-State graduate of the college of engineering has attended nearly every game since graduating and can be found serving food and beverages to loyal K-State fans at his RV22 parking lot.
Bloom's hospitality and relationship with the student body has made himself somewhat of an attraction on game day, and during the K-State / OSU game, he chose to place beef center stage and won big. Rick, congratulations on winning "Tailgater of the Game"! Enjoy your executive suite tickets to the final home game of the year.

How long have you been a k-state fan?
"I've been a K-State fan since I was 12 years old. My brother played baseball at K-State and I attended from 1988 to 1991 and received my degree in mechanical engineering. My wife Melissa and I met at K-State our sophomore year when she beat me in a burping concert put on by a local radio station. We both love K-State and K-State sports, and our daughter graduated with a degree in graphic design and now works for the girls' basketball team."
How long have you been tailgating at K-State?
"We've had season tickets since we both graduated in 1991 and have attended almost every single home game since we graduated. I was at Bill Snyder's first win against North Texas in 1989 and there is a picture hanging in Kite's (a local restaurant) of me in a Chicago Bulls jersey carrying the goal post down to Aggieville. We have always tailgated on the east side of the stadium and started in a normal car parking lot. Then, we moved up to an RV spot in 2003 and have been in the same spot ever since.
Our biggest tradition is that my wife and I provide food and drinks for free to the kids who come to our tailgate and are actually enrolled at K-State. This started about 15 years ago when some of our friends in Wichita had kids attend K-State, and they could not get into Manhattan to see their kids. We would invite their kids to our tailgate and make them a good meal for free. We still do that today for any of the kids we know are enrolled. It's great to see how much the kids appreciate the free food and drinks.
We love to host tailgates, home or away. The people who attend our tailgates are all our friends and then their kids that attend or attended K-State. We've grown over the years from around eight of us to more than 60 people each home game. We try to cook meats you may not typically see in a parking lot at a tailgate, like the beef tenderloins we did."
tell us about your winning dish
"We started the tradition of cooking the beef tenderloins on the large spit five years ago. We typically like to do it for the Texas game, but the game time didn't work out this year. Everyone asks us which game are we doing the tenderloins, and it has become one of the favorite tailgate meals. The meal feeds a lot of people and the beef is always so good!"
Make this recipe yourself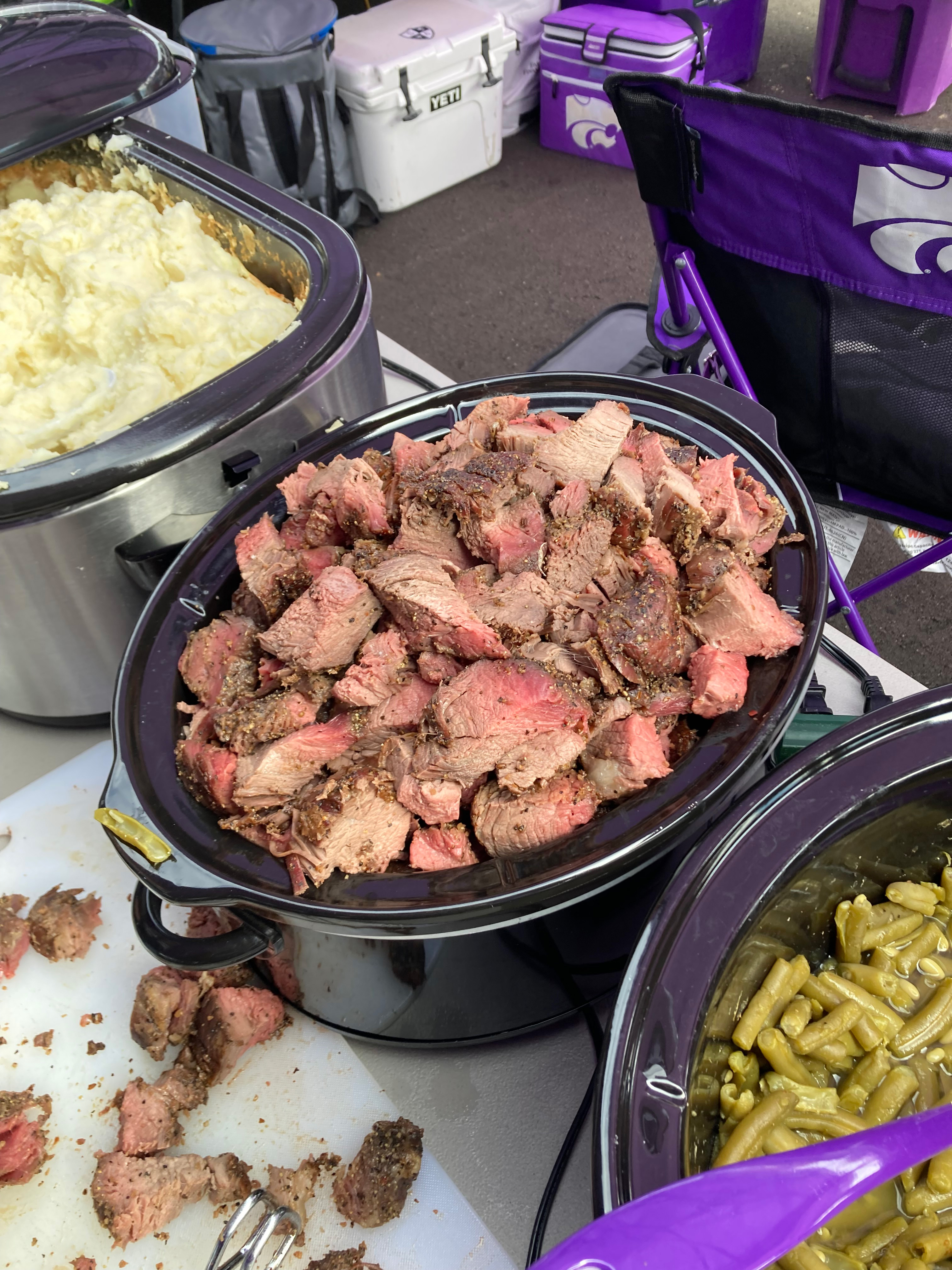 Time: Varies depending upon method
Serves: 8-12
Ingredients
One or more beef tenderloins (5lbs each). Bloom cooked up seven.
Salt and pepper
Montreal steak Seasoning
Seasoning salt
Lemon pepper
Dash of garlic pepper
cooking tips and Instructions
This recipe requires a roasting spit to create. However, if you don't have one, click HERE to see how you can achieve similar results with indirect grilling.
Bloom says the meal preparation starts the night before the big game. "Liberally season the tenderloin(s) the night before cooking with preferred ratio of above seasonings making sure to evenly coat the meat. Doing so the night before really allows all of the flavoring to be absorbed," he says.
Part of that prep work is understanding how to approach the varying thickness of a whole beef tenderloin. "The tail (or chain) cooks quicker than the rest of the tenderloin," he says. "So you need to make sure you roll the tenderloin up to where you are hiding the tail on the inside of the roll and tie it with string so it cooks evenly." Cover and refrigerate overnight
"Remove the next day and slide the tenderloin(s) on the spit and secure with spit forks. If you're feeding a large crowd and plan on cooking multiple roasts, make sure to space them out so the heat from the fire can cook all sides. We planned to cook about 4 hours, but this depends on the fire temp."
Cook the tenderloin(s) to 135°F degrees and let it rest for 10 minutes. The temperature will continue to rise to 145°F and the juices will redistribute. An instant-read meat thermometer will take the guess work (and anxiety) out of cooking this dish.
"After resting the steaks, cut the strings and unroll the tenderloins. Cut them into perfectly sized medallions. They can be placed into a slow cooker to keep warm. "
"The best part of this recipe is that fans can choose which desired doneness."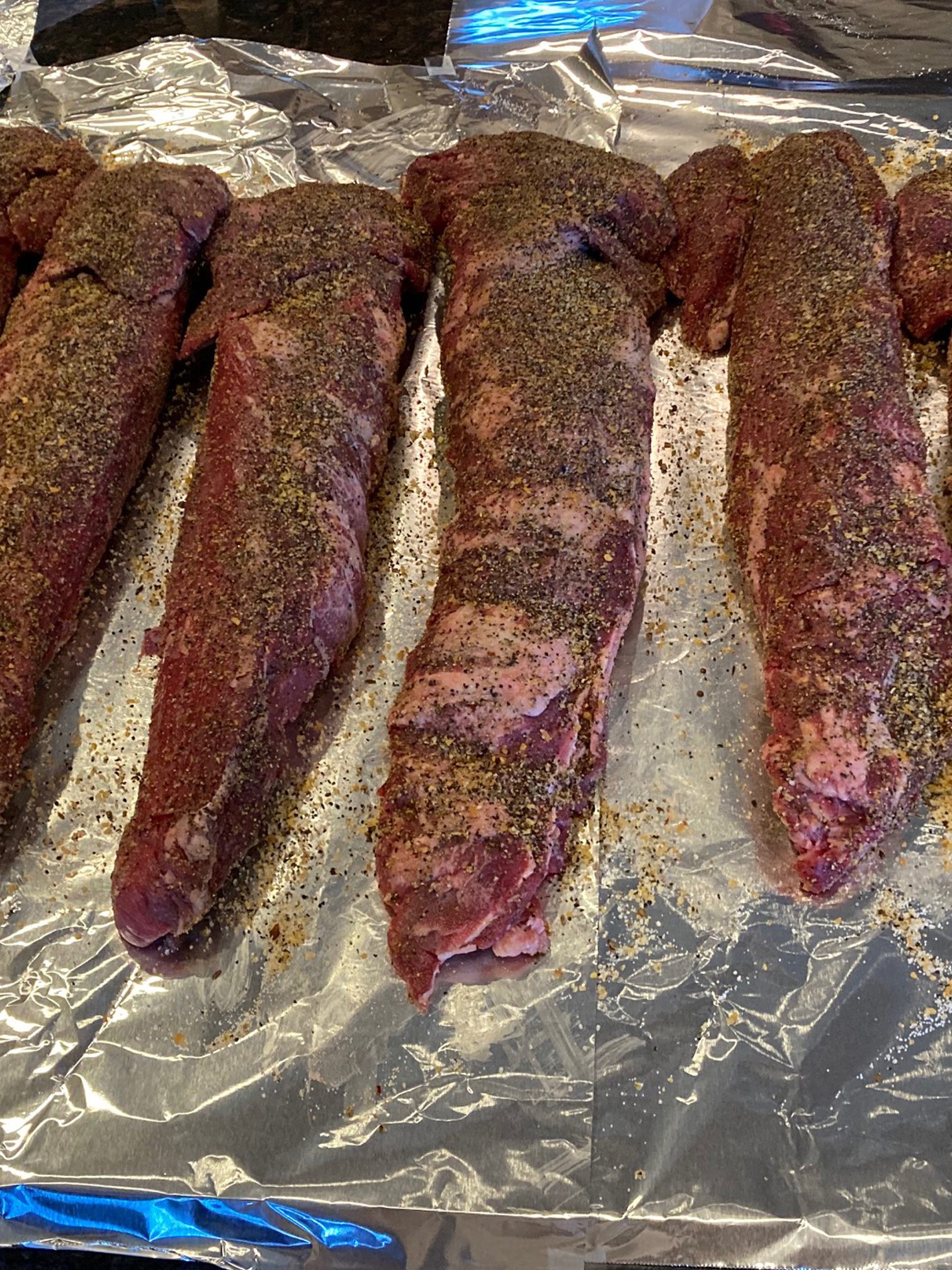 season
Create the dry rub listed in the ingredients list and generously cover the tenderloin. Roll the tenderloins tightly, wrap in aluminum foil and store in fridge overnight.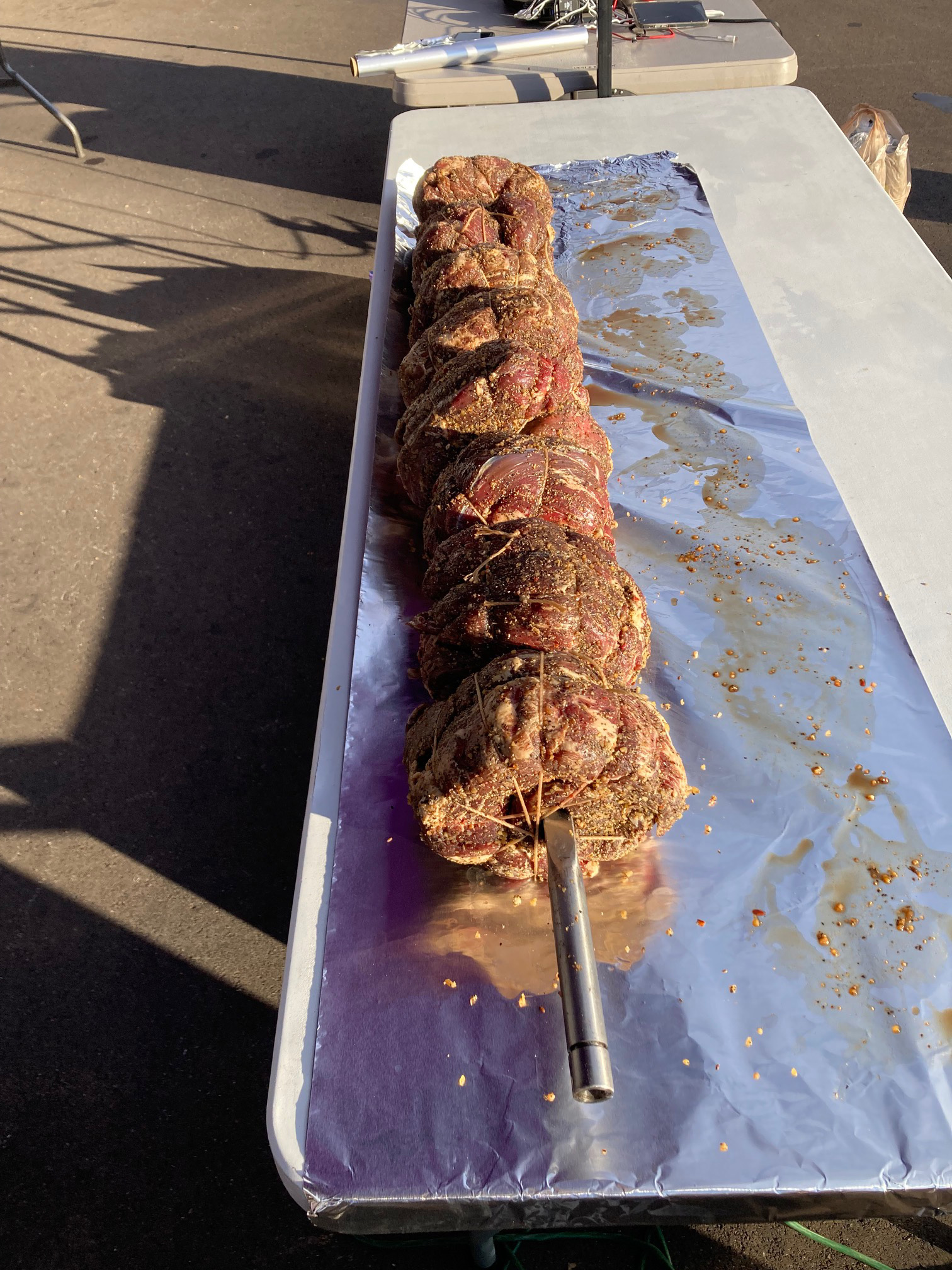 Place on spit
Place the rolled tenderloins onto the spit, making sure there is enough space in between each tenderloin to promote even cooking.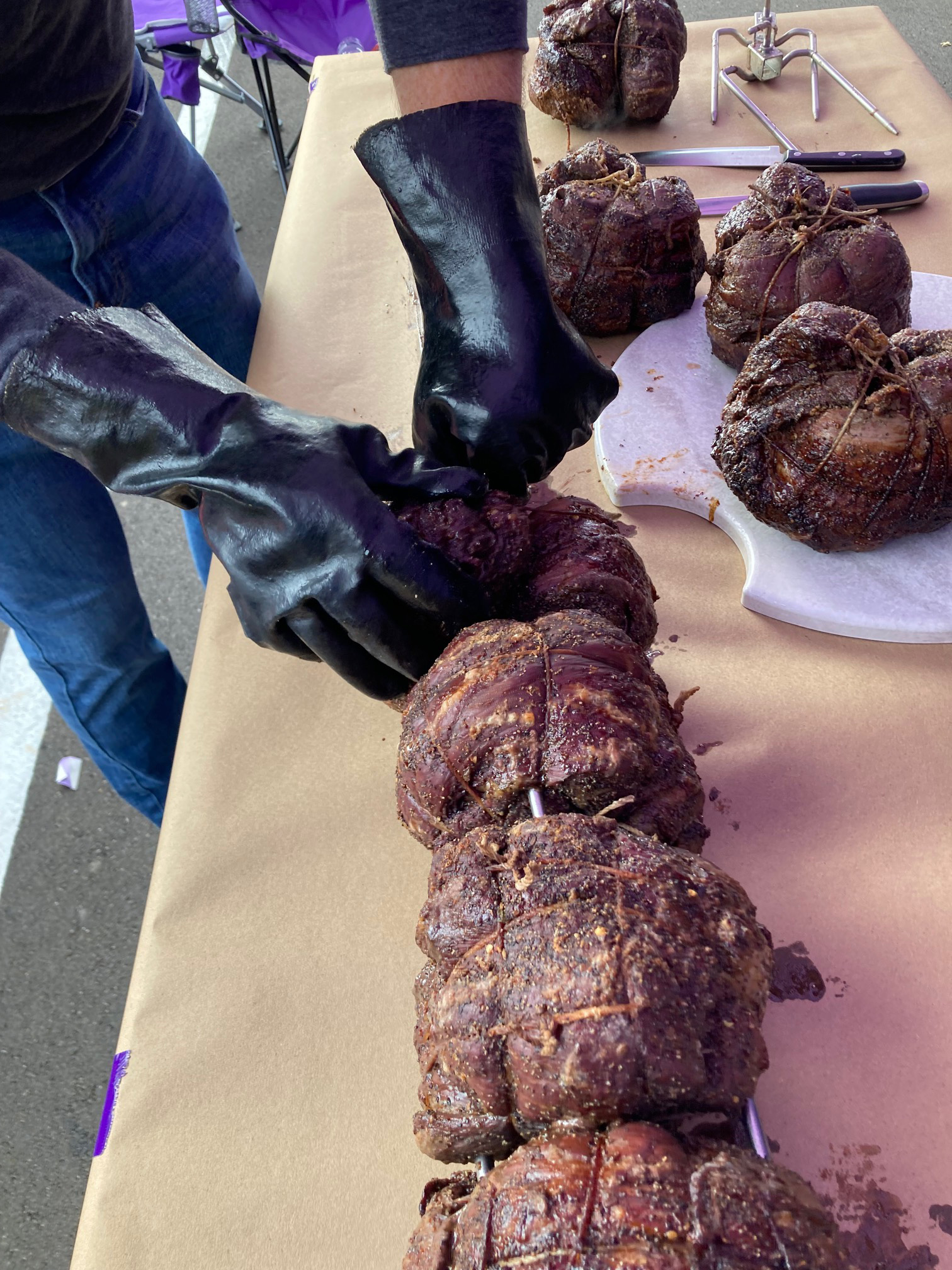 Allow tenderloin to rest
Remove the tenderloins 10°F cooler than your desired temperature and let it rest under a loosely tented aluminum foil. For example, pull the tenderloins when the temperature reaches 135°F so they will rest until 145°F.
K-State vs. South Dakota
Jon Fort, who has cooked for former presidents and thousands of U.S. troops, served up a delicious cowboy Philly cheesesteak made with smoked, dry-aged tri-tip that took home the win on opening day.
K-State vs. Texas
Mark Cooking of Ellenwood smoked a brisket fitting of a Kansas vs. Texas matchup. While K-State lost a close one, this dish was certainly a winner.
K-State vs. Texas Tech
Beef is for breakfast, too! Susan Perkins of Wichita created a satisfying and delicious steak and egg Benedict.
K-State vs. Tulane
Randy Kock played football for K-State and now tailgates to watch his son play, too. This BBQ-team member created a delicious BBQ flank steak that brought an innovative take on an economical cut.
K-State vs. Missouri
Wildcat West 43 of Kansas City, Missouri went all-out to create smoked beef brisket and smoked beef ribs. Just like the result of the game, this dish was a clear winner.
K-State vs. OSU
Rick Bloom secured a tailgating win with his spit-fire beef tenderloins. Both Bloom and K-State brought their swagger and A-game today, with K-State beating Oklahoma State by 48-0.