recipes from the heartland
bloody mary brisket
This recipe combines the bold flavor of a Bloody Mary with savory, tender pieces of shredded brisket to make a delicious, versatile dish that can be served atop flat bread or mashed potatoes.
Let's Cook!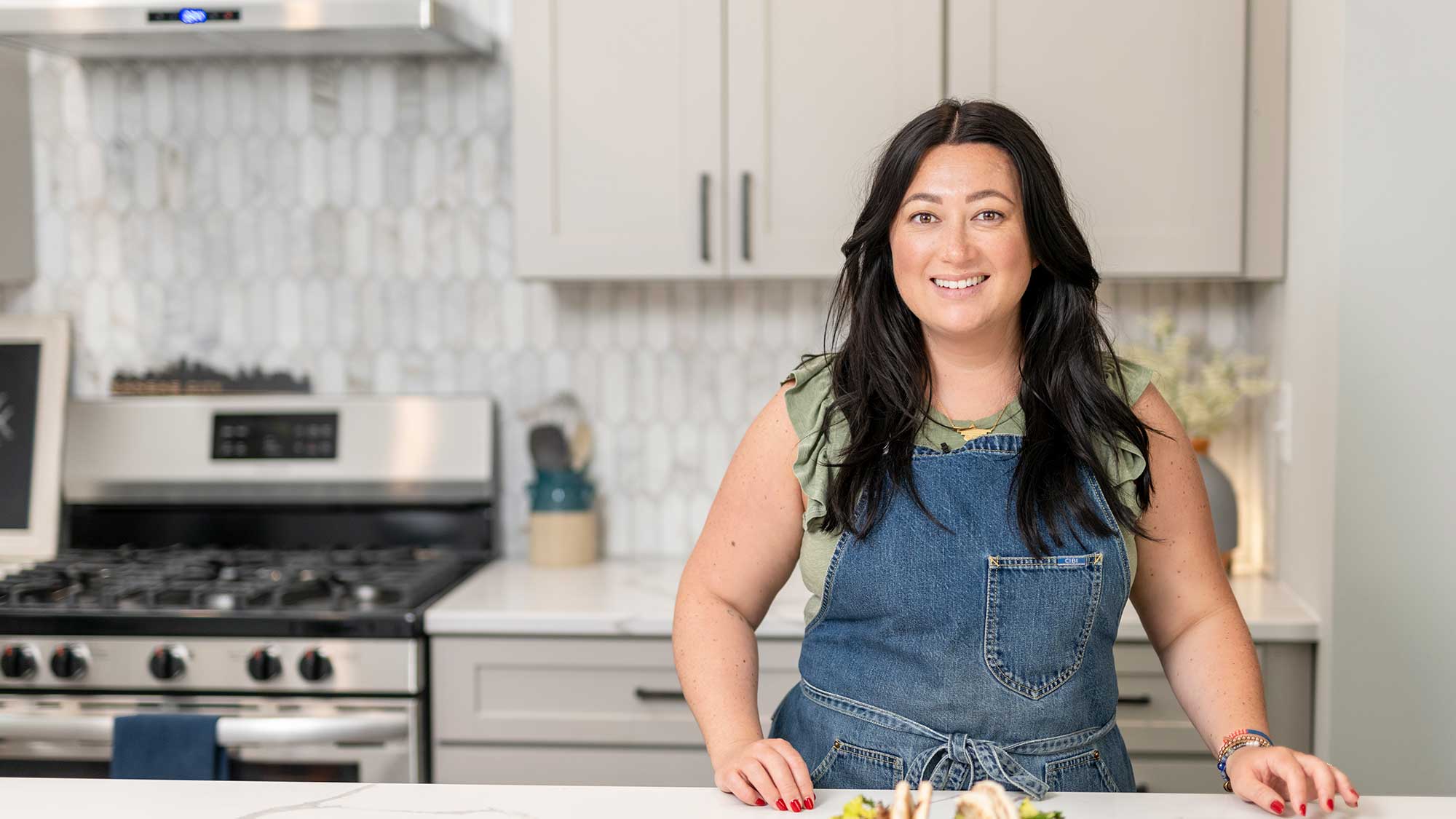 why we love this recipe
The straightforward wet rub in this recipe really complements the bold brisket flavors we all know and love. If you're feeling more adventurous, the horseradish yogurt sauce combines with a citrus-infused relish to create a plate bursting with flavor.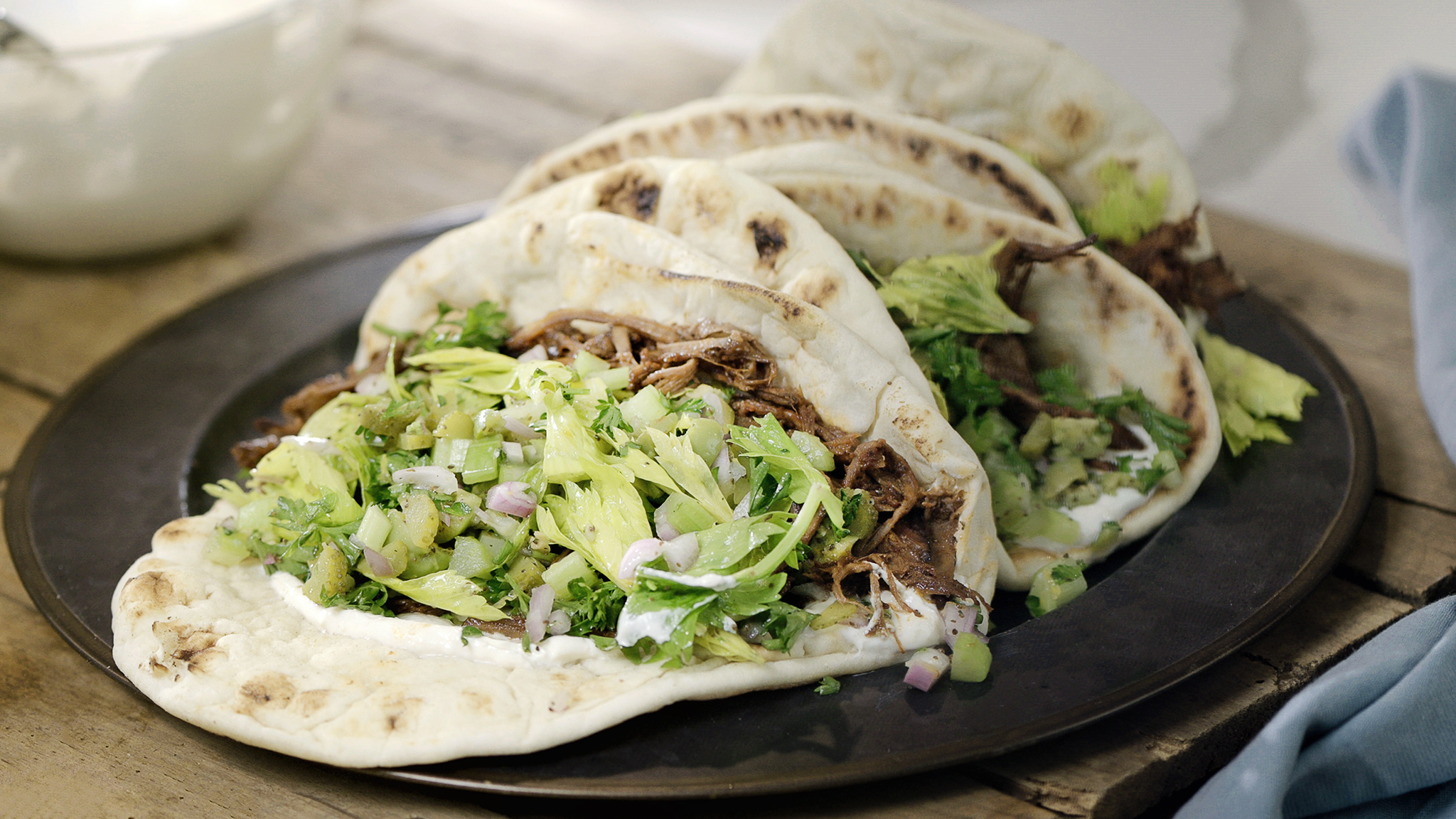 Time: 4-6 hours
Serves 6-8
Ingredients
Rub

6 cloves garlic
2 tsp ground black pepper
2 tsp kosher salt
2 tbs celery seed
1/4 cup prepared horseradish
1/4 cup Worcestershire sauce
2 tbs tamari, or soy sauce
3 tbs vinegar-based hot sauce
6 whole Pepperoncini, stems removed
12 ounces tomato paste
Brisket
1 4-5 pound brisket
3 stalks celery, roughly chopped
1/2 large onion, thinly sliced
1 carrot, cut into rounds
1/3 cup mezcal
1 cup beer, preferably a Mexican lager
Horseradish Yogurt Sauce
1 cup full-fat Greek yogurt
2 tbs prepared horseradish
2 tsp vinegar-based hot sauce
Relish (optional)
2 cups roughly chopped Castelvetrano olives
1/2 cup finely diced celery
1/3 cup minced shallot
1/2 cup roughly chopped cornichons
1/2 loosely packed cup whole parsley leaves
1 loosely packed cup celery leaves
1 tsp celery seed
2 lemons, zested (about 2 tbs) and juiced (about 1/4 cup juice)
1 tbs red wine vinegar
1/4 cup extra-virgin olive oil
Kosher salt and black pepper, to taste
Instructions
Preheat the oven to 350° F.
Use a food processor to pulse all of the rub ingredients into a cohesive paste, scraping down the sides of the canister as necessary.
Add celery, onion and carrots to a 9 x 13-inch roasting pan.
Cut the Brisket down into 4-5 manageable pieces. Apply all the rub to the brisket, spreading evenly to coat each piece on all sides. Lay the meat fat-side-down on top of the vegetables in the roasting pan.
Add both alcohols to the pan. Wrap tightly with foil and place in 350℉ oven for 4 hours, or until "pull apart" tender. Start checking around 2.5 to 3 hours into cooking time to make sure there is still liquid in the pan. Add water if getting low.
Make the relish: In a medium mixing bowl, combine everything except the lemon juice, red wine vinegar, olive oil, salt and pepper. Refrigerate until ready to serve.
Make the horseradish yogurt sauce: Combine all ingredients in a small mixing bowl; refrigerate until ready to serve.
Once brisket is fork-tender and pulls apart easily, it is finished! Remove from oven, uncover slightly and let rest until ready to serve.

Add lemon juice, red wine vinegar, and olive oil to relish mixture; stir to combine. Season to taste with kosher salt and black pepper.

To assemble, slather warm flatbread with the Horseradish Yogurt Sauce. Add chunks of pulled brisket and top with relish. Alternatively, brisket can be served without the flatbread for a gluten-free option.
follow along with chef ashley
While we can't get Chef Ashley to come to your kitchen and prepare this meal for you and your guests, we can do the next best thing. Ashley will take you through each step to making this Bloody Mary Brisket in this short video. The best part? The guests will be singing your praises for dishing up this incredible brisket meal.