yes, beef can be on a heart-healthy grill
your grill and taste buds will thank you
What is more satisfying than the sizzle of steaks ringing out in the summer air and the beauty of beef's grill marks glistening above the coals as America's favorite protein moves from the grill to your plate? Oh, the anticipation of that savory goodness! On the other hand, is there more of a buzzkill than letting that beautifully cooked steak pass over you and settle on your mate's plate because you've been told beef can't be part of a healthy diet. Pure...and...utter...beef-less sadness.
If you think you need to pass on beef for a healthy grilling season, put those tongs down, turn an attentive ear and happily make room on your plate. Beef definitely can be on a healthy grill. Don't believe us? Believe the science.
Results from the Beef in an Optimal Lean Diet (BOLD) study demonstrated that a diet including lean beef every day is as effective at lowering total and LDL (bad) cholesterol as the gold standard heart-healthy DASH diet.1 The results go on to say that, when included as part of a healthy diet, lean choices - such as Top Sirloin, Tenderloin, Strip Steak and 95% lean ground beef - can reduce risk factors associated with heart disease.1,4 If those cuts sound familiar, it's because 17 of the top 24 most popular cuts of beef sold at retail are lean and over 60 percent of whole muscle cuts found in the supermarket are considered lean when cooked with visible fat trimmed.2
So how does this relate to your hopes and dreams of salvaging grilling season while maintaining a heart-healthy diet? There are a host of other flavorful cuts of beef that, with a little seasoning and a little time, are perfect lean and economical options to bringing your grilling joy back to life.
most of your favorite cuts of beef are lean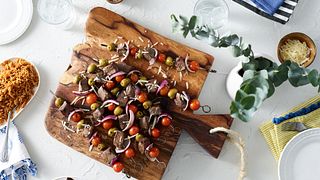 Top Sirloin
This is your "do anything" cut of beef in the steak world. Kabobs? You got it. Fajitas? Let's hear that sizzle. Mouth-watering, tender steaks? Break out the cutlery. The sirloin is the perfect mix of flavor and tenderness. It doesn't need much to be amazing except for a little salt and pepper. Heat up the coals and cozy it on down to its new home for the next few minutes. Sear to your desired temperature
*
and let it rest for a few minutes before slicing. Pair with vegetables, fruit and whole grains. It really is that simple.
The sirloin is more affordable than some of the other premium steaks. Also, since a serving of beef is 3 ounces, cooked, you will have plenty of leftovers for the next day or two. That means weekend cookouts can be followed by the most epic leftovers for the office on Monday.
Depending upon the steak, be aware that the grain in most sirloins runs in two different directions. Make sure you cut against the grain. Check out some of the below recipes that use the sirloin.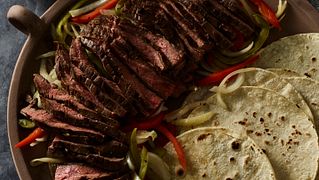 flank steak
The king of Taco Tuesday is also a really versatile cut. The flank steak is a thin cut of beef with a lot of flavor and is still considered lean. Since it is thin, it can overcook easily, so a meat thermometer is your friend. Slice it thinly across the grain and it's ready for a whole-grain corn tortilla, salad or bed of brown rice or quinoa.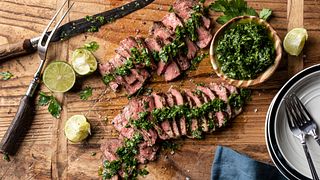 Kansas city strip steak
This is the unicorn of the steak world.
The beautiful combination of tenderness and flavor shouldn't exist, but it does, and we couldn't be more thankful. The Kansas City Strip (yes, Kansas City: sorry, Big Apple) gives us incredible versatility. The steak comes in both bone-in or boneless. Cook it whole and slice against the grain.
Check out these recipes using the strip steak.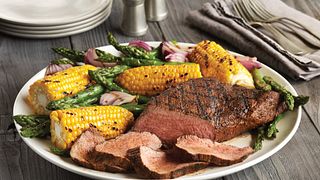 Tri-Tip Roast
Once just a west coast steak, the tri-tip is spreading across the country. While it is sold as a roast, it is most popularly cooked as a steak. We highly recommend letting this steak rest and not cooking it beyond medium doneness (145° F), and the indirect heat or "reverse sear" method is recommended. As with the sirloin steak, the grain will go in two different directions on this cut, so make sure you always are cutting against the grain.
The trip-tip can be served in slices, cut thinly for BBQ sandwiches and even carried over the next day for breakfast burritos.
Check out these recipes that use tri-tip.
Filet
Oh Filet, how much we love you. It's like biting into a savory cloud of juicy perfection. Lean, tender and the perfect steak to impress your friends. Heck, you'll even impress yourself. Just try it. You most likely have seen the videos of people cutting a filet with a spoon...it's that tender. However, with that tenderness comes a small cost of flavor when compared to something like a strip steak or a ribeye. But with a little salt and pepper and the natural flavor of the fire, you'll be ready to pat yourself on the back and receive copious accolades from friends, family and social media if you're the type to post food pics. #BeefForTheWin
lean, cheaper cuts of beef that love a marinade (You'll love them too)
If you're on a budget or trying to feed a large family, there also are plenty of lean cuts of beef that are very economical and very flavorful. These cuts just need a little bit of TLC in the form of a marinade, and you will fall in love with them. It's important not to overcook these cuts of beef. Also, when you flip the steaks and pick them up, use a pair of tongs so you don't lose any juiciness.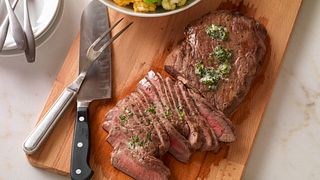 bottom and top round (london broil)
When cut into thicker parts, this often is referred to as the London broil. It's large enough to feed a family or provide you with leftovers for meal-prepping throughout the week. Some of those leftover ideas can include wraps, salads or sandwiches. Plan to marinate between 6-24 hours.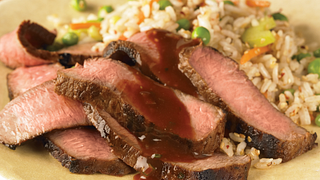 Sirloin tip side
This is a different cut than the typical sirloin steak or sirloin filet. It's still lean but will need some extra marinating to be cooked on the grill. With time and proper cooking, it will be amazing.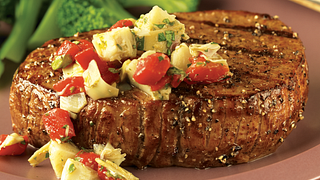 eye of round
They can look like a filet on the shelf. While they won't be as tender with a marinade, they still offer lots of flavor and are a great option. The great news is you often can get these on sale. Plan to marinate this cut between 6-24 hours.
pairing beef with fruits, vegetables and whole grains
Fruit grilling tips
Many fruits taste even better on the grill! That's because the heat caramelizes the natural sugars found inside, making them an even sweeter partner to the savory goodness of beef.
Fruits to include
Watermelons
Peaches
Pineapples
Plums
Pears
Mango
Strawberries
Nectarines
Cantaloupe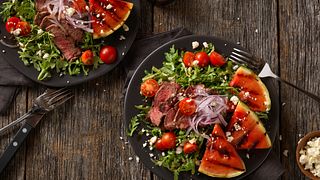 veggie grill tip
Try to avoid slathering your veggies with tons of salt or butter. We are still trying for a heart-healthy grill, right? So, go lighter on the seasoning, pair them with the hero cuts above, and you'll have a satisfying and balanced meal.
veggies to include
Zucchini and summer squash
Bell peppers
Grilled romaine
Grilled corn
Asparagus
Artichokes
Mushrooms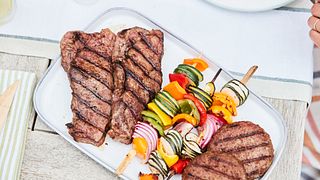 grains and grills
If you're feeling like the plate needs a little more, here are some recommendations for items that can be prepared away from the grill and put on the plate.
grains to include
Brown or wild rice
Quinoa
Whole wheat pasta
Whole wheat bread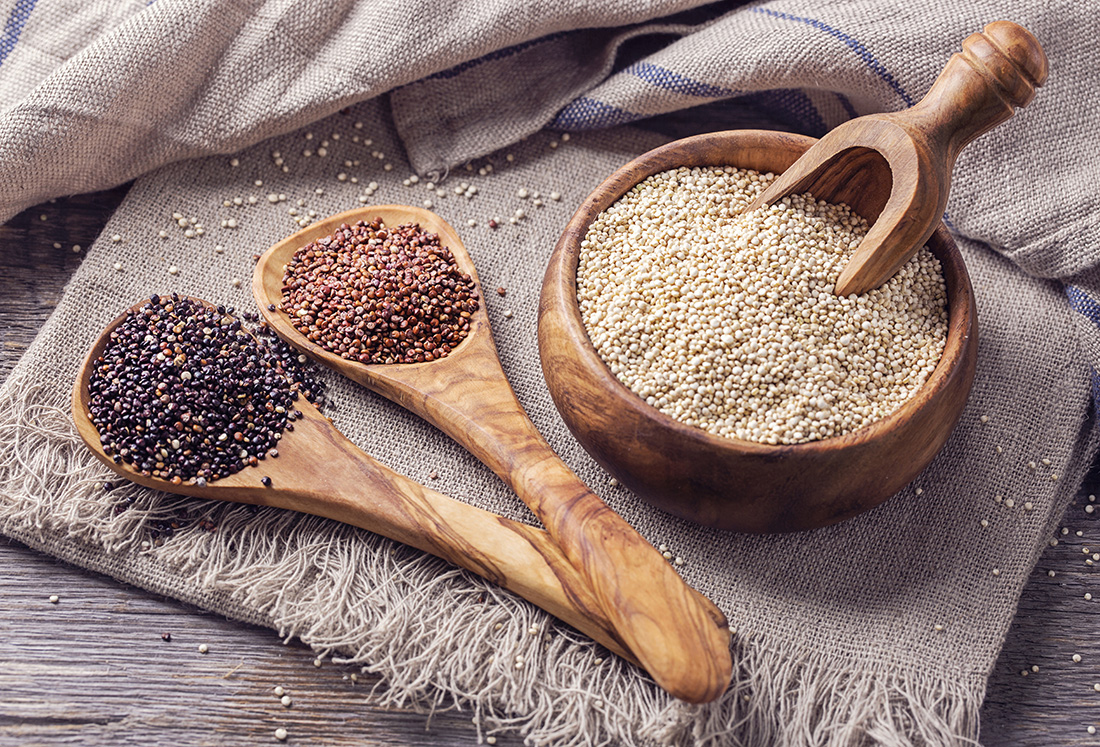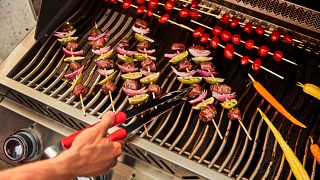 You're still the grill master, but a grill master who is focusing on delicious, nutritious and wholesome food
While your status as grill master never left, don't feel like you can't enjoy the fruits of your labor. Focus on cuts of beef that have "loin" or "round" in the name and pair them with grilled vegetables and whole grains.
After all, we've waited all year for grilling season to begin. Wouldn't it be a tragedy if we couldn't enjoy the foods we love while sticking to a diet that's good for us?
For more information on how beef can fit into a healthy and balanced diet, visit BeefItsWhatsForDinner.com/Nutrition .
*USDA recommends an internal temperature of 145° F.
citations
Roussell, MA, Hill AM, Gougler TL, West SG, Vanden Heuvel JP, Alaupovic P, Gilles PJ, Kris-etherton PM. Beef in an Optimal Lean Diet study; effects on lipids, lipoproteins, and apolopoproteins. AM J Clin Nutr 2012; 95(1)
National Cattlemen's Beef Association, a Contractor to the Beef Checkoff Program. Lean Matters: Chronicling Beef's Change from Gate to Plate. 2014. Available at https://embed.widencdn.net/download/beef/iyg5bxcz6u/LeanMatters_Web.pdf?u=q5atpk
Consumer Beef Tracker, NCBA, 2020
Fleming JA, et al. Effect of varying quantities of lean beef as part of a Mediterranean-style dietary pattern on lipids and lipoproteins: a randomized crossover controlled feeding trial. Am J Clin Nutr 2021; nqaa375