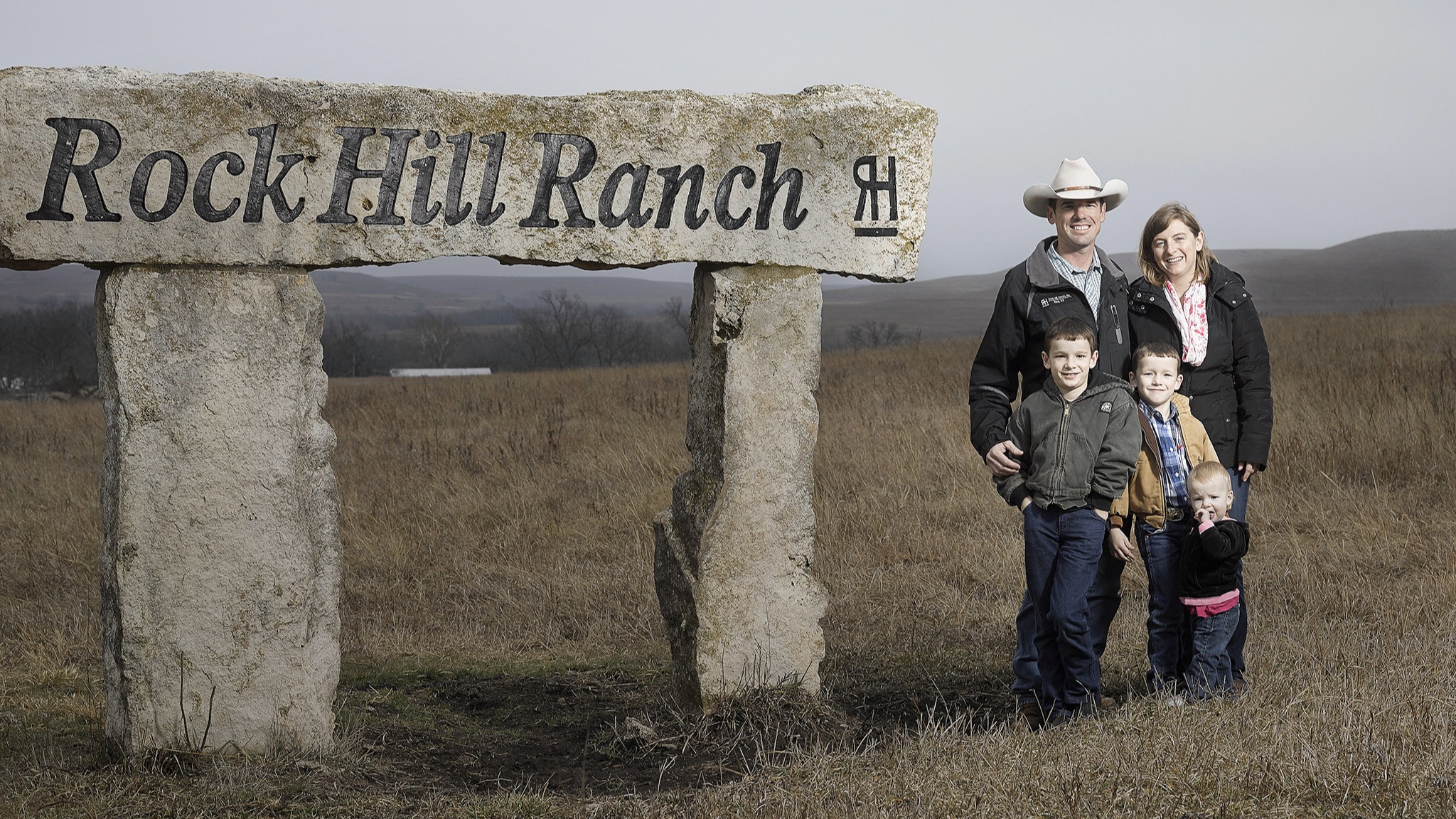 The Deblers
Randall, Erin, their three children and their neighbors, Paul and Nancy, make up Rock Hill Ranch, Inc. He grew up during the farm crisis of the 1980's. Despite seeing the hardships of agriculture during this time, he always knew he wanted to be involved in ranching. He just needed a chance.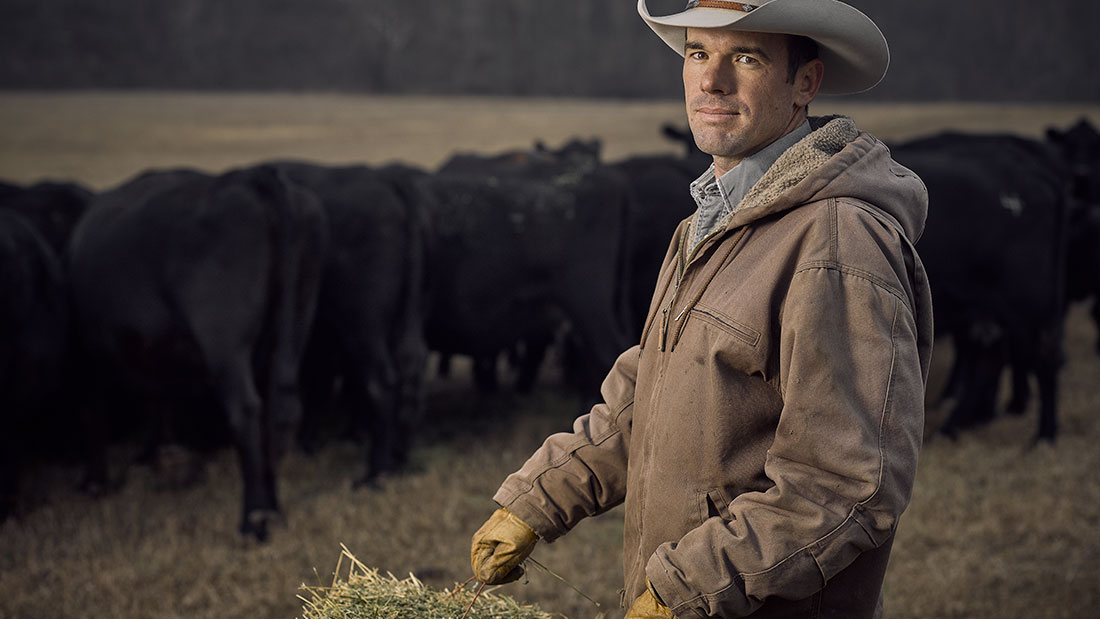 The greatest crop
While producing beef is his occupation, raising children is his purpose. Randall says, "The best crop that will ever come out of Rock Hill Ranch are my children." During the weekends and summer months, two of his three children are old enough to ride with Randall while he does the chores. For Randall, having his kids along transforms every task from a chore to a teachable moment.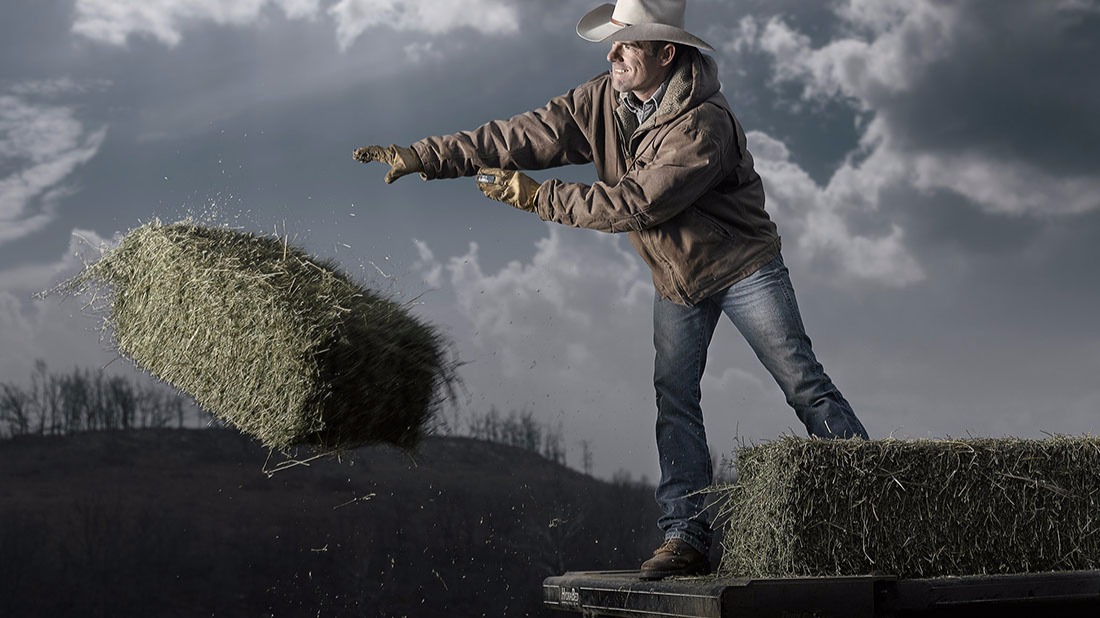 A RANCHER AT HEART
Office jobs just never seemed too appealing to Randall Debler, who would rather be outside working on fence than fenced in from the outside. The allure of working in the great outdoors and life beyond a cubicle called to him from a young age, and when it came time for him to go to college, his major reflected that passion. Randall was studying Park Management and Conservation at Kansas State University with the dream of becoming a park ranger, a career that would keep him outside and working with the land. Towards the end of his college journey, Randall was selected for a summer job at the National Parks Service in southern Oklahoma, an opportunity of a lifetime. However, like some summer jobs and best laid plans go, he soon realized this wasn't the best profession for him. After returning to Kansas in the fall, he did some soul-searching.
Randall had roots in agriculture and a passion for cattle. His girlfriend at the time (now wife) encouraged him to pursue what he had always loved - working with livestock and the outdoors. With that, he decided to do what many students do, change directions. Since he was almost finished with his original degree, he decided to add a second area of study and double-major in Park Management and Conservation and Animal Science and Industry. Looking back on that decision, Randall says, "I can honestly say I wouldn't be where I am today if it wasn't for my wife. And this is just one of many instances where that is true."
The problem, however, would be what to do once he graduated. He didn't have a ranch to go back to and the thought of building something from scratch seemed impossible.
While Randall finished his second major at Kansas State, the now-married couple rented a small house with property a half-hour from campus. The owner of the land were Paul and Nancy Miller, owners of the 100-year-old Rock Hill Ranch. On that leased ground, the Deblers would slowly work at building up their own cow numbers while working part time around Paul's farm.
With school coming to a close, he was now working full time for a different neighbor while still tending to his cattle. It seemed every day that Randall thought about their future as Kansas ranchers. Could it work? Is it possible?
"To work full time somewhere else and have your own cows on the side is difficult" he said. "There just aren't enough hours in the day to rebuild your herd to where it would support your family full time. It's so hard to do both." The Deblers either needed more time in a day or the chance of a lifetime.
He got the chance of a lifetime.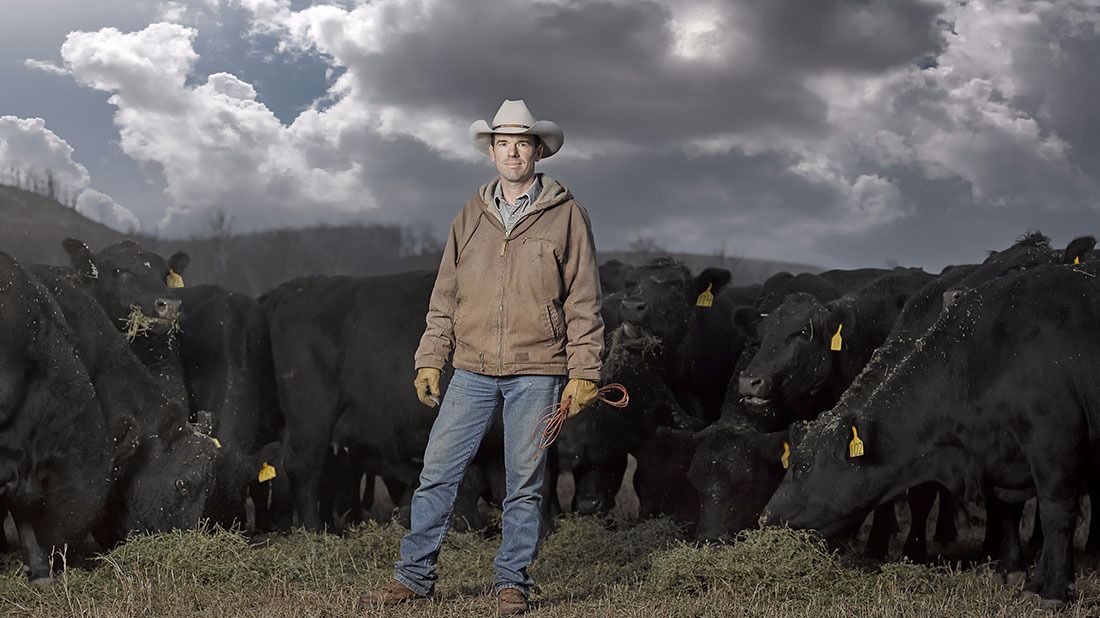 Agriculture is about family
Although the circumstances behind the incorporation of Rock Hill Ranch might be unique, the process of incorporating family farms and ranches is not a unique concept to families across Kansas and the United States.
Farming isn't just a way of life; it's also a business that is passed down from generation to generation. Part of a smart and sustainable business plan is protecting assets and everyone involved. Agriculture is an asset-intense career (think cows, barns and tractors), so some farmers may choose to incorporate their family farms to make it easier to transfer ownership to the next generation without having to sell those assets. This slow transfer of shares helps ranchers make sure their cattle and land remain in the family. Many farmers believe this is an integral part of sustainability and keeping the land in thoughtful production over many generations.
Technically, family farms can be a corporation, and corporations can be family farms. Often, these corporations are made up of families, just like Rock Hill Ranch, Inc. and the children that are raised on it. Family farms, like Rock Hill Ranch, Inc., remain the backbone of the agricultural industry. The United States has nearly 1 million cattle farmers and ranchers, and Kansas is home to more than 27,000 of them. With an average herd size of 40 head, 91% of ranches are family-owned.
So, next time you hear people say that ranching and farming is run by corporations, remember Rock Hill Ranch, Inc., the Deblers, and the 91% of other family-owned ranches that make up the beef community and raise safe, wholesome and delicious beef for our communities.