Cut Charts and Training
Beef cut posters are the most effective tools to learning more about the various cuts of beef, where they come from on the carcass and the recommended cooking method for each cut.
Beef Cuts Chart for Foodservice
The beef cuts chart for foodservice contains the IMPS/NAMP number for each cut as well as order specifications and the cut tree.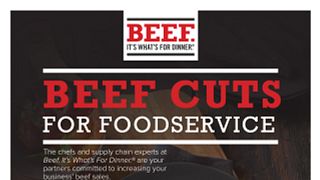 Beef Cuts for Foodservice
Designed to meet the needs of foodservice professionals, this booklet highlights information about the most commonly used beef cuts in foodservice.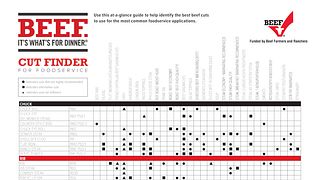 Cut Finder for Foodservice
Use this at-a-glance guide to help identify the best beef cuts to use for the most common foodservice applications.
Cutting Videos
Cutting Guides
Yield Data
Yield documents are meant to provide general guidelines for approximate yields when fabricating newer, more innovative beef cuts from traditional subprimals like those from the Chuck primal. Start here, then do your own yield testing to zero in on exact numbers for your unique situation.
Raw Truth About Beef
The Texas Beef Council's Raw Truth About Beef interactive learning platform allows high school students to get a behind-the-scenes look at the beef industry and explore the beef production process from pasture to plate. Using engaging videos, the program follows an executive chef and registered dietitian nutritionist on a hands-on tours through the beef life cycle. To learn how cattle are raised, they visit a purebred ranch, a cow/calf ranch, and tour a feedyard. Stops at a processing facility, a distributor, a retail store, and a restaurant explore how beef becomes a safe, nutrient-dense protein source.
Teachers can walk through the curriculum and gain continuing education hours approved by the American Culinary Federation by clicking HERE.
True Beef: Pasture to Plate
Lesson Plan - This guide contains 8 lessons for the High School Culinary Arts or Family and Consumer Sciences program. However, STEM connections have been included for all lessons making it easy for teachers to make connections across the curriculum.&
Documentary - An innovative educational documentary that follows agricultural science and culinary arts students as they learn about the entire process of beef production. The documentary is designed to teach culinary arts students where their food comes from while learning the importance of farming and ranching from agricultural students.
Inspiring Ideas: Beef Makes Every Menu Better
There's no shortage of options for getting more beef on your menu, from appetizers to mains to seasonal specialties.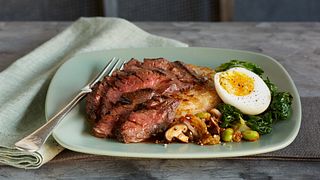 Sirloin Bavette Menu Inspiration
This boneless cut comes from the Sirloin primal and is similar to Skirt and Flank Steaks. While commonly used as fajita strips, the Sirloin Bavette provides chefs with a canvas for creative and innovative menu ideas.
ProStart Beef Webinar Series 2020
Beefing Up Your ProStart Classroom
The objectives of this webinar are to train attendees to:

Teach students a basic understanding of the beef industry from pasture to plate
Teach students the difference between taste and flavor
Teach students about the synergy of umami
Teach students a basic understanding of working with Ground Beef and components to building an award-winning beef burger
Beefing Up Your ProStart Culinary Competition
The objectives of this webinar are to train attendees to:

Teach students basic rules of a ProStart Culinary Competition
Teach students what Tasting judges look for in a ProStart Culinary Competition
Teach students about effective plating techniques
Teach students to make beef the star of the plate