bacon cheeseburger fries
The search for the perfect game-day celebration food has come to an end with these bacon cheeseburger fries. Take a pound of ground beef and combine it with your favorite burger toppings atop a bed of crispy waffle fries and anyone, sports fan or not, will be cheering in no time.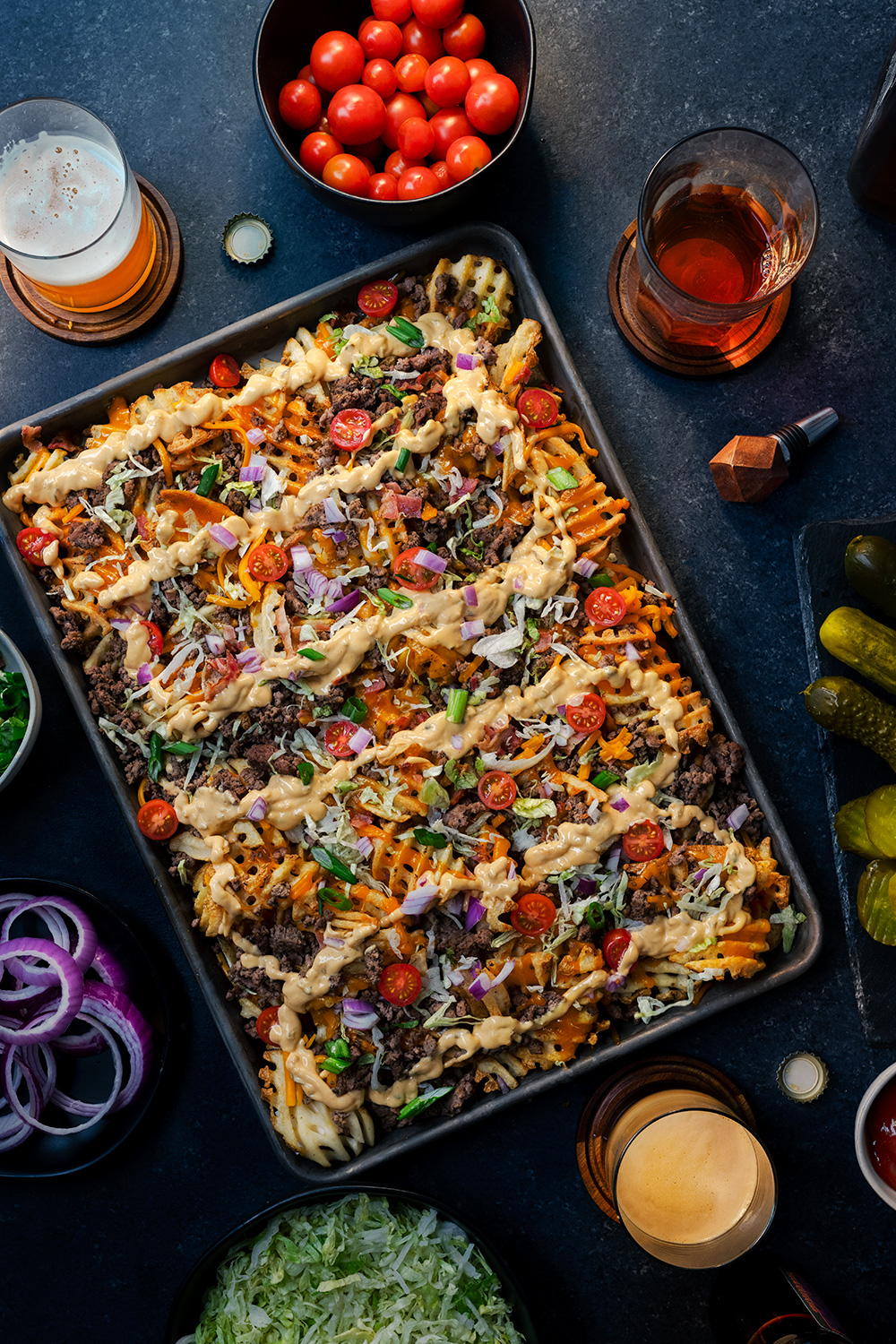 Ingredients
1 bag (24 ounces) frozen waffle fries
1 pound ground beef
½ medium yellow onion, diced
2 tablespoons burger seasoning
2 tablespoons Worcestershire sauce
Cherry tomatoes, diced
Green onion, thinly sliced
1 ¼ cup shredded sharp cheddar cheese
6 slices bacon, crumbled
Optional sides: dill pickle slices, burger sauce, bbq sauce, ketchup
Instructions
Place frozen waffle fries on large sheet pan. If unseasoned, dust with a little seasoned salt. Bake according to package instructions.
While waffle fries bake, brown ground beef and onion and cook until an internal temperature of 160° F. Drain. Add burger seasoning and Worcestershire sauce. Mix well.
Cook bacon strips and crumble when cooled.
When fries are done, remove from oven and top with seasoned ground beef and crumbled bacon. Sprinkle with ½ cup shredded cheese. Top with diced cherry tomatoes, green onion slices and remaining ¾ cup shredded cheese. Return sheet pan to oven for 3 minutes or until cheese is melted.
Serve with dill pickle slices, burger sauce, bbq sauce and/or ketchup.