comfort food with 10 or fewer ingredients
Comfort food, you are fiercely loved and deeply appreciated. Like a trusty and reliable friend, you get us through the good days and the tough days. You're approachable, honest and your list of ingredients is common and not a mile long. Here's to you, comfort dishes, the key to our well-being and dinner time sanity.



1. Easy and creamy beef stew
This meal comes together in a flash and your house will smell amazing.
Ingredients
Stew Meat, 1 pound
Cream of Mushroom Soup, 1 can
Cream of Chicken Soup, 1 can
Onion Soup Mix, 1 envelope
Rice or Noodles
Directions
Brown 1lb beef stew meat and place in a slow cooker.
Mix cream of mushroom soup, cream of chicken soup and onion soup mix.
Pour over stew meat and cook 4 hours on high or 8 hours on low.
Serve over rice or egg noodles. If you want some leftovers (which you will), double the recipe.
NOTE: This recipe does not work well in an instant pot as the creamy sauce scorches and burns.



2. italian beef sandwiches
This sandwich will bring back memories of visiting your favorite sandwich shop.
Ingredients
Rump Roast
Pepperoncini, 1 jar
Dry Italian Seasoning, 1 packet
Hoagie Rolls
Provolone Cheese
Directions
Brown a rump roast and place in a slow cooker or electronic pressure cooker.
Add pepperoncini and dry Italian seasoning.
Cook 4 hours on high, 8 hours on low, or as directed by electronic pressure cooker instructions.
Shred beef and serve on hoagie rolls with provolone cheese.


3. shepherd's pie
A rustic and trendy dish that combines ground beef, vegetables, and gravy baked under a bed of light mashed potatoes. If it isn't already, this soon will be a family-favorite recipe.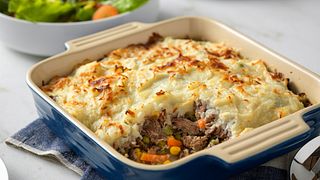 4. beef pasty pie
A pasty is traditionally held in your hand, but trust us, you won't mind the bowl. Ground beef and a hearty carrot-onion-potato blend topped with flaky pie crust will leave you wanting more!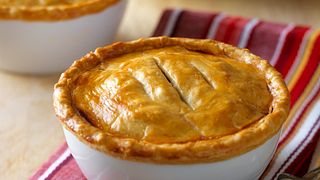 5. Tater Tot Casserole
Childhood memories surround this classic dish.
Ingredients
Ground Beef, 1 pound
Onion
Mixed Veggies, 1 pack
Cream of Mushroom Soup, 1 can
Tater Tots
Cheddar Cheese
Directions
Start with 1lb browned ground beef (add onion if you like).
Place in a 9 x 9 cooking dish sprayed with non-stick cooking spray.
Cook mixed vegetables until tender. Drain water and stir in cream of mushroom soup (or cream of celery or cheddar cheese).
Pour on top of ground beef.
Top with tater tots and bake in a 425 degree oven for 30 minutes.


6. beef enchiladas
There have been many beef enchilada recipes shared online over the years. This simple version remains a favorite.


7. lasagna
Who doesn't LOVE lasagna? And when you find a tasty lasagna with 5, yes 5, ingredients – well, that's definitely a WIN!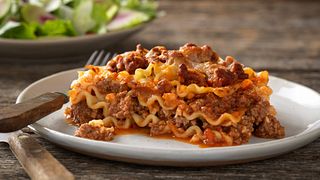 8. Meatloaf
Is anything better at the end of a long day than meatloaf? It's a recipe that's easy, foolproof and, dare I say, kidproof? No bells and whistles – just 10 simple ingredients between you and a satisfying dinner. Sign. Me. Up! Here's a trustworthy recipe that will help you create a delicious meatloaf that won't dry out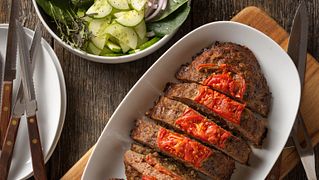 9. Beef stroganoff
Tender strips of steak and hearty mushrooms cooked in sour cream and served over egg noodles. If steak isn't in the fridge, you definitely can use lean ground beef. Try this comfort classic recipe today.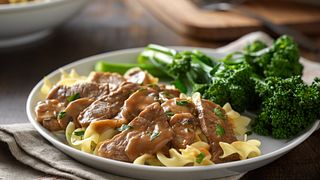 10. pizza casserole
This recipe takes all the things we love about pizza and puts it in a casserole the whole family will enjoy. This recipe calls for a half a pound of ground beef. Kick it up to the next level by using an entire pound of ground beef to use this Italian Sausage recipe.