BEEF. THE UNSUNG HERO OF NUTRITIOUS DISHES
As a registered dietitian and avid home cook, few things excite me more in the kitchen than planning a meal with beef. From the familiar comfort of ground beef to unique cuts for special occasions and everything in between, beef is a nutritional powerhouse that delivers both flavor and health benefits.
This might come as a surprise to some clients or friends. Knowing I'm a dietitian, they might expect me to be more enthusiastic about cooking with fresh produce or creating one of my famous #SaladsThatDontSuck. The truth is, beef can be a delightful addition to a delicious salad any time of the year!
I hope to inspire the same excitement I feel when thinking about beef, not as an individual ingredient, but as an essential part in my meals and recipes. The value of beef is unparalleled, with its rich flavor and satisfying texture. But first, let's explore the basics of beef nutrition.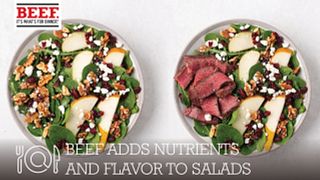 BENEFITS OF BEEF NUTRITION
No matter which cut you prefer, lean beef is a nutrient-dense food that offers a complete package of protein, vitamins, and minerals. A 3-oz serving, roughly the size of a bar of soap, delivers 10 essential nutrients your body needs.
Protein is an obvious one. While most Americans aren't at high risk for developing a protein deficiency, beef provides complete protein containing all the amino acids our bodies require, including those we can't produce on our own. Click HERE to see how select beef cuts compare to other common ingredients.

Among the other nutrients, beef includes:
Magnesium, zinc, copper, phosphorus, selenium, and iron. Iron, especially from animal sources, is an important nutrient in preventing iron-deficiency anemia. A small steak can deliver up to 14% of your daily iron needs.
B vitamins, including thiamin (vitamin B1), riboflavin (vitamin B2), niacin (vitamin B3), vitamin B6, and vitamin B12. Together, B vitamins support a wide range of cellular functions and energy metabolism in our bodies.

Dietary fat, which provides energy (calories) and is a key macronutrient for carrying flavor and delivering satisfaction. It may surprise you that the fat in beef is approximately 60% unsaturated fat. Learn more about the role of beef in a heart-healthy diet HERE.

BEEF AS A LEAN PROTEIN? YOU BETTER BELIEVE IT
Now, when it comes to choosing lean beef options, you're in luck! More than 60%[1] of the beef cuts you'll come across at the supermarket meet the definition of "lean"[2]. Some of my personal favorites include flank steak, top sirloin steak, and 93% lean ground beef.
While nutrition fads come and go, Americans seem to cycle between avoiding and craving fat. Instead of extreme approaches, I encourage balance. Fat isn't the enemy, nor is it a cure-all. Fat is an important macronutrient that provides energy throughout our lives, especially during times of growth. Our bodies can better absorb and utilize fat-soluble vitamins (A, D, E, and K) when we include some fat in our meals.

And perhaps most importantly, if you want to enjoy what you eat, fat enriches the taste and texture of every bite. This is why low-fat or fat-free foods can taste bland and are just not as fun to eat.
Beef nutrition is more than just the sum of its parts; it enhances the way we connect around the table, contributes to meal satisfaction, and introduces us to new flavor combinations and cooking techniques.

BEYOND THE CLASSICS: ELEVATE YOUR BEEF DISHES WITH UNIQUE FLAVORS
While classic flavor combos remain popular for good reason, beef offers a blank canvas to pair with unique or interesting flavors. If you're looking for something different, try recipes that incorporate these ingredients alongside beef: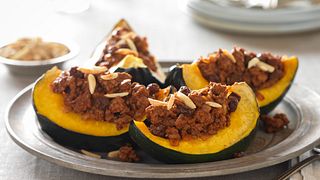 Beef Picadillo-Stuffed Acorn Squash
Warming spices like allspice, cayenne, cinnamon, or ginger. Cuisines from around the globe feature these flavors prominently in beef-based dishes.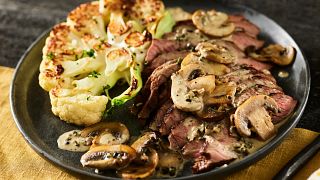 Stockyard Steaks with Mushroom and Peppercorn Sauce
Savory, umami-rich mushrooms. They are a trending ingredient this year and offer their own nutritional benefits. Just like different beef cuts have slight variations in flavor and texture, so do different types of mushroom. You'll have plenty of ways to get creative in the kitchen!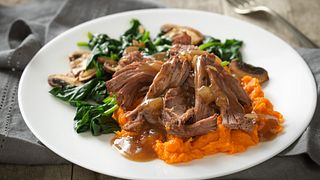 Beef Pot Roast with Cider Gravy and Maple Sweet Potatos
A touch of sweetness, whether in a rub, sauce, or braising liquid. Think of cocoa in a mole sauce, fruit in a bulgogi marinade, or brown sugar in a BBQ rub. In addition to these options, balsamic glaze, maple syrup, or honey are all worth experimenting with.
BEEF COOKING 101: PAIRING CUTS AND TECHNIQUES FOR SUCCESS
It is also worth mentioning that pairing specific cuts with different cooking methods can make a world of difference. I had to go through a bit of a learning curve before I mastered the grilled skirt steak. Likewise, braised beef short ribs took some practice, but now I appreciate the low and slow cooking process versus trying to rush it. Even browning ground beef on the stovetop tastes better when you allow the Maillard reaction to work its magic! To enhance your culinary skills and feel confident in the kitchen, explore these engaging cooking lessons.
With beef readily available at grocery stores, farmers' markets, and online retailers, I encourage you to add it to your shopping list and plan an amazing meal around it. You can find plenty of flavorful beef recipes at kansasbeef.org, as well as more information about beef nutrition, beef sustainability, and much more.

As I always like to say, cheers to more fearlessly nourishing meals!

CITATIONS
IRI/Freshlook, Total US MULO, 52 weeks ending 5/21/17; Categorized by VMMeat System
A lean cut contains less than 10 grams of total fat, 4.5 grams or less of saturated fat, and less than 95 mg of cholesterol per 100 grams (3 ½ oz) and per RACC (Reference Amount Customarily Consumed) which is 85 grams (3 oz).